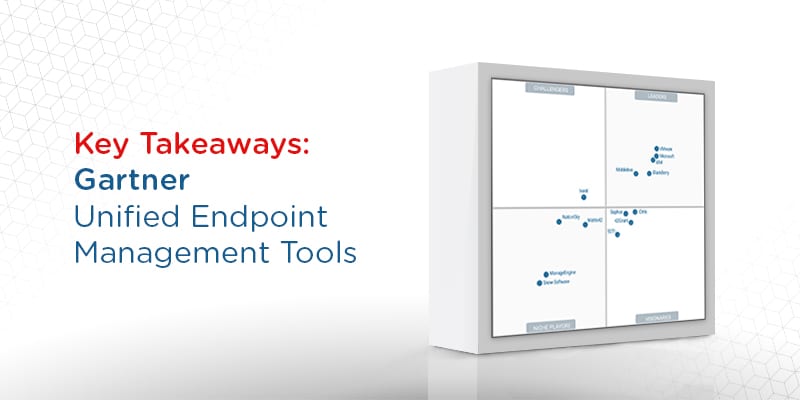 Gartner, Inc. has officially released its first ever Magic Quadrant for Unified Endpoint Management Tools. The analyst house describes this market as being composed of "a new class of tools that can act as a single management for mobile, PC, and other devices." Gartner also states that I&O leaders should prepare to replace client management and enterprise mobility management (EMM) tools with Unified Endpoint Management (UEM) in the future in order to support modern OSs. The UEM space is dominated by two categories of vendors: those that are invested in mobile and modern management without much client management tool (CMT) functionality, and those that have integrated an existing CMT or explicitly built CMT capabilities into their UEM.
Gartner posits that their definition of UEM will evolve in the coming years as those tools become more commonly used. It's also expected that wearables and IoT management will become more integral to the UEM use case of a larger number of businesses. Because mobile devices are steadily growing in number and becoming more diverse, it behooves IT organizations to adopt UEM tools and processes as a means to keep the pace with the many platform updates across devices.
In this Magic Quadrant, Gartner evaluates the strengths and weaknesses of 14 providers that it considers most significant in the marketplace, and provides readers with a graph (the Magic Quadrant) plotting the vendors based on their ability to execute and their completeness of vision. The graph is divided into four quadrants, niche players, challengers, visionaries, and leaders. At Solutions Review, we read the report, available here, and pulled out the key takeaways.
As this is the first Magic Quadrant for UEM, all of the vendors named are new to the report. Those providers are VMware, Microsoft, IBM, BlackBerry, MobileIron, Ivanti, NationSky, Matrix42, ManageEngine, Snow Software, Sophos, Citrix, 42Gears, and SOTI.
The providers that are dominating the space as leaders are MobileIron, BlackBerry, IBM, Microsoft, and VMware. According to Gartner, leaders have the most complete solutions in the UEM market, in addition to being innovative, adaptable, and having a strategy which is very likely to succeed. Because these are some of the biggest vendors in this Magic Quadrant, this placement is not particularly surprising.
Ivanti was the only challenger in this report, while NationSky, Matrix 42, ManageEngine, and Snow Software were all categorized as niche players. These classifications indicate that challengers excel in execution but don't have the product commitment to lead the market, and that niche players tend to base their strategy on following the market instead of leading it.
Rounding out the Magic Quadrant are the visionaries: Sophos, Citrix, 42Gears, and SOTI. As visionaries, these vendors often offer unique capabilities in aspects of UEM, or an innovative approach to solving user problems.
Gartner also made note of other providers to consider, that were not included in the Magic Quadrant, itself. Those named were Accelerite, Google, and Jamf. These three vendors lacked the established track record and product completeness to be included, but had recently increased their investments in UEM.
Latest posts by Tess Hanna
(see all)