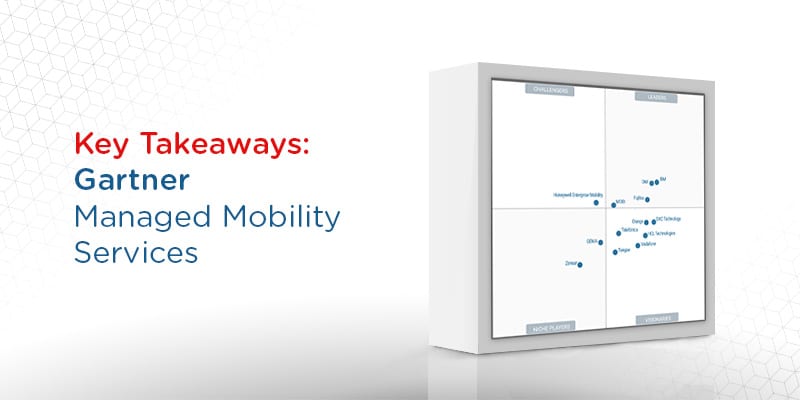 Tech analyst house Gartner, Inc. recently released their Magic Quadrant for Managed Mobility Services, Global. Gartner describes Managed Mobility Services (MMSs) as encompassing "the vendor-provided IT and business process services required to plan, procure, provision, activate, manage and support mobile devices, mobile network services, related mobile management systems and mobile applications." The analyst house measures the performance of MMS tools by five core deliverables: sourcing and logistics management, managed Unified Endpoint Management (UEM), security management, financial management, and program management (including professional services).
In this year's Magic Quadrant, Gartner analyzed the following MMS providers: DMI, DXC Technology, Fujitsu, GEMA, HCL Technologies, Honeywell Enterprise Mobility, IBM, MOBI, Orange, Tangoe, Telefónica, Vodafone, and Zensar. HCL Technologies was the only new vendor this year, and no vendors from the previous year were dropped. The quadrant breaks down into four categories: Leaders, Challengers, Visionaries, and Niche Players. Gartner arranges the providers on the quadrant based on their strengths, weaknesses, ability to execute, and completeness of vision. We looked at the report, available here, and picked out the key takeaways on the MMSs and their features.
Leaders
IBM takes the top spot in the leader quadrant, with the highest ability to execute and completeness of vision. The provider has expanded its service offerings to include Internet of Things (IoT) device life cycle consulting, procurement, connectivity, and implementation and managed services. In addition to this, Gartner describes DMI as being strong at interpreting business requirements and translating them into an offer.
Another leader, Fujitsu, was praised for its managed Enterprise Mobility Management (EMM) capabilities, which the vendor achieved through further investment in cloud-based EMM service automation and legacy IT services. The final leader, MOBI, is a pure-play MMS provider with its own platform serving clients both directly and indirectly. MOBI has an exclusive focus on mobility solutions for the enterprise related to tablets and smartphones.
Challengers and Niche Players
The only challenger in this year's report was Honeywell Enterprise Mobility. The vendor most likely lost out on its completeness of vision due to the fact that they could be more proactive in influencing their corporate mobility strategies and transforming their business processes.
GEMA is one of two niche players this year. Its status is possible due to the provider's need to convince multinational clients of the value proposition of an organization of licensees, as opposed to a more cohesive singular corporate structure. The other niche player, Zensar, could likely have improved its standing in the Magic Quadrant by expanding to manage devices in Latin America, in addition to its existing locations.
Visionaries
In this year's report, most of the listed vendors were placed in the visionaries category. DXC Technology has invested in greater automation of end-user on-site support services such as video kiosks and virtual agent AI development, which likely contributed to its placement on the graph. HCL Technologies has devices under management in all regions and at this point, manages more wearables than any other vendor in this Magic Quadrant. In addition to this, Orange is now more vendor-agnostic in its financial management, and has also improved its security proposition with secure cloud access and mobile threat prevention solutions.
Another visionary this year, Tangoe, is strong in its global capabilities for and experience with expense management, and is the broadest and deepest of all vendors in this report, according to Gartner. Additionally, Telefónica has grown the fastest of all the listed providers in terms of devices under management, possibly due to the fact that it frequently bundles its propositions with its connectivity offers. Finally, Vodafone has enhanced its security capabilities by adding Zimperium for mobile threat detection and remediation.
Gartner also named two honorable mentions, which were Stratix and Vox Mobile.
Download the full Gartner Magic Quadrant for Managed Mobility Services, Global here.
Latest posts by Tess Hanna
(see all)