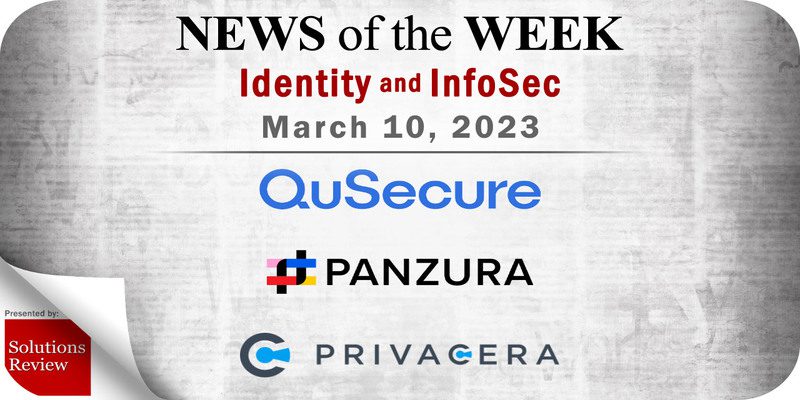 The editors at Solutions Review have curated this list of the most noteworthy identity management and information security news for the week of March 10. This curated list features identity management and information security vendors such as QuSecure, Panzura, Privacera, and more.
Keeping tabs on all the most relevant identity management and information security news can be a time-consuming task. As a result, our editorial team aims to provide a summary of the top headlines from the last month, in this space. Solutions Review editors will curate vendor product news, mergers and acquisitions, venture capital funding, talent acquisition, and other noteworthy identity management and information security news items.
Identity Management and Information Security News for the Week of March 10
---
QuSecure Selected to Present on the Quantum Revolution at SXSW 
QuSecure, Inc., a leader in post-quantum cybersecurity, announced this week that it has been selected to present at SXSW this coming weekend in Austin, Texas. Company Co-founder and Chief Product Officer (CPO) Rebecca Krauthamer will participate on a panel session titled "Preparing for the Quantum Revolution: Global Security and the Future of Technology" at 1:30 pm PDT on March 12 in the Capital Factory House. The panel will dive into the world of post-quantum cryptography and its implications for cybersecurity. With the rise of quantum computing, traditional cryptographic solutions are increasingly vulnerable to attacks, making the need for post-quantum cryptography more critical than ever. Attendees will gain valuable insights and practical strategies for staying ahead of the curve in this rapidly evolving field.
FBI Investigates Data Breach Impacting US House Members and Staff
The FBI is investigating a data breach affecting U.S. House of Representatives members and staff after their account and sensitive personal information was stolen from DC Health Link's servers. DC Health Link is the organization that administers the health care plans of U.S. House members, their staff, and their families. Impacted individuals were notified of the breach in an email from Catherine L. Szpindor, the U.S. House Chief Administrative Officer.
Sentra Expands Executive Team With Appointment of Joseph Hoban
Sentra, a cloud data security company, has appointed Joseph Hoban to vice president of sales. In his new role, Hoban will draw from more than 15 years of experience leading successful global sales teams to increase Sentra's revenue growth, and scale the company's customer base worldwide. Hoban will lead Sentra's sales team, identify new business opportunities, as well as drive the company's channel strategy and partner ecosystem.
Atakama Partners With Panzura
Atakama, an encryption solutions provider, and Panzura, a data management solutions provider, have announced their partnership together to combine efforts in one data security platform. The integration between Atakama's multifactor encryption solution and Panzura's CloudFS, Data Services (PDS) seamlessly enforces a data-centric security model.
Acer Confirms Breach After Hacker Offers to Sell Stolen Data
Electronics giant Acer has confirmed getting hacked after a hacker offered to sell 160 Gb of files allegedly stolen from the company's systems. Acer issued the statement after a hacker announced on a popular cybercrime forum that he is selling more than 2,800 files totaling 160 Gb for an unspecified amount of Monero cryptocurrency. The cybercriminal claims the files include confidential slides, staff manuals, confidential product documentation, binary files, information on backend infrastructure, disk images, replacement digital product keys, and BIOS-related information.
Privacera Survey: "Data Security Will Increase Through 2023"
Privacera, a data security solutions provider, this week released new research that highlights 2023 data security governance (DSG) trends and the ways organizations are planning to address challenges over the coming months. A large number of respondents (74 percent) said their need for a scalable DSG strategy would increase substantially over the year, and so will their spending on DSG solutions -more than half (54 percent) of those surveyed plan on investing more in 2023 and beyond.
Solutions Review Teams Up With ManageEngine for Live Demo Day
On March 16th, Cybersecurity solutions provider ManageEngine will be appearing on Solutions Review's Solutions Spotlights series. In this demo, ManageEngine's Ray Manash will discuss how AD360, ManageEngine's IAM solution, can help strengthen your organization's cybersecurity posture. He will demonstrate how AD360 has a complete suite of products to help manage identities, secure access, and ensure compliance to help you overcome your IT challenges.
---
Expert Insights Section
Watch this space each week as Solutions Review editors will use it to share new Expert Insights Series articles, Contributed Shorts videos, Expert Roundtable and event replays, and other curated content to help you gain a forward-thinking analysis and remain on-trend. All to meet the demand for what its editors do best: bring industry experts together to publish the web's leading insights for enterprise technology practitioners.
The Case for Automating Data Security in a Down Economy
When it comes to core business functions like data security, automation gives many companies an edge – and delivers tremendous benefits. In the near term, automating data security lowers the day-to-day burden on security teams by removing the need to address and fix security issues manually. It also ensures that sensitive data stored on the cloud is kept out of the hands of cyber-criminals through automated permissions and controls. In the long term, automating data security strengthens a company's overall corporate security defenses, reducing risk and minimizing the chances of a data breach. It also helps companies significantly reduce labor costs while increasing the ROI of their security investments.
Converting Risk to Strategic Advantage: A Proactive Approach to Risk Management
Cyber-attacks are increasing worldwide, with 2022 seeing 38 percent more cyber-attacks per week on corporate networks compared to 2021, according to Check Point Research. In recent years, the attack surface for organizations has grown, and the complexity of the digital footprint has expanded exponentially through cloud adoption and digital transformation. For most companies, "doing your best" on cybersecurity is no longer enough. Cybersecurity professionals need to move toward a proactive, informed, real-time monitoring approach that allows them to transform risk from being something to manage into a strategic advantage. Considering that it takes security teams on average 277 days to identify and mitigate a breach, every minute a company lacks visibility or fails to respond gives hackers a chance to cause significant damage, both financially and reputationally. That's why a proactive approach to seeing, understanding, and acting on risk is critical to improving the effectiveness of defenses.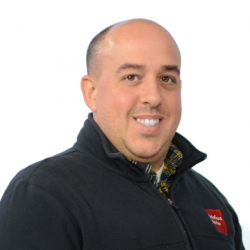 Latest posts by Mike Costello
(see all)