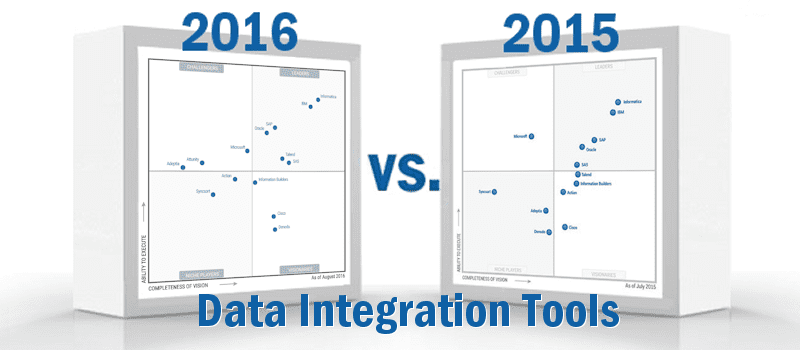 Gartner recently released the 2016 version of their Magic Quadrant for Data Integration Tools. According to Gartner, the market for enterprise integration tools was worth $2.8 billion at the end of 2015, representing a 10.5 percent increase from the year prior. The technology research giant defines Data Integration capabilities as: "Comprising the practices, architectural techniques and tools that ingest, transform, combine and provision data across the spectrum of information types in the enterprise and beyond — to meet the data consumption requirements of all applications and business processes."
According to Gartner, organizations are increasingly looking for solutions that provide them with Data Virtualization capabilities and the ability to combine Data Lakes with their existing platforms since the overbearing expectation is that Data Integration will become cloud and on-premise agnostic. As a result, vendors are increasingly offering tools that enable widespread data access and data delivery infrastructure for a wide variety of integration scenarios, including data acquisition for Business Intelligence, Data Analytics, and data warehousing, data migration, data sharing, and support for Master Data Management and Data Governance.
The 2016 Gartner Magic Quadrant for Data Integration Tools:
Complete enterprise market overview from leading researchers

Magic Quadrant graphic for quick and easy vendor comparison

Strengths and weaknesses of the top integration tools
Expert analyst recommendations
Download
Demand for legacy tools has waned as modern capabilities evolve, with new tools offering ways for organizations to split the demands of Data Integration so that they may integrate both data and processes with partners and growing digital customer bases. While legacy bulk/batch integration still makes up the vast majority of the software market (Gartner estimates 80 percent), forward-thinking companies have begun to shift their focus to Data Virtualization and synchronization. In this way, mobile devices, consumer applications, multi-channel interactions and social media are driving enterprises to build sophisticated integration architectures.
Those seeking to upgrade their Data Integration solutions have identified software vendors that can provide them with thought leadership and product innovations so they can extend the capabilities of their existing data infrastructures. Many companies seek tools that allow them to combine their data and Application Integration technologies into a single architecture where the ETL process can be provisioned via an enterprise service bus. Given the current trend toward hybrid integration models, consumers are also aiming their focus at software solutions that can help them pull data that resides in on-premise SaaS and cloud stores to fullfill cloud service integrations.
Informatica and IBM remain the class of this market, furthering their standing as the unquestioned leaders in enterprise Data Integration. Informatica doesn't have much room left to expand, and if they continue to dominate the market they way they have in recent years, Gartner may have to handicap them. Informatica continues to build upon their impressive offerings portfolio, and recently unveiled several new hourly-priced AWS Data Management tools. IBM remains Informatica's one true challenger for dominance in the integration sector.
SAP and Oracle remain tightly grouped in the middle of the leaders bracket, though both mega-vendors lost standing in Gartner's completeness of vision metric. SAP has supplanted itself as a leader in this software sector, and with no end in sight, the company continues to attract customers that seek a mix of granularity, latency and physical and virtualized data delivery. However, SAP's integration tools remain highly proprietary, with a heavy focus on approaches that line up with SAP applications and Hana-oriented data infrastructures. Oracle's strong 2015 came as a result of releasing GoldenGate for Big Data, which includes push-down to Spark and the introduction of self-service integration capabilities for data preparation.
Talend and SAS round out the leaders column in this year's study. Formerly a quadrant visionary, Talend becomes the first new 'leader' in this report in five years. Talend has had great success of late, raising more than $86 million in July in filing for their IPO. In addition, Talend updated their Talend Data Fabric platform in June, a solution designed to assist developers in integrating both on-premise and cloud data. SAS remains one of the top technology solution providers in the world, and strengthened their portfolio in 2015 by enhancing Hadoop integration with data quality processing.
Microsoft now finds itself well within striking distance of joining Talend as a market leader after improving in Gartner's completeness of vision metric this year. According to Gartner: "Customers cite low overall TCO, speed of implementation, ease of use, and the ability to integrate with other Microsoft SQL Server capabilities as the main reasons for choosing [Microsoft] SSIS over the alternatives." Attunity, the only new vendor in this year's report, and Chicago-based Adeptia, join Microsoft as market challengers. Attunity has strong traction in this space and has been delivering data replication and synchronization capabilities for more than two decades. Adeptia's integration tool offers attractive pricing and flexibility, as well as iPaaS capabilities, enabling inenterprise data sharing use cases.
Visionaries in this market segment for 2016 are Information Builders, Cisco, and Denodo. Information Builders does it all, offering integration software, Big Data support, and Business Intelligence and Data Analytics. According to Gartner, IB's broad connectivity and overall platform technology strength are "enhanced by the customer experience for issue resolution and best practices from its professional services; customers report a feeling of "partnership." San Jose-based Cisco has expanded its vision and has a strong focus on Data Federation and virtualization while maintaining extreme responsiveness to customer needs and the quality of their support. Denodo's placement as a challenger is an upgrade over last year's stay in the niche player's bracket. Denodo recently added new dynamic query optimization capabilities to support optimization for Big Data and cloud environments, and offers broad connectivity support that includes relational databases, legacy data, flat files, XML, packaged applications, and Hadoop.
Actian regressed in this year's report, though did improve their ability to executive metric, and although Gartner views the vendor as a niche player for 2016, Actian is within striking distance of upgrading their standing considerably with a positive year ahead. Actian has a strong focus on core capability and performance while capitalizing on cloud and analytics functionality. The vendor is also unique because of their embedded DataFlow solution, making them complementary to diverse partners. Syncsort remains a niche player, and their standing in the column was downgraded noticably. Better days are surely ahead, as Syncsort offers high performance ETL processing, a low cost of ownership compared to market leaders, and swift time-to-value. Customers also recognize Syncsort as having excellent technical support.
Read Gartner's Magic Quadrant.
Timothy is an enterprise technology writer and analyst at Solutions Review, covering Business Intelligence and Data Analytics, Data Integration and Data Management. He holds a Bachelor of Arts Degree in History from the University of Massachusetts Lowell. Timothy believes that data can allow us predict things about our future, just as history has aided in the uncovering of our past.
Latest posts by Timothy King (see all)