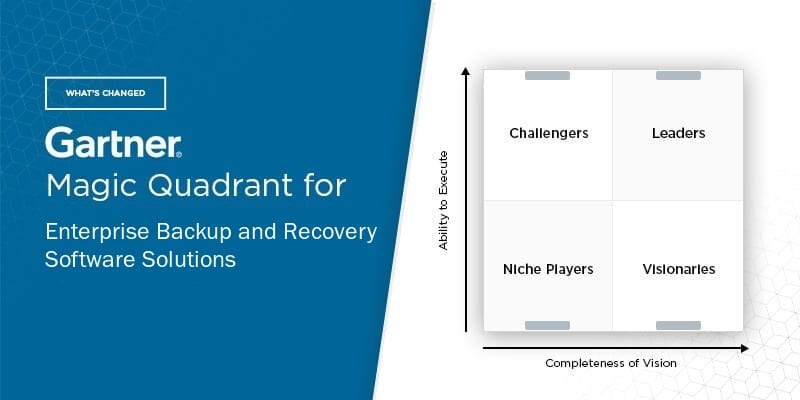 The editors at Solutions Review highlight what's changed since the last iteration of Gartner's Magic Quadrant for Enterprise Backup and Recovery Software Solutions and provide an analysis of the new report.
Analyst house Gartner, Inc. has released its 2021 Magic Quadrant for Enterprise Backup and Recovery Software Solutions. The researcher's view of the enterprise backup and recovery software solution market is focused on transformational technologies rather than the market as it exists today. Gartner defines the market as follows: "backup and recovery software solutions are designed to capture a point-in-time copy (backup) of an enterprise workload and write the data out to a secondary storage device for the purpose of recovering this data in case of loss."
According to Gartner, the market went through significant change during the last 24 months. The vendors named in this report mainly focused on centralized management; ransomware resilience, detection, and remediation; support for public cloud IaaS and PaaS backup; support for SaaS-based applications; tiering to the public cloud; recovery in the public cloud; NoSQL database backup; instant recovery of databases and virtual machines; container backup; and subscription licensing.
The key capabilities of a backup and recovery solution include backing up and recovering operating systems, files, databases, and applications in the on-prem data center; creating a copy of the backup in the same physical location as the production environment for quick operational recovery; assigning multiple backup and retention policies that align with an organization's recovery objectives; and reporting the success and failure of backup and recovery tasks.
Buyers should note that this market offers a broad array of products for different requirements and preferences, typically dependent on the user persona. While the eye may begin analyzing this report in the Leaders quadrant, Gartner states that it is best to evaluate your specific needs when assessing vendors. They add, "Gartner does not recommend eliminating Niche Players from customer evaluations. Niche Players are specifically and consciously focused on a subsegment of the overall market, or they offer relatively broad capabilities without very large enterprise-scale or the overall success of competitors in other quadrants."
Gartner adjusts its evaluation and inclusion criteria for Magic Quadrants as software markets evolve. Gartner notes that a vendor being dropped from a Magic Quadrant one year does not necessarily mean that the research firm has changed its view of the vendor. Instead, it may reflect a change in the market or a change of focus by a vendor. Actifio was dropped, as it no longer met the researcher's inclusion criteria, while Druva, Micro Focus, and Zerto were all added to this year's report. 
In this Magic Quadrant, Gartner evaluated the strengths and weaknesses of 13 providers that it considers most significant in the marketplace and provides readers with a graph (the Magic Quadrant) plotting the vendors based on their ability to execute and completeness of vision. The graph is divided into four quadrants: niche players, challengers, visionaries, and leaders. At Solutions Review, we read the report, available here, and pulled out the key takeaways.
As in last year's edition of this report, the leaders' quadrant is the most densely populated. Additionally, the vendors listed are largely the same, with the only exception being IBM, which was named a challenger this year. Veeam has won out with the highest ability to execute in 2021. Within the past year, the vendor has announced a range of new tools for Azure and GCP and significantly expanded its AWS backup capabilities. Additionally, Veeam acquired Kasten in October 2020, thereby expanding its portfolio to include container backup support. Placing second in the ability to execute, and one of Veeam's closest competitors once again is Commvault. The vendor's recent aggressive feature release cadence and rapid geographic expansion have ensured that Commvault Metallic is in a position to address users looking to transition to an as a Service model in hybrid infrastructure environments.
Veritas Technologies and Rubrik are also closely clustered near Veeam and Commvault in the leader quadrant. In the past year, Veritas has acquired HubStor, which specializes in the protection of SaaS applications. The provider also announced NetBackup Flex Scale, an integrated scale-out appliance reference architecture based on NetBackup 9.0. Rubrik's placement as a leader is likely due to its Polaris SaaS platform providing centralized visibility of multiple Rubrik cluster deployments located either on-prem or in the cloud, protection of IaaS instances, SaaS applications, integrated security, and workflow management.
Rounding out the leader quadrant are Dell Technologies and Cohesity. Dell Technologies has recently made four major software updates to its PowerProtect Data Manager. These new enhancements include support for application-consistent backups in Kubernetes, including VMware Tanzu Kubernetes, SAP HANA backup; guest workload support for AWS, Azure, and Google Cloud Platform; and improvements to Oracle Database and VMware backup. Cohesity's leader status could be attributed to the fact that its DataProtect service is reportedly easy to manage. Additionally, Cohesity differentiates itself by enabling users to leverage Helios to provide disaster recovery orchestration, ransomware detection, capacity management, issue root cause analysis, and case management.
Gartner naming IBM a challenger is one of the major changes in this iteration of the Magic Quadrant. In the 2020 edition of this report, there were no challengers, while this year, Arcserve and IBM take up space in this quadrant. IBM's change in placement could be because the vendor depends on third-party vendors to address backup requirements for Microsoft SharePoint, Microsoft 365 Exchange Online, some NoSQL databases, Nutanix AHV VMs, OpenStack environments, hardware snapshot management, and bare metal recovery of operating systems. In last year's report, Arcserve was a niche player, while this year it scored higher on its ability to execute, landing in the challenger section. This shift could be caused by the vendor's robust anti-malware capabilities resulting from Arcserve's partnership with Sophos.
The three niche players in this year's Magic Quadrant are Unitrends, Micro Focus, and Zerto. Both Unitrends and Micro Focus are placed near the middle of this section, while Zerto is located close to the center of the complete graph. Unitrends is the only vendor in this section that was also a niche player last year, as Micro Focus and Zerto are both new vendors this year. In the past 12 months, Unitrends has announced the Recovery Series Gen 9 appliances with improved capacity and performance, as well as UniView, a platform that delivers centralized management of multiple Recover Series appliances and SaaS applications.
Micro Focus leads with Data Protector, which mainly protects workloads in physical and virtual environments. This platform is offered in Express and Premium editions, which are designed for virtual environments and virtual, physical, and integration with cloud environments, respectively. Zerto, the remaining niche player, offers a single platform that combines backup and disaster recovery functionality, thereby simplifying data protection architectures. Additionally, the provider's CDP-based architecture allows for very low RPOs.
The final two vendors in this report are the visionaries: Druva and Acronis. While Druva is new to this report, Acronis was also named a visionary in last year's iteration. In 2020, Acronis launched several new security features on both its on-prem and Backup as a Service (BaaS) platforms to improve malware protection and provide safe recovery of backup companies. The Acronis Cyber Protect Cloud platform also provides a comprehensive BaaS offering. Druva's new capabilities released in the last year include a ransomware recovery service, integrated backup and archiving for network attached storage data, Azure Active Directory integration, and enhancements for Oracle and Microsoft SQL Server backup. Additionally, Druva acquired sfApex in 2020 to improve its Salesforce data protection capabilities.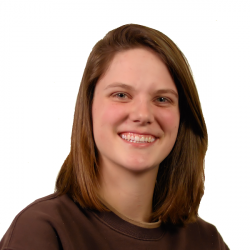 Latest posts by Tess Hanna
(see all)