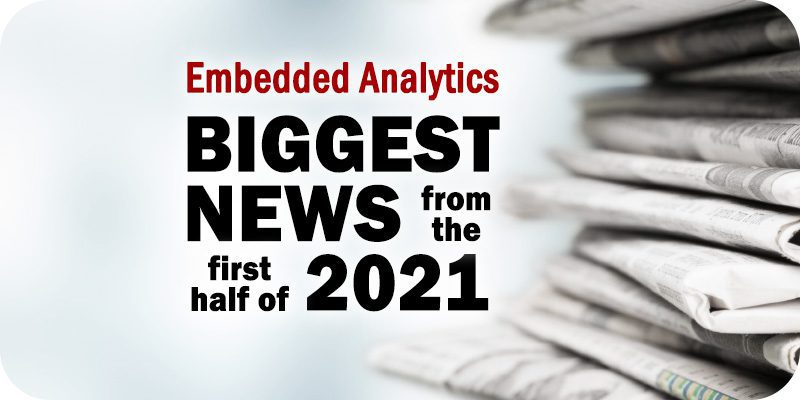 Our editors curated this list of the biggest embedded analytics news items during the first half of 2021, as highlighted on Solutions Review.
Embedded analytics software provides analytic functionality within the confines of a business application. Some self-service BI platforms provide the ability to embed analytic dashboards into commonly used applications to make data analysis more convenient. Embedding analytics into existing workflows helps business users gain access to the capabilities they need without having to go outside of the environments they use daily to do so. Users are often rewarded with faster, more informed and more efficient decision-making, which can lead to more actionable insight.
Part of Solutions Review's ongoing analysis of the big data marketplace includes covering the biggest embedded analytics news stories which have the greatest impact on enterprise technologists. This is a curated list of the most important embedded analytics news stories from the first half of 2021. For more on the space, including the newest product releases, funding rounds, and mergers and acquisitions, follow our popular news section.
GoodData recently announced the release of new platform capabilities designed to improve data storytelling and data literacy, according to a press release. New features are headlined by enhanced dashboard interactivity that lets end-users utilize drilling capabilities to drill to both insights and dashboards, as well as leverage advanced dashboard exporting, sharing, and scheduling. The news comes on the heels of GoodData's October 2020 release of new data integration and modeling tools.
In a media statement about the news, GoodData CEO Roman Stanek said: "To scale data literacy and drive data-driven decision-making, the expectation must be on the data provider to deliver a customer-centric, designed experience. That's easier said than done for a lot of companies today, which is why GoodData's platform and new capabilities are built to help organizations succeed in delivering consumable data via cohesive, accessible data storytelling."
insightsoftware recently announced that it has acquired Logi Analytics, according to a press release on the company's website. The merger, according to insightsoftware, will position the firm "as a leader in integrating financial and operational reporting and expands the company's market opportunity through embedded analytics for commercial software organizations and corporate application teams." No terms of the acquisition were disclosed. The news comes on the heels of Logi's Composer embedded BI development platform release from last June.
In a media statement about the news, insightsoftware CEO Jim Triandiflou said: "This is a critical piece of our long-term strategy. With Logi Analytics's robust operational reporting solution paired with our market-leading financial reporting, we can provide our customers the ability to report on every area of their business. In addition, Logi Analytics's leading position in embedded analytics opens a whole new market opportunity for us and we're excited to invest and expand Logi Analytics's leadership position in embedded analytics."
GoodData announced the launch of GoodData Cloud Native (GoodData.CN), a new cloud-native data analytics platform. The platform, according to GoodData, "represents step one in the definition and implementation of the new Data as a Service (DaaS) category and ecosystem." GoodData Cloud Native allows users to deploy analytics on the most modern framework available, including Docker and Kubernetes. Cloud deployment also eliminates the need to move or copy data.
In a media statement about the news, GoodData CEO Roman Stanek said "If you look at the transformation going on in the market right now, DaaS is the logical next step. DaaS will change the way analytics is done at a fundamental level. Companies have been overspending and seeing little return for more than a decade. The time for experimentation with analytics is over and with the introduction of Data as a Service, and the rise of new platforms like the one we're launching today, we can unlock an entire new era of analytics."
ThoughtSpot recently made two major announcements with its acquisition of serverless data integration platform provider Diyotta and the release of ThoughtSpot Everywhere. The acquisition will enable ThoughtSpot to rapidly expand integrations with best-of-breed services in customers' modern data stack. It also means that customers will be able to deploy ThoughtSpot as part of their cloud architecture. Additionally, the merger paves the way for ThoughtSpot to hasten integrations with modern data platforms, AI and machine learning services, and data applications built by web developers.
In a media statement on the news, ThoughtSpot CEO Sudheesh Nair said: "ThoughtSpot Everywhere's low-code, API-approach makes it simple for our customers to take advantage of the entire modern analytics cloud. It's never been easier to build the most modern, simple, and powerful data experiences in your own offerings to delight customers and scale automation."
GoodData recently launched the Production Editions of its new platform called GoodData Cloud Native (GoodData.CN), according to a press release. The product builds on GoodData's Community Edition release for developers and offers enterprise-grade analytics delivered as a microservices-based analytics stack. GoodData Cloud Native Production includes three plan options: Gree for simple production deployments, Growth for self-service analytics, and Enterprise for large production deployments with enhanced features.
In a media statement on the news, GoodData CEO Roman Stanek said: "Legacy data architecture continues to hold countless enterprises back from achieving analytics at scale and delivering business value. With the Production Editions of GoodData.CN, we finally have the ability to architect a new, modern future for analytics. It's the first solution of its kind to leverage the best practices for modern IT, while plugging into your existing infrastructure for quick deployment and scale."
Domo recently launched its new Domo Everywhere release with updated components and new capabilities for delivering embedded analytics. The new version brings data sharing and collaboration via a highly curated experience. Domo's existing set of embedded analytics products (Domo Publish, Domo Embed) will be consolidated under the Domo Everywhere brand as well. Now available as a new service on the Domo Platform, the Everywhere solution is available immediately.
In a media statement on the news, Domo Chief Business Officier Jay Heglar said: "Domo is pushing external BI beyond the traditional 'places' that analytics content is embedded and the value that is received. With Domo Everywhere, we're giving customers an easy way to create, deliver and monetize high-value data solutions in a fraction of the time it would normally take and with a fraction of the resources required of any other approach."