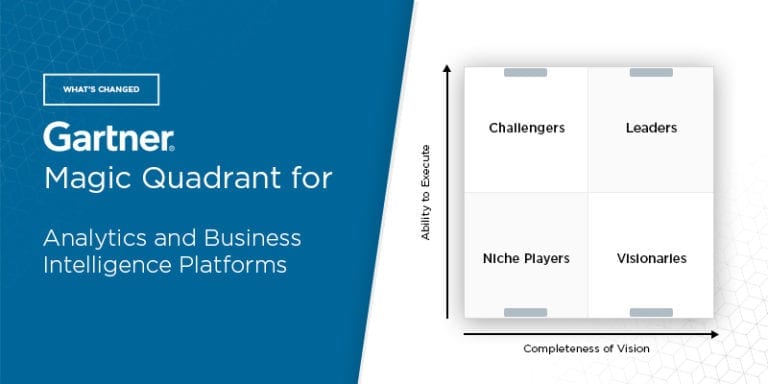 The editors at Solutions Review highlight what's changed since the last iteration of Gartner's Magic Quadrant for Analytics and Business Intelligence Platforms and provide an analysis of the new report.
Analyst house Gartner, Inc. has released its 2021 Magic Quadrant for Analytics and Business Intelligence Platforms. Gartner defines the marketplace as being "characterized by easy-to-use functionality that supports a full analytic workflow — from data preparation to visual exploration and insight generation — with an emphasis on self-service usage and augmented user assistance." The range of solution providers in this space is broad, featuring startups backed by venture capital all the way up to large technology firms.
Gartner notes that the majority of new spending on analytics and business intelligence tools are coming via cloud deployments. In many cases, BI software acts as an entry point for wider sets of cloud data management capabilities offered by cloud analytics vendors. No longer differentiated by their data visualization features, all the vendors outlined in this report can build interactive key performance indicator dashboards using common chart forms and drawing on an array of data sources. Differentiation has shifted to how well vendors can support augmented analytics.
Augmented analytics was originally intended to assist different personas with self-service. However, automation is increasingly being utilized as a way to assist end-users directly. The report also speaks of analytics and BI adoption "accelerating massively" into the millions, a huge increase in user numbers due to the price per user now being a fraction of what it was in the recent past. In sum, buyers have a wide range of analytics and BI options to consider, whether you choose a specialist tool, cloud product, or offering from a technology mega-vendor.
Gartner adjusts its evaluation and inclusion criteria for Magic Quadrants as software markets evolve. As a result, Amazon Web Services, Google, and Infor have been added to the report. Looker (now included as Google), Birst (now included as Infor), Dundas, Logi Analytics, and Salesforce were removed for no longer meeting the inclusion criteria.
In this Magic Quadrant, Gartner evaluates the strengths and weaknesses of 20 providers that it considers most significant in the marketplace, and provides readers with a graph (the Magic Quadrant) plotting the vendors based on their ability to execute and completeness of vision. The graph is divided into four quadrants: niche players, challengers, visionaries, and leaders. At Solutions Review, we read the report, available here, and pulled out the key takeaways.
Microsoft is the overall leader in this Magic Quadrant, dominating all the other vendors in terms of user adoption via an Office 365 bundling with its Power BI cloud service. Microsoft offers data preparation, visual-based data discovery, interactive dashboards, and augmented analytics features. The influence of Power BI has singularly been responsible for reduced software pricing in this space. Microsoft releases a weekly update to its Power BI cloud service as well, which gained hundreds of new features in 2020.
Tableau Software retains its spot among the Leaders in this report, offering a visual-based exploration experience that lets users access, prepare, analyze and present findings in their data. Tableau released a number of product enhancements in 2020 and features a strong analytics user experience, excellent customer enthusiasm, and a major upcoming product release. Qlik rounds out this bracket with a strong product vision for machine learning and AI-driven augmentation. Qlik also offers deployment flexibility and multicloud capabilities. The vendor has a data literacy and customer focus as well.
Google (Looker), MicroStrategy and Domo are analytics and BI Challengers for 2021. Google's acquisition of Looker in 2020 increased its market recognition and consideration by buyers. Looker offers modern reporting and dashboard features, touts a number of recently released features, and does not require in-memory storage optimization. Looker also enables customer-facing application development, and the coming Google integration is a major benefit. MicroStrategy is an excellent choice for a variety of BI use cases and 2020 saw the product gain a number of HyperIntelligence capabilities. Direct query and the stability of an integrated product are big-time value-adds.
Domo made the leap from 2020 Niche Player thanks to significant improvements to its product and consumer-led vision for analytics and business intelligence. Domo recently made upgrades to its data preparation and manageability features as well. Domo has a focus on business-user-deployed dashboards and ease of use. This, along with business momentum and increasingly fast deployment has Domo's arrow pointing straight up this year.
The Visionaries column is crowded with seven total vendors, all of whom are positioned in the upper-left portion of the quadrant. ThoughtSpot leads the pack with a search-first approach to analysis that has been emulated by other providers. ThoughtSpot released its SaaS cloud offering, new monitoring functionality, and a new modeling language to the fold in 2020. Despite its relatively small size, buyers recognize ThoughtSpot as a leader in search-based BI.
TIBCO Software saw improvement in its Completeness of Vision at the expense of remaining among the market Challengers. TIBCO offers mature product capabilities and "hyperconverged analytics" across data science and analytics. The vendor is best suited for advanced analytics and can scale up for use in enterprise scenarios. Sisense held firm its position from 2020, offering an end-to-end analytics platform that supports complex data projects. Though more than half of its customers use it in an OEM form, Sisense is cloud-agnostic and multicloud-capable, and features a composable architecture and comprehensive capabilities set.
Mega-vendors Oracle, SAS, and SAP form a bloc in the Visionaries bracket. Oracle offers a cohesive set of augmented BI functionality, associated product vision, and full-stack enterprise cloud. SAS offers what Gartner refers to as a "compelling" product vision for customers, a rapidly increasing investment in augmented analytics, and global reach with vertical-specific solutions. SAP's analytics and BI features are fully integrated within the SAP enterprise application ecosystem. Lots of new 2020 functionality plus unmatched SAP connectivity and breadth of content are all reasons to consider the enterprise technology mainstay.
Yellowfin remains among the Visionaries for 2021 via some of the strongest product innovations in the industry. The vendor continued investment in its dashboard canvas approach in 2020. Yellowfin also continues to update its augmented analytics features. Yellowfin offers one of the top-scoring products of any provider in this space in terms of functionality.
The Niche Players bracket features large technology players in Amazon Web Services, IBM, and Alibaba Cloud. It also includes middle-market and enterprise BI tools Pyramid Analytics, BOARD, Infor (Birst), and Information Builders (ibi). AWS is a 'potential price disruptor' according to Gartner, and frequent updates make Amazon QuickSight an increasingly legitimate data analytics tool. IBM offers excellent functionality for enterprise reporting, governed or self-service visual exploration, and augmented analytics. Flexible deployment options make Cognos Analytics a consideration for existing customers looking to modernize. Alibaba Cloud competes only in Asia/Pacific, for now.
Pyramid Analytics offers support for a broad range of use cases, slick augmented features like Smart Discovery and Smart Reporting, and an architecture built around cloud deployment. Its growth is partly due to increasing utilization across more of the analytics pipeline. BOARD mainly serves a submarket for financial BI use cases. Its strengths include low-code, closed-loop application creation, unified analytics, BI, and financial planning and analysis, and an impressive set of system integrators. The company added a set of REST APIs and new visualization types in 2020.
Infor's strategy is primarily to meet the analytics needs of its Infor ERP installed customer base. 2020 saw the vendor add new capabilities to further integrate Birst for context-aware filtering and workflows. Infor Birst touts a range of pre-built vertical applications, governance for self-service data models, and a hybrid cloud capability. Information Builders was acquired by TIBCO Software early in 2021. Strengths of the ibi platform include the ability to support external and large-scale deployments, prepackaged analytic playbooks, and support for complex data types and volumes.

Latest posts by Timothy King
(see all)