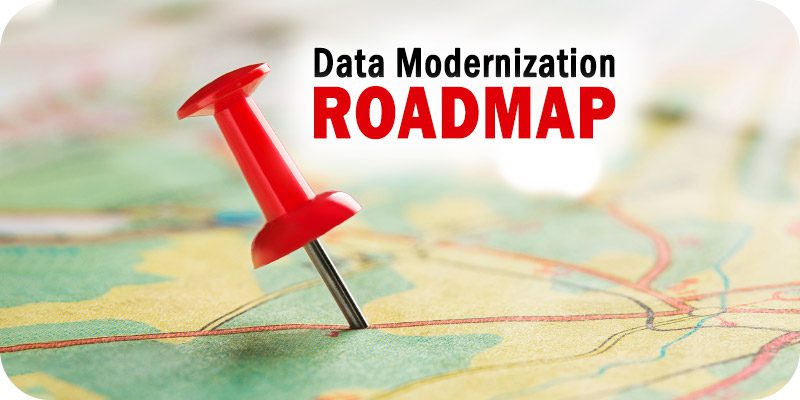 This is part of Solutions Review's Premium Content Series, a collection of contributed columns written by industry experts in maturing software categories. In this submission, GigaSpaces CEO Adi Paz offers a five-point data modernization roadmap to consider, and a checklist to get started.

Spending trends make for headline-grabbing news as digital transformation efforts continue to grow. Gartner says worldwide IT spending will grow 3 percent this year and forecasts cloud spending to reach nearly $500 billion. There's a larger objective behind the individual tech shifts: meeting customer demands.
If customer needs hadn't evolved to require faster applications or to make data available within milliseconds, few companies would be making such large investments. Shoppers require a seamless omnichannel experience, travelers need to be able to see whether their flights have been delayed or canceled, and investors must know how their assets are performing at all times. Companies need a modern data infrastructure to make all those functions possible.
For many companies, there is pressure to create new revenue streams, which is why creating digital applications and services is a priority. Established companies trying to catch up to startups are the ones that can benefit most from data modernization to make those new apps and services come to life.
Over the past two years, companies have vastly accelerated their digital transformation efforts, but success hasn't been as widespread. According to research from McKinsey, top performers report capturing an average of 50 percent of the full revenue benefits their transformations could have achieved, compared to a 31 percent average across all respondents in McKinsey's survey.
To get the best return on investment for data modernization, you'll want to clearly identify where you want to create new business value. Creating this blueprint is the most crucial step to digital business success, according to IDG's 2021 Digital Business Study. Here's a checklist of five components of data modernization, why they matter, and how you can benefit from improving them.
Aiding the Creation of New Digital Products
Service level concerns like availability and security are at the core of any organization's data management ecosystem, but the stakes have been raised to also account for the new applications and services customers want. To satisfy that demand, you need to offer an experience with low latency, fast application response times, and near-real-time access to fresh data.
Financial services organizations are ahead in this game, according to Deloitte, with 89 percent of respondents in its survey has started, if not fully implemented, a data modernization campaign. Customers don't expect to have to go to a bank anymore to deposit a check. They'd rather make the transaction through an app and see it immediately reflected in their accounts.
Data Responsiveness
For an application to provide a positive user experience, it must always be available. The only way an app can be accessible 24/7 is if its data is accessible 24/7. Some systems of record may not always be available, but you still need a way to have always-on access to the data so the apps can always be active.
If apps are unresponsive or don't have the most updated information available, you risk losing customers. In fact, 57 percent of respondents in FullStory's Digital Experience Survey report leaving if a site or app loads slowly and 60 percent have rage-clicked in frustration on an underperforming site or app.
Legacy IT infrastructure, with siloed systems and many connections between data and systems of record, creates latency issues. By improving data responsiveness, you can reduce user friction and allow apps to load faster for increased performance. In the world of customer satisfaction, every millisecond matters.
Speed of Development
The ability to serve data in real-time doesn't just benefit customers; it also allows developers to work faster and accelerate the time to market for your applications. In many competitive sectors, quick time to market is one of the most crucial business priorities.
If you can create a holistic view of all your data and associated technologies, developers will have more streamlined processes to build applications and access the necessary data to develop services.
Trends like middleware, API providers, and microservice architecture are all rapidly changing what application development looks like. If you can offer developers seamless access to the data they need, you'll help them navigate an evolving landscape, which can shorten development cycles.
Migrating Data to Modern Infrastructure
Many established companies have most of their data stored in legacy systems like mainframes and are gradually moving this data to the cloud. According to Flexera's State of the Cloud Report 2022 study, 63 percent of companies report heavy usage of public clouds.
Cloud migration can make you more agile and plays into data modernization, which is the second biggest driver for cloud migration, according to Deloitte research. Only security and data protection ranked higher in motivations for adopting cloud technologies.
For many companies today, it's not so much about how to leverage the cloud, but rather how to properly migrate and modernize their infrastructure so they can quickly deploy digital applications and optimize operations.
Integrating Data
One of the biggest challenges to tackle as you modernize your data is creating an infrastructure that gives you a holistic view and a way of integrating data in the most optimal way.
Many companies are turning to digital integration hubs, an architecture that decouples applications from systems of record via a real-time replication of the data into a high-performance data store. With this low-latency data fabric that's always available, responsive, and accurate, you can reduce your tech stack complexity and make your applications and services run smoother.
With spending increasing across the IT landscape, companies are under acute pressure to make sure they get these consequential decisions right. Consider this checklist as a step in your evaluation of where your company should be investing. Data modernization is a journey that will require thoughtful business decisions and a precise strategy to ensure that you're capturing the most value, and satisfying your customers' demands.