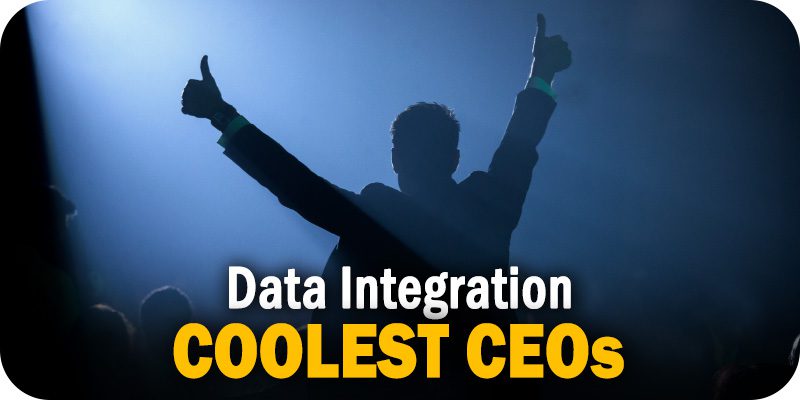 A list of the coolest data integration and engineering CEOs making a difference in a competitive global software market.
Data integration is a combination of technical and business processes used to combine different data from disparate sources. This process generally supports the analytic processing of data by aligning, combining, and presenting each data store to an end-user. Organizations commonly use data integration software for enterprise-wide data delivery, data quality, governance, and analytics.
The chief executive officer (CEO) is the highest-ranked executive in a company. The CEO has many responsibilities, ranging from setting strategy and direction to configuring the company's culture, values, and behavior. The chief executive is also responsible for building an executive leadership team and allocating funds to match the company's goals and priorities. Some CEOs have even more on their plate, especially those at the head of startups. Oftentimes they are responsible for more than just the traditional duties and can include anything from brewing coffee to marketing their product.
Solutions Review has compiled this list of the coolest data integration CEOs based on a number of factors, including the company's market share, growth trajectory, and the impact each individual has had on its presence in what is becoming the most competitive global software market. Some of the top data integration CEOs have been with their respective companies since day one while others are serial entrepreneurs. One thing that stands out is the diversity of skills that these chief executives bring to the table, each with a unique perspective that allows their company to thrive.
Note: CEOs are listed in alphabetical order.
The Coolest Data Integration CEOs
Christal Bemont, Talend
Christal is a seasoned executive with a demonstrated track record in defining and leading sales and go-to-market strategies to significantly scale cloud businesses. Previously, she spent 15 years at SAP Concur, most recently leading its $2B business organization as Chief Revenue Officer. Prior to her CRO appointment, Christal was Senior Vice President and General Manager of SAP Concur's Small, Midsized, and Nationals (SMN) business unit. Talend was acquired by Thoma Bravo for $2.4 billion in March.
Josh Rogers, Precisely
Josh Rogers is the Chief Executive Officer of Precisely, the global leader in data integrity, with 12,000 customers in more than 100 countries, including 90 of the Fortune 100. As CEO, Josh leads Precisely's global team of 2,000 employees as they build and deliver software and data products that provide accuracy, consistency, and context to power confident business decisions. During his tenure as CEO, the company's revenue has doubled annually for four straight years to more than $600m today. Clearlake-backed Precisely acquired Infogix in May.
Matthew Scullion, Matillion
Matthew is the founder and CEO of Matillion. He co-founded his first startup at age 18. Before starting Matillion in 2011, Matthew worked in commercial IT and software development for 15 years at a number of British and European systems integrators. A native of Altrincham, England, near Manchester, Matthew now spends half his time in the United States – primarily in Denver (Matillion's U.S. headquarters), Seattle, New York, and in the Bay Area, at the beating heart of the enterprise software industry. In total, Matillion has raised $250 million in total funding (1, 2) in 2021.
Vijay Tella, Workato
Vijay has led the creation of market-leading integration technologies for over 25 years. Prior to Workato, he was the CEO of Qik, a consumer video communications company acquired by Skype. Before Qik, he helped create two multi-billion-dollar integration products. He was part of the team that created the world's first middleware platform, TIB (TheInformation Bus) at Teknekron Software Systems, which was acquired by Reuters Plc, in 1994. He was also on the founding team and SVP, Engineering of TIBCO through its IPO. Workato raised $110 million in Series D funding in January.

Latest posts by Timothy King
(see all)