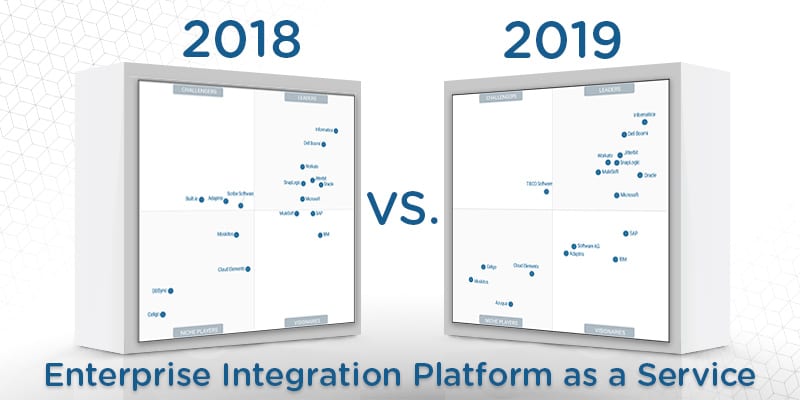 Analyst house Gartner, Inc. recently released its 2019 Magic Quadrant for Enterprise Integration Platform as a Service. Gartner defines iPaaS solutions as providing "capabilities to enable subscribers (aka "tenants") to implement data, application, API and process integration projects involving any combination of cloud-resident and on-premises endpoints." Primary drivers for iPaaS adoption include productivity advantages and suitability for cloud-centric use cases. This Magic Quadrant covers those vendors with a broad go-to-market strategy.
Gartner's recent global IT spending forecast predicts an explosion in spending on enterprise cloud integration. Though overall IT spending is only expected to increase by 1.1 percent, cloud-based enterprise software spending is expected to jump more than 7 percent. Much of that growth will come from Integration Platform as a Service and Application Platform as a Service solutions. This is consistent with other research, including a March Forrester study that found 80 percent of enterprises are currently upgrading or planning to upgrade their data integration technologies.
Most of the iPaaS offerings covered in the report focus on ad hoc integrators as opposed to integration specialists, and many providers are adding capabilities for citizen integrator scenarios. This is a breath of fresh air for those organizations looking for software that a number of integration personas can utilize. Gartner believes that this style of functionality improves productivity by enabling integration specialists to turn best practices into templates that less experienced users can customize.
In this Magic Quadrant, Gartner evaluates the strengths and weaknesses of 17 providers that it considers most significant in the marketplace, and provides readers with a graph (the Magic Quadrant) plotting the vendors based on their ability to execute and their completeness of vision. The graph is divided into four quadrants: niche players, challengers, visionaries, and leaders. At Solutions Review, we read the report, available here, and pulled out the key takeaways.
The report features considerable changeover from last year, as providers we once considered regulars in the space are now nowhere to be found. Built.io (acquired by Software AG), Scribe Software (acquired by TIBCO Software), and DBSync are no longer included, while Gartner has added Azuqua, Software AG, and TIBCO Software to this iteration.
Nothing has changed at the very top of the Magic Quadrant, with Informatica and Dell Boomi leading the pack. Informatica has become skilled at recognizing trends in the space, and has updated its product portfolio as a result. These include capabilities for data cataloging, integration hubs, support for different integration personas and the inclusion of AI and machine learning in its tools. Dell Boomi's experience in the space has allowed it to be first in moves toward IoT, edge computing, blockchain, and AI. Boomi's iPaaS tool is powerful, flexible, and supports a variety of use cases including ground-to-ground integration and event brokering.
Jitterbit increased its vertical standing slightly and now finds itself positioned just ahead of Workato, SnapLogic and MuleSoft in the leaders bracket. Jitterbit reference customers report their product to be reasonably priced compared to the competition, and remain satisfied on the whole with regards to service and support. Workato comes in five editions and features a broad range of integration options. Its enterprise iPaaS offering is feature-rich and works with a number of different integration personas. Workato was also one of the first vendors in the space to mainline AI and machine learning, and those factors remain a prominent part of its future investment.
SnapLogic offers an AI-centric integration platform that features embedded machine learning for automatic guidance. It supports hybrid deployments and a variety of use cases, namely for analytics and big data integration. SnapLogic remains a key player and technology driver in the market. MuleSoft finds itself among the leaders after making a major move on Gartner's ability to execute axis. The company has expanded its capabilities for full life cycle API management in recent months, and holds the lead for most evaluations by Gartner reference customers.
Not only is TIBCO Software a new entrant to this Magic Quadrant with its acquisition of Scribe Software, it's the only provider currently calling the challengers column home. We predict that TIBCO will join the market leaders as soon as next year. TIBCO touts a focus on multicloud, machine learning, and open-core support. It also features a considerable footprint in the enterprise data and analytics space, as well as a robust partner network of more than 900 system integrators and resellers.
This year's market visionaries include the likes of SAP and IBM, although both of these mega-vendors saw their positioning downgraded significantly in 2019. Software AG makes its iPaaS debut in this column, as its September 2018 acquisition of Built.io is a key differentiator. Software AG provides an expansive list of capabilities for a variety of integration scenarios within its webMethods platform. The provider also offers a range of developer experiences depending on the user. Adaptris saw the largest year-to-date move on the grid, greatly improving its completeness of vision. It supports a broad range of live implementations and features some of the best customer satisfaction scores of any provider in this Magic Quadrant.
The niche players column is home to a triplet of providers with depressed standing, as well as one making its debut. However, this is your yearly reminder that while the companies positioned here don't necessarily offer support for the broadest of use cases, they provide expertise for specific scenarios; scenarios that may line up best in your unique situation. Celigo is the top scorer here, and provides iPaaS support for non-technical users. It has also earned the top Gartner reference customer scores for speed of implementation and total cost of ownership.

Latest posts by Timothy King
(see all)