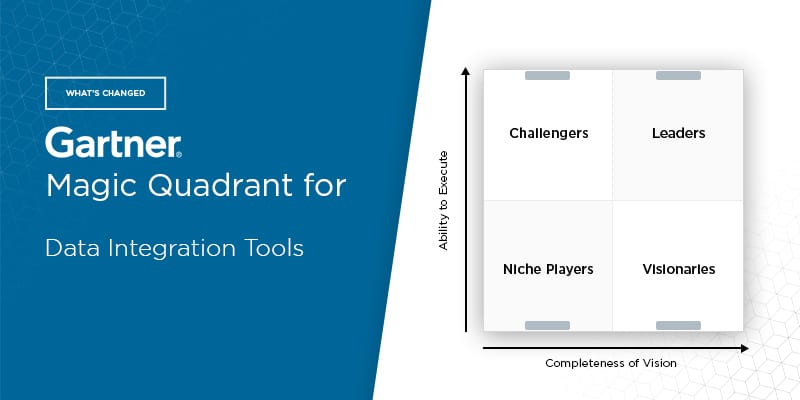 The editors at Solutions Review highlight what's changed since the last iteration of Gartner's Magic Quadrant for Data Integration Tools and provide an analysis of the new report.
Analyst house Gartner, Inc. has released its 2021 Magic Quadrant for Data Integration Tools. According to the researcher, the marketplace for data integration tools is seeing "renewed momentum" driven largely by requirements for hybrid and multicloud data integration, augmented data management, and data fabric designs. Gartner defines data integration tools as "the discipline comprising the architectural patterns, tools and methodologies" that enable data access, transformation, and processing.
This space includes vendors that offer standalone software products to enable data access and delivery infrastructure for a number of scenarios like data engineering, support for the delivery of analytics, data lake enablement, self-service data preparation, cloud migration, sourcing and delivery of master data, interenterprise data sharing, data consistency, and data fabric. As a strategic planning assumption, the analyst house predicts that manual data management tasks will be reduced by 45 percent via machine learning and automation.
Data integration tools are a stable growth market, with leading vendors continuing to lose ground to niche and up-and-comers. While the top-five players in the space had a 71 percent market share in 2017, that number has dropped dramatically to 56 percent in 2020. In large part, this is due to mega-vendors like Informatica and Talend honing in more on their iPaaS solutions. The smaller providers gaining ground are doing so vis a focus on leadership in a specific data integration style.
Other key drivers in the data integration tools market include an end-user push toward augmented data integration, an increase in data engineering requirements, the emerging discipline of DataOps, a notable increase in hybrid and intercloud data management, and the convergence of application and data integration. Gartner concludes: "More data and analytics leaders are realizing that data integration is a critical component of their data management infrastructure."
In this Magic Quadrant, Gartner evaluates the strengths and weaknesses of 18 providers that it considers most significant in the marketplace and provides readers with a graph (the Magic Quadrant) plotting the vendors based on their Ability to Execute and their Completeness of Vision. The graph is divided into four quadrants: niche players, challengers, visionaries, and leaders. At Solutions Review, we read the report, available here, and pulled out the key takeaways.
Gartner adjusts its evaluation and inclusion criteria for Magic Quadrants as software markets evolve. As a result, CloverDX was added while Actian, Information Builders, and Hitachi Vantara were removed for no longer meeting Gartner's inclusion criteria. Representative vendors include Adeptia, CloverDX, Denodo, Fivetran, HVR, IBM, Informatica, Matillion, Microsoft, Oracle, Precisely, Qlik, Safe Software, SAP, SAS, SnapLogic, Talend, and TIBCO Software.
Informatica once again leads the pack as the top-ranked vendor in this report. With more than 10,000 data integration tools customers, product investments aligned to the data fabric vision, and excellent support for data engineering use cases, it's not a surprise. IBM holds the next most valuable position with a modular architecture that supports intercloud and hybrid integration and strong support for DataOps. IBM also offers capabilities that support the data fabric design.
For the second-straight iteration, SAP, Oracle, and Talend form a bloc in the middle of the Leaders quadrant. SAP touts a product strategy that focuses on unification and hybrid. The company also caters to the data processing needs of enterprise users. Oracle is aligned to the data fabric use case and offers balanced support for a variety of data delivery styles. Talend brings a governed approach to operationalizing self-service data preparation and strong features for those in need of a tool for data engineering.
Microsoft and Denodo both saw their positions improve slightly along the graph's middle axis, with the former returning from a stay among the Challengers. Microsoft touts an overall low total cost of ownership, speed of implementation, and ease of use. The mega-vendor also enjoys the advantage of broad enterprise familiarity with its products. Denodo's product strategy focuses on logical and distributed architectures and the company invests 25 percent of its total revenue in research and development.
Qlik headlines the Challengers bracket for 2021 with a strong core of functionality, capabilities for multipersona, and ease of use, particularly around installation, configuration, and code generation. Even through a bit of placement regression, SAS retains a strong position with enhanced support for different user personas and enabling users to do complex transformations. Reference customers also enjoy SAS's professional services, ranking them highly for services and support.
TIBCO Software recently made a major splash in acquiring competitor Information Builders. The company also offers modular tools that support what Gartner refers to as a "connect and collect" vision for data integration. TIBCO touts an improved bulk/batch integration capability as well. Precisely rounds out the Challengers column with support for cloud data migration, strong potential for data management platform connectivity, and reference customer ease of use.
SnapLogic represents the lone Visionaries provider for 2021 featuring augmented guidance and automation and an easy-to-understand pricing model. SnapLogic recently dropped its August 2021 product release with SnapLogic Flows and new API lifecycle management capabilities. SnapLogic Flows offers an intuitive user experience for non-technical business users and enables the development of application integrations and data flow automation without code.
Most of the vendors included in the Niche Players column showed significant improvement from their 2020 positions. Among companies in this bracket, Safe Software holds the top position on Gartner's horizontal axis. The provider offers spatial data integration features and no-and-low code data preparation. Safe is also available via a number of deployment options. Adeptia's unified platform supports the core requirements of connectivity and adapters, bulk/batch data delivery, and data capture and propagation. Reference customers also enjoy Adeptia's pricing and value.
Fivetran offers a cloud data engineering-focused product strategy and low cost of ownership for low data latency. Fivetran also touts end-to-end automation and vendor-managed data with pre-built schemas. Matillion is highly focused on cloud data engineering and offers deployment options to solve common data sovereignty issues. Reference customers are highly satisfied with Matillion as well. HVR's focus is mainly on data replication, though it also offers support for complex data transformations. HVR automates data replication and synchronization tasks as well.
New entrant CloverDX offers a product that hones in on solving intricate data problems and touts a customer focus reflected on services, pricing, packaging, and deployment. Other key capabilities to note include data discovery, classification, and anonymization support.

Latest posts by Timothy King
(see all)