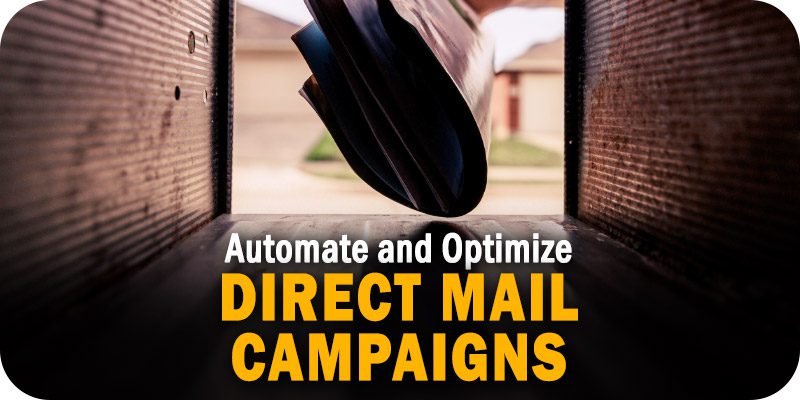 As part of Solutions Review's Premium Content Series—a collection of contributed columns written by industry experts in maturing software categories—Summer Hahnlen, the Senior Director of Customer Success at Lob, outlines some best practices for automating direct mail campaigns.

The growing prevalence of digital noise makes it difficult for marketers to engage consumers solely through online efforts. For example, a recent Forrester study says that 76 percent of marketing leaders say their digital marketing tactics are losing steam. Given this trend, it makes sense that many marketing professionals are looking to integrate other, more promising channels into their marketing mix, including direct mail.  
Direct mail has long been an effective marketing strategy. Why has it taken a back seat to digital channels?  The primary reason is that direct mail campaign execution has historically required lots of time and manual effort. Many organizations have also taken a siloed approach to direct mail, making it difficult to measure success in conjunction with other strategies. These obstacles prevent marketers from taking advantage of the power of direct mail.  
As we enter the new world of omnichannel marketing, marketers need to bolster their omnichannel strategy and combine digital and physical channels. Marketers today must take advantage of various channels to stand out in a noisy market, engage with consumers, and drive revenue growth and ROI. 
What's the Secret Behind Direct Mail? 
It solves the connection challenge many marketers face in our digitally dominated world. Direct mail enables marketers to create seamless consumer experiences across physical and digital touchpoints. And with the help of emerging technology, it does so in a personalized, connected, and measurable way.  
For marketers looking to leverage direct mail automation, here are steps and best practices for incorporating direct mail into a cohesive marketing strategy that generates tangible results without increasing marketing complexity. 
How to Automate Direct Mail Campaigns 
The key to direct mail campaign execution is automating the entire process. This can be achieved by integrating technology that makes direct mail intelligent with hyper-personalization, measurable ROI, and campaign analytics. Here is a breakdown of how to automate your direct mail campaigns:  
Plan in Advance
Direct mail should be considered in marketing campaigns from the beginning. That way, marketers can plan strategic direct mail touchpoints and decide ahead of time what role the channel will play in the campaign (e.g., initial touchpoint, follow-up connection, or final engagement). Ideally, direct mail goes out when marketers intend and hits mailboxes in conjunction with offers or promotions through digital channels. The good news is that people respond well to direct mail when it's used in this way, as seen in Lob's 2022 State of Direct Mail Consumer Insights report, which found that 64 percent of consumers took action on a direct mail piece due to an offer or promotion coming in at the right time.  
Set Triggers
Marketers can then set triggers that automatically send assets at the ideal moment according to campaign plans. With the right direct mail automation software, this is easy. Marketers can choose a target delivery date for mail pieces to ensure collateral arrives on time. They can also use data points, like abandoned carts, last login dates, and last purchase dates, as triggers to ensure communications are tied directly to customer behaviors. 
Identify and Personalize
Direct mail is most effective when it's personalized to the recipient. Modern marketing teams should aim to merge certain variables, like the customer's name or a photo of a previous purchase, into physical assets. Doing so increases conversion, especially for consumers between 18-34. This functionality is not a next-gen capability—personalizing direct mail pieces is table stakes. McKinsey found that 80 percent of customers are likelier to purchase products or services from brands that offer personalized experiences. Robust design and copy are, of course, also crucial. 
Tracking
Marketers should also have one-to-one tracking capabilities for their direct mail channels. Assets should include personalized URLs, unique coupon codes, phone numbers, or QR codes with appended UTM tracking. That way, marketing teams can measure success, which has long been a challenge in direct mail campaigns.  
Attribution Window
Finally, it's essential to set an attribution window of about three to six weeks after sending direct mail. On average, a piece of direct mail lifespan is 17 days. The State of Direct Mail Consumer Insights report mentioned previously also highlights that 85 percent of recipients regularly read direct mail immediately, the same day, or later. So, setting an appropriate attribution window ensures that mail pieces get the credit they deserve.  
Best Practices for Automating Direct Mail Campaigns 
On top of following the automation steps above, marketers should also implement these direct mail best practices. 
Leverage Digital Marketing Data
Digital channels, including social media platforms and email marketing, contain rich data points that inform how to use direct mail as effectively as possible. Marketers should leverage their analytics tools and digital insights to maximize customer acquisition and retention.  
Maximize ROI by Using Automation Tools
Automation solutions, like SaaS apps with social media and email analytics, are powerful tools for customer outreach. Marketers can maximize ROI and increase marketing productivity by automating areas like address verification, personalization, and trigger-based direct mail. 
Track Data
With a SaaS automation tool for direct mail marketing, teams can perform all the analytics that an email-based campaign delivers. This makes activities like split-testing direct mail campaigns and measuring ROI possible and necessary. Again, this is paramount for illuminating the black box label that has long followed direct mail. 
Direct Mail Improves Marketing Performance Across the Board
Marketers finally have the tools they need to capture the total value of direct mail. They can execute campaigns according to their visions by scheduling, setting triggers, and building direct mail into broader omnichannel campaigns that boost results. They also have more visibility into direct mail performance and can track when things are processed and delivered to the consumer. 
Perhaps most important, when marketers use automated direct mail as part of their marketing tech stack, the effectiveness of all the channels improves. Direct mail doesn't just generate positive results in isolation—it brings up conversion, retention rate, and repurchase rates for digital channels, making direct mail automation an essential tool for modern marketers.
---
Latest posts by Summer Hahnlen
(see all)