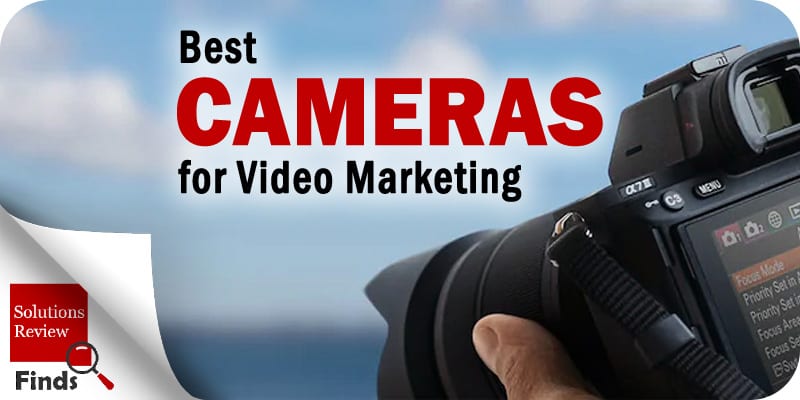 For each Solutions Review Finds post, our site editors shop for the best products, sift through the reviews, measure the top sellers and report back with our picks. Here are the best cameras for video marketing in 2022. Solutions Review participates in affiliate programs and may make a small commission from products purchased through this resource.
When crafting a successful marketing strategy, few things are as crucial as content. If the last several years have taught marketers anything, content is king. However, the form that content takes needs to continue to evolve if it wants to remain competitive and compelling. That's where video marketing comes into play.
According to research from Statista, nearly everyone over the age of 18 engages with online videos during the week, with over 20 percent of people saying they watch more than 10 hours a week. So if you want to take your marketing efforts to the next level, the video format might be the answer. But shooting video on the phone—while appropriate for platforms like TikTok—won't yield the production value most marketing audiences want. That's why we've compiled this list of the best cameras for video marketing.
The list below spotlights 6 of the best cameras marketers can (and should) use for their video marketing efforts and highlights the key features, strengths, and weaknesses. We've also included links to each camera's product page, so you can further compare devices and find the best one for your needs.
Canon EOS M6 Mark II
SUMMARY: The Canon EOS M6 Mark II is a notable improvement for Canon's mirrorless cameras. This model blends consistently high-quality optics with a compact design, a 32.5 Megapixel CMOS (APS-C) sensor, DIGIC 8 Image Processor, a high-resolution 3″ LCD tilting monitor, and 4K video recording. Videos shot with the camera will also use the camera's face tracking, eye detection, and autofocus features so that users can track moving targets at 14fps. 
PROS
Accurate autofocus
4K video supports the use of the full width of the frame
Reliable face and eye detection
CONS
Does not include an external viewfinder (EVF)
Lack of premium lens options
Higher price
OUR TAKE: While a bit on the pricier side, the Canon EOS M6 Mark II is regarded as one of Canon's best mirrorless cameras. It may lack some of the high-end features videographer enthusiasts are looking for, but the full-width 4K video recording capabilities (which are not as common as you may think) and autofocusing features make this an excellent tool for marketers breaking into the video marketing field. If you're looking for a cheaper alternative, the Canon EOS Rebel T7 is a popular option amongst consumers, especially those just getting started in the world of videography.
Fujifilm X-S10
SUMMARY: The Fujifilm X-S10 is one of the newest additions to mirrorless digital cameras' X-Series. The X-S10 maintains the X-series' compact, lightweight design along with the proprietary color reproduction technology Fujifilm users have come to expect from the visual quality offered by the company's products. In addition, with the X-S10, Fujifilm adds new features to their camera, such as a newly developed up to 6.0-stops of five-axis image stabilization mechanism, an AF system capable of attaining focus in 0.02 seconds, a larger grip to improve ease of use, and a high-performance auto-shooting feature.
PROS
The newly designed 5-axis IBIS
Reliable autofocus
4k and 30fps video recording
CONS
The battery life is underwhelming
No weather sealing
Only one memory card slot
OUR TAKE: The Fujifilm X-S10 is on the higher-end of prices, but you get what you pay for, as it's a terrific camera with an IBIS system that provides users with a level of stability you won't find in cheaper options. The front-facing display is an excellent feature for vlogging—something video marketers can undoubtedly benefit from—and the overall video capabilities rank among some of the best you'll get in this price range.
Nikon D7500
SUMMARY: The Nikon D7500 keeps many of the features from Nikon's flagship D500 and offers them in a far more affordable package. The camera is equipped with fast image processing, a large memory buffer, and a 180K-pixel RGB sensor designed to increase the accuracy of functions like AF, AE, and auto-white balances. Nikon's D7500 doesn't quite have the resolution of the Nikon D500, but the 3.2-inch, rear-facing LCD touchscreen still sports a 922k-dot resolution, can tilt up and down, and supports 4K video recording.
PROS
Tilting LCD touchscreen
4K video that can be output uncompressed with an HDMI cable
Bluetooth and Wi-Fi capabilities
CONS
4K video footage is cropped, so you can't shoot ultra-wide angles
Only one memory card slot
Lower resolution LCD screen
OUR TAKE: The Nikon D7500 may not be the camera for professional videographers who need all the newest and most dynamic features, it's still a top-notch product packed with technology that will work great for video marketers. While 4K video is cropped, this isn't a dealbreaker, especially for video marketers. There is also the standard 1080p, 60-fps mode available if you want to shoot in widescreen, and it produces solid video that is likely to work just fine for your video content.
Panasonic LUMIX G85
SUMMARY: The Panasonic LUMIX G85 is a DSLM camera equipped with the technologies and practical functionalities Panasonic users want and is paired with a compact body ideal for field use. The newly advanced 5-axis Dual I.S. (Image Stabilizer) suppresses blurring, so users can comfortably capture 4K video in 3840×2160 at 30p (60Hz) or 24p in MP4 formats. Other notable features include a 3″ touchscreen display with tilt and swivel capabilities, a weather-sealed body, dual image stabilization, and more.
PROS
Sharp 4K (UHD) video
Articulated LCD touchscreen
Remote control capabilities via smart phone
CONS
4K videos are cropped by a factor of 1.10
Underwhelming battery life
Subpar low light performance
OUR TAKE: This camera offers video marketers just about all the tools and features they need to shoot sharp, unique content for their audience. While it has its detractions, the 4K video—even with the 1.10 crop—and impressive image quality make this a compelling option in the mid-range pricing market. The camera's remote control capabilities and overall durability are also big perks, as they make the Panasonic LUMIX G85 a unit you can take just about anywhere.
Sony a6400
SUMMARY: With the a6400, Sony has created a camera that strikes a successful balance between the needs of consumers and professional enthusiasts. The Sony a6400 is equipped with features like a 24.2 MP Exmor CMOS sensor, a 0.02-second autofocus speed, real-time autofocus and targeting functionalities empowered by machine learning technology, a 180-degree tiltable LCD touchscreen, and 4K video recording at 24, 25, or 30fps. The camera also supports Bluetooth, NFC, and Wi-Fi.
PROS
4K video without cropping or recording limitations
Built-in pop-up flash, EVF, and hot shoe
AI-enhanced tracking functionality
CONS
Lack of in-body image stabilization (IBIS)
No external battery charger
The camera is not entirely weatherproof
OUR TAKE: The Sony a6400 is a great mid-market camera for marketers who want something more advanced than an entry-level product but without the cost of a professional-level unit. Its 4K video functionalities are reliably excellent. Unlike other cameras at this price point, you don't have to worry about your footage being cropped or cut off after a certain amount of time has transpired—you're free to film until the battery dies if you want. Some users may wish to upgrade the a6400 with a full-frame lens—the FE 24-105mm is a popular option—at some point, but the out-of-box capabilities should be more than enough for your video marketing needs.
Sony ZV-1
SUMMARY: Sony's ZV-1 is a camera made with content creators and vloggers in mind. While it shares similar tech with Sony's RX100 line, the ZV-1 branches out by focusing more on video-friendly capabilities and features. For example, ZV-1 includes image stabilization, face and eye detection, autofocus, and a metering system to maintain proper exposure in changing light conditions. Other features for videographers include a built-in microphone, 4K recording at 24 or 30fps, and a product showcase mode that automatically adjusts the focus when an object is centered.
PROS
Sleek, compact form factor
Terrific audio capture
Impressive 4K video
CONS
Disappointing battery life
Narrow lens
Touch functionalities are limited
OUR TAKE: If you're looking for an accessible but reliable camera, the Sony ZV-1 is a fantastic option. It's best suited for smaller marketing teams, especially ones focusing on more compact videos. The compact design, vlogger-friendly features, and reliable audio and video will quickly meet the needs of marketing video content. If you plan on taking the camera on the go, you will probably want to look into an accessory kit that includes a selfie stick or tripod, which will help compensate for the narrower lens.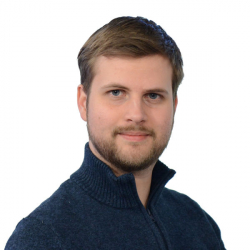 Latest posts by William Jepma
(see all)