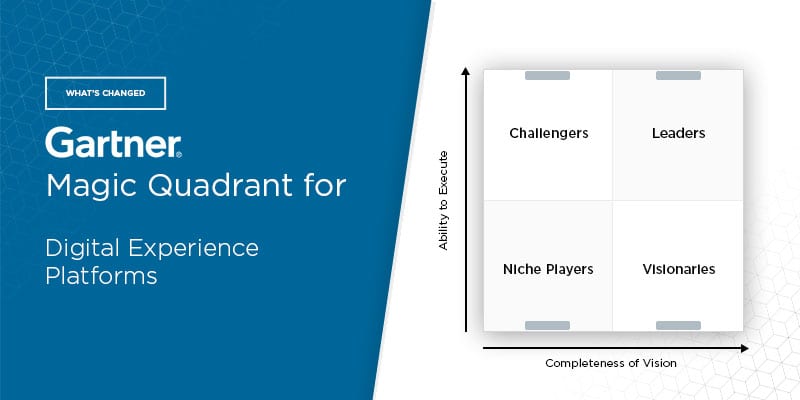 The editors at Solutions Review highlight what's changed since the last iteration of the Gartner Magic Quadrant for Digital Experience Platforms and provide an analysis of the new report.
Analyst house Gartner, Inc. recently released the 2021 version of its Magic Quadrant for Digital Experience Platforms. Digital Experience Platforms (DXP) include technologies designed to support organizations as they digitize aspects of their business to provide better experiences for their customers. These technologies have evolved from CMS, WCM, portal servers, and commerce servers.
The most successful DXP solutions often include a breadth of access, easy integrations, and multi-channel continuity across the customer journey. DXPs play an integral role in the ecosystem of digital businesses. They are often suited for brands that operate in B2B, B2C, and B2E settings, as these platforms provide the kind of optimized, seamless experience customers in those markets are looking for.
In this updated Magic Quadrant, Gartner identifies what it considers the 16 most significant DXP providers in the marketplace and evaluates each offer's strengths and weaknesses. Gartner's report also features the signature "Magic Quadrant" graph, which provides readers with a clear illustration of how Gartner ranks the vendors' ability to execute their vision. The chart is divided into four quadrants: leaders, challengers, niche players, and visionaries. You can find a breakdown of each category's entrants below.
Gartner describes DXPs as "centers of gravity" that operate in complex and interconnected technology stacks that affect a given digital presence. As the DXP market evolves, Gartner adjusts its criteria to evaluate providers, which means the vendors listed on this year's report are different from last year. For example, SAP is no longer listed, as it did not meet the inclusion thresholds, while e-Spirit, HCL Software, and Magnolia have been added.  
Leaders
Adobe once again sits at the top of the "Leaders" quadrant because of its widespread brand recognition and extensive ecosystem of users. The DXP it offers, called Adobe Experience Cloud, is predominantly used in available on-premises and PaaS. It offers features like content management, analytics, profile and identity management, customer data management, real-time segmentation, campaign management, and data enrichment for enhanced personalization. The platform is predominantly used in B2C contexts but is applicable in some B2B settings as well.
Acquia has improved its offerings and now sits higher in the Leader category than it did last year. Acquia's acquisitions of Mautic, AgilOne, and Cohesion have provided the company with more advanced marketing capabilities, a customer data platform (CDP), and a low-code site builder. These additions mean Acquia can provide customers with a more comprehensive DXP offering that better reflects market demand. Episerver has also upgraded its marketing functionality, thanks to its acquisition of Optimzely, and provides the messaging and prescriptive guidance that Gartner believes will resonate with target audiences.
Episerver (Optimizely) also sits higher in the Leader category than it did last year. Thanks to its acquisition of Optimzely, Episerver (Optimizely) has improved its marketing functionality and better resonates with its target audience's aspirations. The company also offers modular and transparent pricing packages, which have proven to be especially appealing to large enterprises and growing midsize organizations in the B2C and B2B markets.
Liferay is once again a Leader and provides large and midsize organizations with a DXP that provides authenticated customer and partner portal use cases. The company usually targets enterprise IT buyers who operate in the manufacturing, utilities, and financial service industries. Sitecore also maintains its place in the Leader category and provides its users with the content management, personalization, and optimization capabilities often sought after by organizations that rely on sophisticated digital marketing and customer experience strategies.
Challengers
HCL Software, a division of HCL Technologies, is a new entry in the Magic Quadrant and is classified as a Challenger. The HCL Digital Experience platform operates in B2B, B2C, and B2E settings and provides content management, security and access control, DAM capabilities, and low-code application development. According to Gartner, HCL Software's inclusion in the report results from its June 2019 acquisition of IBM's DXP business unit. This acquisition equipped HCL with products like WebSphere Portal, Web Content Manager, and the IBM Digital Experience Manager.
Oracle and Salesforce rank as the two highest Challengers in this year's Magic Quadrant. Oracle's DXP is offered as a SaaS subscription that includes native PaaS services and maintains a global presence and partner ecosystem that benefit from its collection of content management, AI, analytics, and security functionalities. Meanwhile, Salesforce offers its large userbase with extensive CRM capabilities applicable in multiple B2B and B2C verticals, such as retail, manufacturing, healthcare, and financial services.
OpenText also ranks as a Challenger, same as last year, and comes equipped with content management, analytics, personalization, optimization, and DAM capabilities. OpenText's DXP integrates with a range of third-party applications and suits complex organizations that deal with content-oriented scenarios.
Niche Players
CoreMedia and Crownpeak have both maintained their placements in the Niche category. CoreMedia and Crownpeak continue to offer services in B2B and B2C settings, with the former developing its ecosystem of technology alliances and integrations for its primarily European-based userbase. The latter once again benefiting from transparent pricing models and an intuitive UI.
Squiz and Kentico also remain in the Niche category with DXP offerings used by organizations in B2B, B2C, and B2E settings. Kentico's DXP, called Kentico Xperience, provides nontypical email marketing and digital commerce functionalities and is most often deployed in the government, education, retail, healthcare, and manufacturing verticals. Squiz is predominantly used by midsize organizations and provides a modular platform with distinct modules for content management, search and data management, and others. The company is actively investing in customer service and offers direct communication with customers.
e-Spirit is one of the new entrants in the Niche Player category. Gartner describes the company as having a "sound product strategy" aligned with the ongoing developments within the DXP market (i.e., cross-channel continuity and personalization). Its FirstSpirit Digital Experience Platform provides users with content management, search, personalization, and analytic capabilities. Like Adobe's DXP, it's available as a cloud PaaS and on-premises and is best used in B2C and B2B environments.
Rounding out the new entrants is Magnolia, a Niche Player that offers a DXP with functionalities like content management, personalization, search, campaign management, and DAM. According to Gartner, Magnolia presents a lower entry barrier than other providers, helping it gain momentum with B2B, B2C, B2E buyers in the banking, manufacturing, communications, travel, hospitality verticals. The "connector-rich framework and modular architecture" Magnolia provides can help users curate compelling digital experiences from "best-of-breed" components.
Visionaries
Bloomreach maintains its spot as the sole Visionary on Gartner's updated Magic Quadrant for Digital Experience Platforms. While the report notes that Bloomreach's growth was "slower" than expected, it continues to offer a "strong" offering of search, product discovery, and merchandising functionalities. The addition of a full GraphQL API has also reduced time to market.
---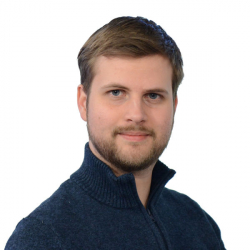 Latest posts by William Jepma
(see all)