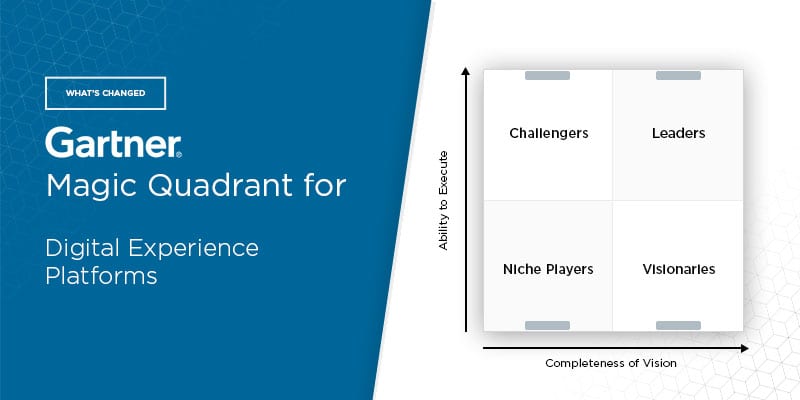 The editors at Solutions Review highlight what's changed in the newest iteration of Gartner's  Magic Quadrant for Digital Experience and provide an analysis of the new report.
Analyst house Gartner, Inc. recently released the 2020 version of its Magic Quadrant for Digital Experience Platforms. DXP covers technology that supports an organization's efforts to digitize certain aspects of their business in order to provide better customer experiences. This type of technology has evolved from CMS, WCM, portal servers, and commerce servers. High-quality DXP solutions feature a breadth of access, integration, and multi-channel continuity to ensure a holistic approach throughout a customer's journey. DXP supports multiple use cases, including B2B, B2C, and B2E. Not every company needs this kind of technology, but brands with a business stake in digital spaces and brands with multiple touchpoints will benefit from this type of platform.
We see a growing chasm between product and platform-oriented DXP vendors caused mostly by traditional vendors unable to keep pace with developments in the DXP market. The market's relative young age means that small shifts can be felt just as intensely as market-wide innovations. This includes trends such as hybrid headless CaaS, growing requirements for digital optimization and transformation, the growing importance of API-driven integrations, and the evolution of cloud DXP's beyond infrastructure requirements.
Customers' expectations for digital experiences are rapidly growing, which makes DXP adoption an urgent necessity for enterprises. The lack of market maturity means products are fragmented and still evolving, but businesses should be paying close attention to this market over the next few years. Vendors have considerably different definitions of what DXP is, and there is great variance in feature offerings and general software approach. Keep in mind the future of your business and how your chosen platform will serve your business as it grows.
What's Changed: 2020 Gartner Magic Quadrant for Digital Experience Platforms
---
In this Magic Quadrant, Gartner evaluates the strengths and weaknesses of 14 providers that it considers most significant in the marketplace and provides readers with a graph (the Magic Quadrant) plotting the vendors based on their ability to execute and their completeness of vision. The graph is divided into four quadrants: niche players, challengers, visionaries, and leaders. At Solutions Review, we've read the report, available here, and pulled out the key takeaways.
Gartner adjusts its evaluation and inclusion criteria for Magic Quadrants as software markets evolve. As a result, the following vendors have been removed for no longer meeting Gartner's inclusion thresholds: IBM, Microsoft, and SDL.
Adobe tops this year's Leaders quadrant with its strong vision for providing solutions that support high-quality digital marketing and customer experiences, especially for B2C use cases. Its Adobe Experience Cloud unifies underlying infrastructure and brings together services, applications, APIs, and customer data integration. Sitecore's DXP solution provides a broad set of capabilities for CX-centric and B2C use cases. Its headless capability, combined with the expansion into AI and ML, gives users access to a wide variety of channels.
With a strong understanding of the current DXP market, Acquia has jumped from the Challengers quadrant to the Leaders quadrant. This vendor's vision for an "open DXP" allows it to tap directly into key market demands, making use of its expansive and active open-source community base. The platform is also supported with strong digital marketing capabilities and a low-code site builder after recent acquisitions of Mautic and Cohesion. Liferay demonstrates a good understanding of the DXP market, offering strong capabilities for extensibility and application integration. Episerver has jumped from the Visionaries quadrant into the Leaders quadrant, demonstrating strong progress in delivering a broader digital experience; the platform is particularly effective for B2C and B2B use cases.
Salesforce toes the line between Challenger and Leader with its goal to connect customer data and profiles across a variety of data points. Its AI strategy with Salesforce Einstein applies to multiple digital experience areas, and Salesforce offers one of the largest partner ecosystems in the market. Oracle continues to invest in content-centric DXP features, including machine learning and natural language generation. Oracle has also made considerable effort to smooth out the customer purchasing journey, with guidance to pick the most appropriate tools for your business and simplify pricing and packaging.
OpenText's Experience Platform offers a wide variety of capabilities and can be deployed in a variety of public clouds, including Amazon, Google, and Microsoft. OpenText is particularly well-suited to supporting logged-in, authenticated experiences for B2B uses cases. SAP's Cloud Platform and other digital experience capabilities are cloud-agnostic and can be deployed on various public cloud infrastructures. The platform itself is well-suited to organizations that already use SAP business applications and includes unique features such as mobile software development kits, machine learning capabilities, and SAP Conversational AI.
Bloomreach is the sole Visionary in this year's Magic Quadrant. Its DXP is called Bloomreach Experience (brX) and is available as a hybrid cloud offering, most often used for B2B and B2C use cases. Its technology makes use of AI for search, personalization, and product recommendation. Bloomreach also offers a widespread technology partner channel with digital commerce vendors, including commerce tools, Elastic Path, and Salesforce.
Maintaining its position as a Niche Player, Crownpeak offers transparent pricing with a low barrier to entry for customers who want to explore DXP at their own pace. Its UI has been praised as user-friendly and intuitive, and its SaaS model is appealing to midsize organizations with few internal IT resources. CoreMedia's Content Cloud is available as a cloud PaaS that can be managed by various parties and is primarily useful to B2C and B2B use cases. Its multi-experience strategy has improved with hybrid headless CaaS and digital experience delivery to additional channels.
Squiz has transitioned from individual product lines to a unified single DXP offering, focusing on CX and digital government, student, and employee experiences. Squiz is at an early stage, but its DXP Datastore (integrated content delivery platform) and Content API offer hybrid headless experience delivery. Kentico Software offers a well-rounded, midtier, prepackaged DXP with a variety of core capabilities. Its price offers a low barrier to entry, and its platform presents less complexity in terms of deployment and capabilities, potentially shortening the time to value for certain customers.
Read the full Gartner Magic Quadrant Report for Digital Experience Platforms.
---
Latest posts by Anna Birna Turner
(see all)