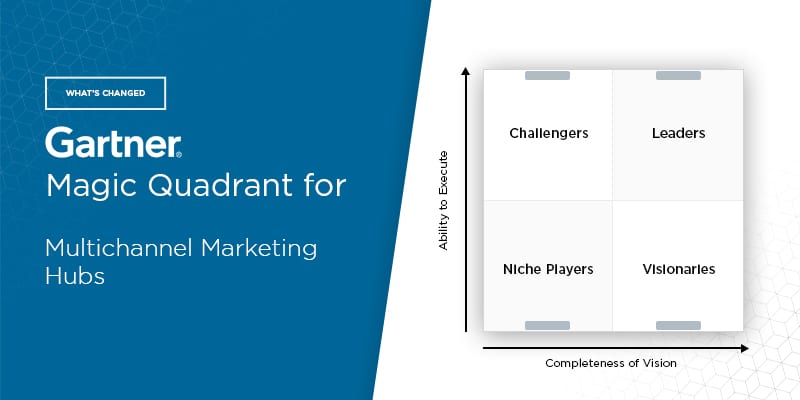 The editors at Solutions Review highlight what's changed since the last iteration of the Gartner Magic Quadrant for Multichannel Marketing Hubs and provide an analysis of the new report.
Analyst house Gartner, Inc. recently released the 2021 version of its Magic Quadrant for Multichannel Marketing Hubs. Gartner defines a multichannel marketing hub (MMH) as a technology that can orchestrate company communications and offers various customer segments via multiple channels, including websites, mobile, social, direct mail, call centers, paid media, and email.
The core components of an MMH include functionalities for customer profile management, segmentation, campaign creation, workflows, event triggering, content management, advanced analytics, and more. Marketing leaders often rely on MMHs to provide them with unified customer profiles and predictive insights to help them develop personalized, multichannel engagement.
In this updated Magic Quadrant, Gartner identifies what it considers to be the 20 most significant MMH providers in the marketplace and evaluates the strengths and weaknesses of each. The report also features the signature "Magic Quadrant" graph, which clarifies how Gartner ranks each vendor's ability to execute their vision. The graph is divided into four quadrants: leaders, challengers, niche players, and visionaries.
What's Changed: 2021 Gartner Magic Quadrant for Multichannel Marketing Hubs
---
As the MMH market continues to evolve, Gartner updates the criteria it uses to evaluate providers, which means the vendors included in this report may differ from prior reports. For example, Evergage, a Visionary in last year's report, was dropped from the list, as it was acquired by Salesforce in early 2020 and incorporated into Salesforce Marketing Cloud. Meanwhile, Acquia and BlueVenn have both been added to the report.
A breakdown of each category listed and the companies associated with it is below.
Leaders
There are very few major changes in this year's Leader category, as all 6 vendors from last year return in this iteration. The most significant update is Salesforce's Marketing Cloud platform overtaking Adobe for the top spot. Gartner cites Salesforce's product execution as one of the primary reasons for the change, as the company's acquisition of Evergage, the release of Customer 360 Audiences CDP, and launch of Digital 360 (which packages Salesforce Marketing Cloud, Commerce Cloud, and Experience Cloud together) make it an ideal platform enterprise marketers.
Adobe remains high on the list, as it ranks only slightly below Salesforce. Its MMH, titled Adobe Campaign, is a component of Adobe Experience Cloud and helps marketing teams measure, plan, and orchestrate their multichannel customer engagements. The company released various updates to its MMH last year, but it's Adobe's data management abilities that most Gartner Peer Insights users selected as the platform's best strength.
Oracle's growing portfolio of AI and ML-enabled features give it a slight edge over SAS. However, SAS' integrations and hybrid data requirements, which combine on-premises MMH deployment and cloud-based data, set it apart from its competitors. Both Oracle and SAS' MMH offerings received high marks for their analytics capabilities.
Acoustic's MMH, the Acoustic Marketing Cloud, ranks just slightly below SAS and offers a cohesive user experience and dedicated customer service director. The company also offers three competitively priced models of Acoustic Marketing Cloud, all of which include the company's campaign management, personalization, analytics, and content management modules. This solves a common pain point for buyers and earned the company high marks.
SAP Marketing Cloud is the final Leader in this year's report. Gartner defines its best features as its Customer Data Platform, large (and growing) partner network, and ability to handle high-volume, complex segmentation projects for B2B and B2C enterprises.
Challengers
Cheetah Digital, Redpoint Global, and Optimove have all retained their Challenger status. Cheetah Digital has climbed to the top spot on account of its revamped platform and introduction of the Cheetah Personalization module, allowing users to capture and leverage streaming data, bolster segmentation functionalities, and improve real-time decisioning capabilities.
Redpoint Global's MMH, rgOne, has modules for customer data management, intelligent orchestration, and automated machine learning and was praised by Gartner Peer Insights for its ability to develop and manage real-time single customer views. Meanwhile, Optimove's Relationship Marketing Hub offers users customizable customer lifecycle models, a clean UI experience, orchestration, reporting dashboard, and insight-generating tools that earned the company high marks from Peer Insights.
Niche Players
Of the 9 companies listed as Niche Players, Resulticks sits on top, maintaining its position in last year's report. The company's end-to-end MMH offerings are equipped with actionable audience insights, accessible UI and allow users to incorporate visual content into their campaign planning efforts on systems like DAM and PIM. Braze ranks just below Resulticks, with the platform's ease of use and cross-channel execution capabilities cited as the "focal point of customer acclaim," according to Gartner.
Since last year, Insider's MMH has significantly bolstered its partner network, securing a similar placement in the report to the 2020 iteration. Iterable, meanwhile, has risen since last year, on account of its expanding data integration functions, growing customer success team, and the Iterable Community, an area that Iterable has invested a lot in over the last year.
Acquia is the first of two new entrants in the report. Its MMH, Acquia Marketing Cloud, consists of a customer data platform, a website personalization engine, and a multitouch journey builder. The company has been focused on adding and improving its portfolio of capabilities with a series of acquisitions that Gartner says have helped it claim its spot as a viable competitor in the MMH market.
Sailthru's MMH platform has benefitted from the acquisition strategies of its parent company, CM Group, as it has helped the platform expand its functionalities and double down on its intuitive interface, general ease of integration, and rapid deployment times. Selligent Marketing Cloud—also owned by CM Group—has similarly benefited from its parent company's various acquisitions, which have equipped the company with a broader partner network that makes its accessible packaging and pricing even more appealing.
BlueVenn is the other newcomer on the report, and its MMH platform comprises a CDP, known as BlueVenn Unify, with the BlueVenn ENGAGE MMH. According to Gartner Peer Insights users, BlueVenn's most notable features are its flexible data models, drag-and-drop visual approach to deriving customer data insights, and ability to scale customer insights into outbound customer engagements. However, it's worth noting that Upland Software acquired BlueVenn in March 2021.
HCL Software rounds out the Niche Player category with HCL Unica, an MMH solution that IBM acquired in 2018. A recent update to Unica converted it into a cloud-native MMH platform. HCL also introduced five new modules to Unica, improved the connections between its various modules, and added new out-of-the-box integrations with third-party applications.
Visionaries
Pegasystems and Emarsys are the only two Visionaries this year. The former retains its position on the graph, and Emarsys has climbed higher up due to its enhanced ability to execute its product vision. Pega standardized the implementation process of its Customer Decision Hub (CDH) solutions in the past year and developed an updated Pega Academy community for its users, which offers various certifications for Pega customers looking to strengthen their knowledge of the platform. The company also plans to release Scenario Planner in 2021, introducing predictive features to the platform.
Even though Emarsys was acquired by SAP in 2020, the company continues to operate under its own brand. Being acquired by SAP has afforded it native access to well-developed enterprise platforms, which has helped Emarsys continue to expand its focus on multichannel marketing and personalization features in meaningful ways. According to Gartner Peer Insights, the platform's most distinguishing quality is an intuitive interface capable of meeting the needs of a wide variety of users, including nontechnical business leaders to advanced data analysts and beyond.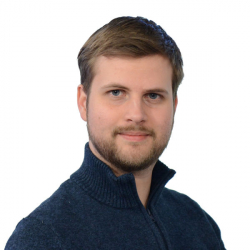 Latest posts by William Jepma
(see all)