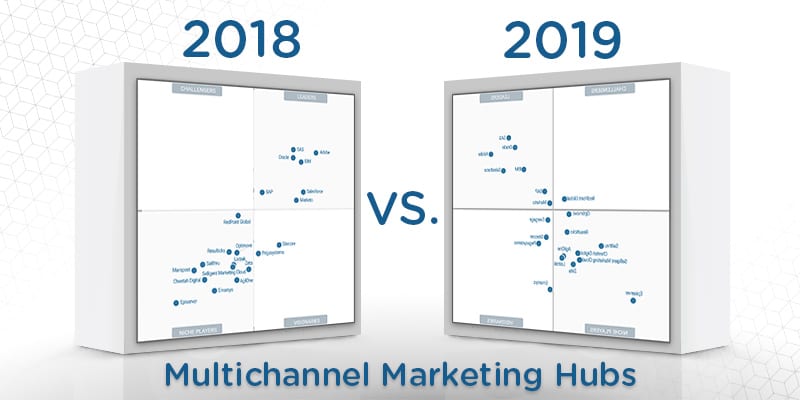 The editors at Solutions Review highlight what's changed since the last iteration of the Gartner Magic Quadrant for Multichannel Marketing Hubs and provide an analysis of the new report.
Analyst house Gartner, Inc. recently released the 2019 version of its Magic Quadrant for Multichannel Marketing Hubs. Multichannel Marketing solutions offer technology that facilitates communication and offers between companies and their customers across various mediums. Modern multichannel solutions focus on machine learning, customer-relevant insights, and centralized, comprehensive customer profiles. MMH technology is usually included in call centers, direct mail, paid media and email, social media, mobile, and websites. MMH has also seen use cases in B2B and B2C.
As solutions become increasingly complex, the vendors that currently stand out are focused on technical support and ease of use. MMH platforms tend to be less modular and difficult to integrate with existing software. However, Gartner's analysis indicates that customer's vendor sentiments correlated directly with the quality of support received. It's also clear that machine learning and artificial intelligence are on the rise in this space. Companies emphasize practical applications here and include autonomous campaign generation and optimization and list fatigue detection and frequency management.
Customer data and profile management remain integral to modern MMH solutions. Capabilities such as analysis, flexibility, and data control are in high demand. In turn, vendors are focusing their efforts on features to synchronize data across multiple channels. As vendors develop larger customer data platforms, ML and AI make personalization easier.
But this is a double-edged sword: if vendors focus on duplicating the capabilities of pre-existing personalization engines, they risk contributing to marketplace confusion. Because MMH deals with making personal data viewable and manageable, vendors support native or third-party consent management and auditing capabilities. Prompted by the European General Data Protection Regulation, which went into effect in May 2018, this aids marketers complying with data privacy regulations.
What's Changed: 2019 Gartner Magic Quadrant for Multichannel Marketing Hubs
---
In this Magic Quadrant, Gartner evaluates the strengths and weaknesses of 21 providers that it considers most significant in the marketplace and provides readers with a graph (the Magic Quadrant) plotting the vendors based on their ability to execute and their completeness of vision. The graph is divided into four quadrants: niche players, challengers, visionaries, and leaders. At Solutions Review, we read the report, available here, and pulled out the key takeaways.
Gartner adjusts its evaluation and inclusion criteria for Magic Quadrants as software markets evolve. As a result, Maropost has been dropped for no longer meeting Gartner's inclusion thresholds, and Evergage has been added.
SAS sits at the top of the Leaders quadrant with its strong predictive modeling capabilities. It offers a unified environment for data science model selection, development, and testing. Customers have also consistently praised this vendor for excellent implementation and post-implementation support. Oracle offers MMH functionality for B2B and B2C marketers, and powerful segmentation is available from its Adaptive Intelligent Apps and CX Audience. Oracle has an ambitious vision for profile management with a focus on cross-cloud solutions.
Right on Oracle's heels, Adobe provides comprehensive functionalities and a user-friendly interface, as well as an embedded AI service called Sensei. Sensei allows for predictive line optimization, predictive email imagery, and more. Features such as predictive list fatigue and email send times are slated for 2019 development. IBM WCA offers extensive reporting options that customers have linked to improved web analytics capabilities. In the coming year, IBM's 2019 roadmap includes predictive journeys, AI-powered anomaly detection, ad bid optimization, and other personalization features.  
Salesforce has experienced vertical growth in the Leaders quadrant as it continues to add functionalities like automated segmentation and enhanced journey analytics with its Einstein AI. Salesforce offers a large network of integration possibilities and has recently added Interaction Studio, Datorama, and MuleSoft. SAP is catching marketers' attention with its rule-based segmentation capabilities and its Leonardo artificial intelligence. Leonardo automatically identifies segments and prompts marketers with automated campaign plans.
Marketo maintains its position after adding 60 integrations to its network of over 500 partners. Clients enjoyed Marketo's flexibility across use cases and ease of integration. RedPoint Global has made the jump from Niche Player and now toes the line between Challenger and Leader. With the addition of its AI Studio, RedPoint offers a marketer-friendly interface that brings dynamic path-to-purchase automation and individual customer journey optimization.
A newcomer to this year's report, Evergage sits at the top of the Visionaries quadrant. This solution provides marketers with extensive personalization options, allowing customers to mix-and-match rules, algorithms, tactics, and channels. Customers have also praised Evergage's customer service and support, citing smooth integration and rapid response times. Sitecore earned high praise with its algorithmic segmentation, predictive modeling, event-triggered marketing, and real-time delivery capabilities. Sitecore is currently expanding its architect community by introducing JavaScript Services, enabling developers to create web apps and pages without .NET experience.
Pegasystems has experienced horizontal growth with its ability to source customer data attributes and insights from multiple channels. This vendor supports a variety of industry-specific use cases and has been praised for its ability to support the needs of large organizations. Emarsys has transitioned from the Niche Players category and is now a fully-fledged Visionary. With dynamic content blocks that support custom templates, this vendor is ideal for customers that want to streamline marketing campaign productivity.
Optimove has risen to the top of the Niche Players quadrant and will most likely break into the Challengers quadrant if it continues to progress similarly. Optimove has been praised for its next-best-offer and channel optimization capabilities and plans to improve these functionalities with self-optimizing customer journeys and improved ROI predictions.
Compared with other vendors, Resulticks has consistently received above-average scores across all of its major functionalities. Its mCloud solution features audience data management and campaign orchestration capabilities. Sailthru has gained vertical momentum, and customers have pointed to its general flexibility and integration possibilities. Sailthru's core strengths include coordinated personalization across email, mobile, and web channels. These capabilities have been further extended through a partnership with Inkit in April 2018.
Cheetah Digital added its Stellar Loyalty feature, which brought enhanced customer profile management and data ingestion capabilities. This vendor is unique in that half of its staff is dedicated to professional services and customer success. AgilOne and Listrak are vying for a position on the cusp of the Visionary quadrant. AgilOne has been praised for its ability to segment, score, and execute campaigns, while Listrak excels at personalizing its content through individual consumer analysis.
Selligent Marketing Cloud has been consistently cited as an easy-to-use system that enables marketers from various business functions. Its Universal Customer Profile allows customers to identify and classify customers and interactions across multiple channels. Zeta seeks to protect customer privacy by limiting individual-level analytics to internal processes, preventing information theft and extraction. Episerver continues to maintain its position as a Niche Player with the launch of Episerver Reach, which drives real-time product recommendations through machine learning.   
Latest posts by Anna Birna Turner
(see all)