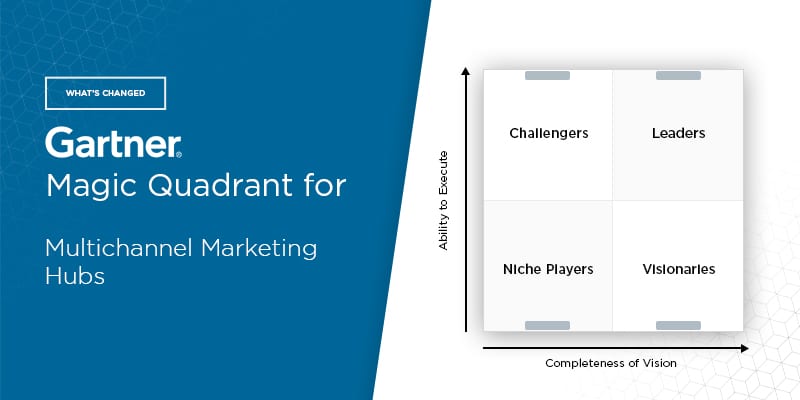 The editors at Solutions Review highlight what's changed since the last iteration of the Gartner Magic Quadrant for Multichannel Marketing Hubs and provide an analysis of the new 2022 report.
Analyst house Gartner, Inc. recently released the 2022 version of its Magic Quadrant for Multichannel Marketing Hubs. Gartner defines a multichannel marketing hub (MMH) as a technology capable of orchestrating company communications and offering multiple customer segments, including websites, email, social, call centers, paid media, direct mail, and more.
The core components of an MMH include functionalities for customer profile management, segmentation, campaign creation, workflows, event triggering, content management, advanced analytics, and more. Marketing leaders often rely on MMHs for unified customer profiles and predictive insights, which help them develop personalized, multichannel engagement.
In this updated Magic Quadrant, Gartner identifies what it considers the 17 most significant MMH providers in the marketplace and evaluates the strengths and weaknesses of each. The report also features the signature "Magic Quadrant" graph, which clarifies how Gartner ranks each vendor's ability to execute their vision. The chart is divided into four quadrants: leaders, challengers, niche players, and visionaries.
What's Changed: 2022 Gartner Magic Quadrant for Multichannel Marketing Hubs
---
As the MMH market continues to evolve, Gartner updates the criteria it uses to evaluate providers, which means the vendors included in this report may differ from prior reports. For example, SAP Marketing Cloud was replaced with the B2C-focused solution SAP Emarsys, while BlueVenn, Selligent, and Sailthru were dropped because other companies acquired them. Meanwhile, MoEngage was added to the report.
Below is a breakdown of each category listed and its associated companies.
Leaders
Adobe claims the top spot in this year's report with Adobe Journey Optimizer, one of the solutions included in Adobe's Experience Cloud (AEC) suite. Journey Optimizer can access the customer profiling and data management capabilities of Adobe Experience Platform to enable real-time event streaming with embedded machine-learning (ML) models. Alongside those data management features, Gartner also highlights Journey Optimizer's user experience (UX) and message design tools as notable strengths of the platforms.
Salesforce is the next company listed, a change from last year, where it took the highest spot in the Leader category. For this report, Gartner evaluated the Salesforce Marketing Cloud solution, which includes four modules. These include a Customer Data Platform and solutions for Engagement, Intelligence (formerly Datorama), and Personalization (formerly Interaction Studio) for B2C enterprises in North America, Latin America, and Europe. As a multichannel marketing hub, Salesforce's strengths include its cohesive data and analytics tools and collaboration, testing, and personalization capabilities.
Oracle's Responsys Campaign Management is next and is targeted at marketing companies in the retail, technology, and financial services sectors. Since last year's report, Oracle has expanded its integration capabilities with other leading software (i.e., Salesforce, NetSuite, Shopify, and Adobe) and improved its customer analytics tools. Gartner spotlights Oracle's advanced AI and ML capabilities, customer data tools, and mobile marketing functionalities as its most significant strengths in the MMH marketplace.
Redpoint Global has graduated from the Challenger category and now ranks as a Leader. Its MMH solution, rgOne, supports three use cases: data, insight, and action. The company focuses on helping North American, and EMEA companies resolve data streams, create reliable customer records, and use complex customer behaviors in their journey orchestration efforts. Strengths include its intuitive data dashboards, embedded machine-learning technology, and analytics dashboard, which leverages Redpoint's extensive data management functionalities.
SAS rounds out the Leader section with its Customer Intelligence 360 solution, which uses the company's comprehensive analytics capabilities to help global companies in retail, financial services, and communications markets predict and respond to customer behaviors. Gartner's report says that SAS' multichannel marketing strengths include its unified journey designs, analytics, data measurement tools, and comprehensive data sources capable of accessing private cloud or on-premises databases.
Challengers
Acoustic is the first Challenger in this year's Magic Quadrant. Its MMH solution, Acoustic Marketing Cloud, predominantly works with midsize to large B2C companies across industries and provides a suite of campaign management, personalization, analytics, and content management modules. While the company has yet to claim a competitive market presence, its prioritization of user experience enhancements and dedicated customer success services help it differentiate itself from other software. Alongside those features, Gartner also spotlights Acoustic's flexible capabilities configurations as a notable strength, and its open architecture allows users to customize the platform to their unique tech stack.
Braze's MMH capabilities focus on real-time journey management and cross-channel engagement powered by its roots in the mobile marketing space. The company works with B2C clients worldwide and in retail, healthcare, and financial services. Braze became a publicly traded company in November 2021 and received additional funding, which has helped drive its business momentum and grow its customer base and revenue. Other strengths include an intuitive interface, a drag-and-drop journey designer tool, and extensive personalization features.
Cheetah Digital's MMH solution is the Cheetah Customer Engagement Suite, which consists of five modules for engagement data, experiences, messaging, personalization, and loyalty. The product suite has been recently repackaged into Relationship Marketing to support clients with customer data insights, proactive testing, and real-time personalization. Cheetah Digital finalized its merger with CM Group, a martech umbrella organization, in February 2022. Gartner identifies its real-time personalization tools, improved user experience integrations, and event-trigger marketing tools as its differentiating strengths in the MMH market.
Niche Players
Resulticks is the top Niche Player listed in this year's Magic Quadrant. With rCloud, its MMH solution, Resulticks provides marketers with real-time communication tools capable of prioritizing analytics reporting across channels. The company primarily works with B2B and B2C companies in financial services, insurance, retail, transportation, telecommunications, and manufacturing industries. Its strengths as an MMH provider include its analytics reporting capabilities, offline-to-online connections, and investment from CDP, which helps Resulticks improve its native integration with Google Ads and OOTB APIs.
Acquia's MMH offering takes the form of Acquia Marketing Cloud, a suite comprising Acquia Personalization, Acquia CDP, and Acquia Campaign Studio, including its add-on, the Acquia Campaign Factory. The company focuses on mid-to-large enterprises in retail, D2C, and technology services across the U.S. and Western Europe territories. Gartner's report spotlights Acquia's easy data integrations, new automation tools, and content management capabilities, which expanded after the company acquired Widen, a digital asset management (DAM) vendor, in 2021.
Optimove's MMH solution is the Optimove Relationship Marketing Hub, which provides EMEA and North American companies in various industries with automated segmentation, campaign orchestration, analytics, AI, and unified customer profile capabilities. According to Gartner's research, some of its highest-ranked features include its data-driven automation tools, a marketer-focused user experience (UX), and a roadmap of additional marketing tools that have expanded AI functionalities and self-optimizing campaigns.
MoEngage, the only new vendor added to Gartner's report, provides media, retail, telecommunications, and fintech companies with a Customer Engagement Platform equipped with unified customer profiles, lifecycle customer scoring, and mobile messaging tools for in-app, web channel, and email communications. The company stands apart from the competition with its mobile-centric approach to MMH, digital commerce support, integrations with leading software platforms, and platform flexibility, which allows users to expand their solution capabilities with API connectors.
Iterable is the next MMH listed in the Magic Quadrant for Multichannel Marketing Hubs graph. With its MMH solution, midsize and enterprise businesses in the retail, professional services, healthcare, financial services, and consumer goods industries can analyze data from multiple customer datasets to develop and activate adaptive marketing campaigns. Its multichannel marketing strengths stem from its A/B campaign testing capabilities, accessible drag-and-drop functionalities, ease of use, and segmentation engine, which makes it easy for marketers to segment their customers with various profile attributes and behavior criteria.
Insider's Multichannel Growth Management Platform provides mobile-centric engagement tools and robust personalization capabilities for B2C clients in mid-to-enterprise-size companies in telecommunication, media, and retail markets. The company is notable for its extensive customer success program, fast implementation times, ease of deployment, time to value, and the breadth of its mobile channel, which covers in-app messaging, rich communication services (RCS), and push notifications.
HCL Software rounds out the category with HCL Unica, an MMH solution designed to manage omnichannel experiences. While the company's customer base has yet to go fully cloud-based, putting it slightly behind the curve of other industry providers, Gartner notes that the company's customer base is migrating to the cloud-based version of Unica at a steady pace. Its strengths include a goal-focused approach to campaign development, industry journey templates, and capabilities that leverage AI and machine learning to refine journeys based on user behaviors and contexts.
Visionaries
Instead of SAP Marketing Cloud, this year's Magic Quadrant spotlights SAP's Emarsys Omnichannel Engagement Platform, which is the customer engagement platform module of SAP's CX CRM platform. Emarsys targets B2C and D2C organizations in retail, travel, and media verticals. Its strength as an MMV vendor includes its channel engagement features, its extensive install base of companies already established in SAP's ecosystem, and its SAP's global network of integration and technology partners, which have a long history of helping streamline the implementation and onboarding processes.
Pegasystems is the final company listed in the Magic Quadrant for Multichannel Marketing Hubs report. Its Customer Decision Hub (CDH) provides enterprise B2C marketers with predicted customer engagement tools supported by real-time AI technologies. The company is well-regarded for its "empathy-first" approach to MMH, as it helps marketers improve customer engagement with data consent and preference management functionalities. Other notable strengths include its analytics and reporting capabilities alongside flexible integration opportunities with leading CRM, CMS, and DAM solutions.
---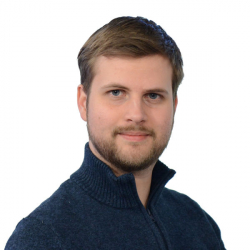 Latest posts by William Jepma
(see all)