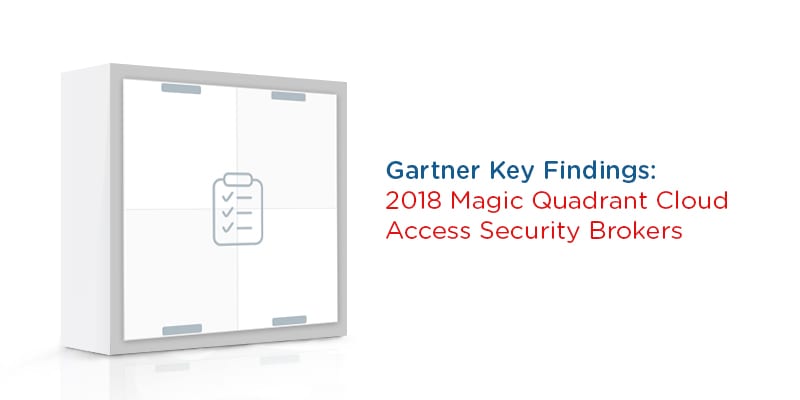 It's that time of year again: technology research and analysis firm Gartner, Inc. has released the annual iteration of their Magic Quadrant (MQ) Report for Cloud Access Security Brokers for 2018.
For the uninitiated, in this report, Gartner evaluates the strengths and weaknesses of the 16 Cloud Access Security Brokers it considers the most significant in the market based on distinct service and market share criteria. The report then provides readers with a graph—the so-called Magic Quadrant—plotting the vendors based on the completeness of, and their ability to execute on, their security vision. The four categories of the Quadrant are labeled Leaders, Visionaries, Challengers, or Niche Players.
For the 2018 report, the 13 solution providers selected to the Cloud Access Security Brokers Magic Quadrant are Bitglass, CensorNet, CipherCloud, Cisco, Forcepoint, McAfee, Microsoft, Netskope, Oracle, Palo Alto Networks, Proofpoint, Saviynt, and Symantec.
For 2018, Gartner finds the Cloud Access Security Brokers market to have rapidly evolved as demand for their services increased. In their estimation, "the rapid adoption of cloud services has caught many security teams unprepared." The marketplace is stabilizing but still highly volatile.
Adding a sense of urgency to their assessments, Gartner predicts that up through 2023 "at least 99% of cloud security failures will be the customer's fault."
At Solutions Review, we read the 2018 Magic Quadrant Report for Cloud Access Security Brokers. We pulled a few of the key findings. Here they are:
How Gartner Defines Cloud Access Security Brokers
The definition Gartner provides for 2018 is quite straightforward. These brokers offer: "products and services that address security gaps in an organization's use of cloud services." Cloud service providers do not often provide security to the data on their servers, so enterprises must enlist these services. Their solutions include cloud-specific capabilities not otherwise available to the cloud such as web application firewalls.   
For inclusion to the 2018 Magic Quadrant Report for Cloud Access Security Brokers, Gartner requires vendors must provide key product features including multitenant service delivered from the public cloud and user behavior inspection.
New Names to Cloud Access Security Brokers
Gartner readjusts its evaluation criteria, often in response to market changes, each year. Therefore, sometimes vendors who appeared in the MQ one year may not return for the next one.
In 2018, no vendors were dropped from the 2018 Magic Quadrant Report for Cloud Access Security Brokers. However, two new names appear in the report this year: Forepoint and Proofpoint.
Gartner does state the market is stabilizing despite the flurry of acquisitions since its formation. The slow growth of included vendors might be indicative of that assessment.
Growing Stability
Gartner examines this stability in the Cloud Access Security Brokers market in their report. Common use cases have formed and vendors are working to expand their security demands as customers face increasing cloud security fears and tribulations. Customers are bombarding Gartner with questions on what Cloud Access Security Brokers to select for their business.
To the editors at Solutions Review, these questions raise the possibility of continued market growth over the next few years as more enterprises digitally transform.
The Named Leaders in the Magic Quadrant Report
The distribution on the Magic Quadrant for 2018 proves fairly even. If anything, it appears to reflect a truly stable market: a solid number of Niche Players, a few Challengers, a few Visionaries, and some Leaders.
Gartner named 4 Leaders in the 2018 Magic Quadrant Report for Cloud Access Security Brokers: Bitglass, Symantec, Netskope, and McAfee.
Bitglass receives praise for its automated learning mode. McAfee is lauded for its improvements in investigating open shares. Netskope's built-in and tenant-specific threat intelligence feed garners merit. Symantec is singled out for its cloud service discovery and usage.
You can read the Gartner 2018 Magic Quadrant Report for Cloud Access Security Brokers here.  
Other Resources from Solutions Review: 

Latest posts by Ben Canner
(see all)