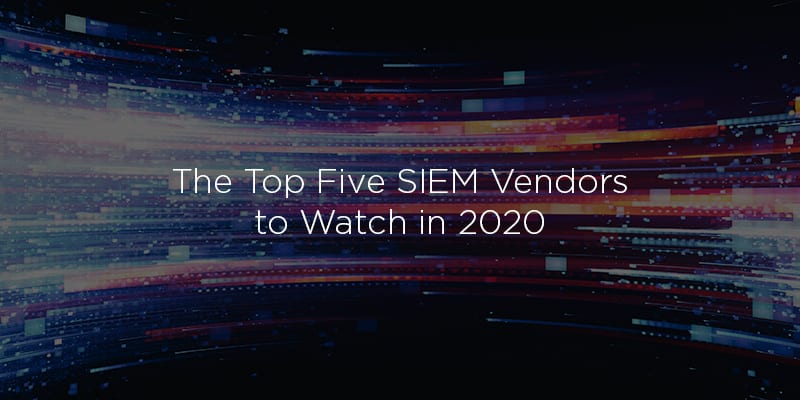 Solutions Review's SIEM Vendors to Watch is an annual listing of solution providers we believe are worth monitoring. Companies are commonly included if they demonstrate a product roadmap aligning with our meta-analysis of the marketplace. Other criteria include recent and significant funding, talent acquisition, a disruptive or innovative new technology or product, or inclusion in a major analyst publication.
Who are the five SIEM Vendors to Watch in 2020? 
SIEM took on special prominence in 2019 and indeed throughout the entire decade of the 2010s. The old order of cybersecurity—keep malware and other threats out—fell apart. Hackers innovate their threats faster than most preventative capabilities can match. Meanwhile, threats like cryptocurrency mining malware or backdoors can dwell for weeks if not months (or longer) before detection. Instead of prevention, cybersecurity now emphasizes detection, investigation, and incident response. 
Thus, more and more enterprises turn to SIEM to solve these problems. Through its log management and normalization, it can provide visibility over network areas that may otherwise end up neglected. Through threat intelligence and threat management, it can help alert IT security teams, speeding investigation and mitigation. Additionally, SIEM helps enterprises fulfill compliance mandates, often with out-of-the-box forms. 
So enterprises will need to look at their SIEM when assessing their cybersecurity platforms for the coming year. But what challenges does the new decade pose to SIEM providers? And how are providers reacting?  With these questions in mind, we present the top five SIEM Vendors to watch in 2020 in no particular order: 
ALERT: Hackers don't wait for world crises to end. Our
Buyer's Guide for SIEM
helps you evaluate the best solutions for your business use case and features profiles of the leading profiles, as well as a category overview of the marketplace.
The Top Five SIEM Vendors to Watch in 2020
Exabeam
The first of our SIEM Vendors to Watch in 2020, Exabeam had a busy year. They raised $75 million in Series E funding with the goal of expanding its sales reach and expediting new features. Additionally, it released its Exabeam SaaS Cloud, a hosted cloud version of its Exabeam Security Management Platform for cyberattack defense. Also, Forbes recognized Exabeam in the 2019 Cloud 100.  Finally, it acquired SkyFormation to improve its cloud security investments.    
LogRhythm
In 2019, LogRhythm released an unlimited data plan for its NextGen SIEM solution. Also, it released a cloud-based NextGen SIEM Platform to enable precise detection and neutralization of sophisticated cyberthreats in cloud environments. Moreover, LogRhythm appeared in the April 2019 Gartner Peer Insights Customers' Choice for SIEM, determined by independently verified feedback. LogRhythm released the LogRhythm NDR this year as well. 2020 might prove another strong year.
AT&T Cybersecurity 
Since transitioning to AT&T Cybersecurity, the vendor continued to innovate its threat intelligence and its threat research. In 2019, they released crucial studies on threats like cryptocurrency mining malware. Also, AT&T Cybersecurity's selection to the 2018 Gartner Peer Insights Customers' Choice for SIEM indicates its customers appreciate the USM solution. Additionally, AT&T Cybersecurity appeared in both the Forrester Wave for Security Analytics and Gartner SIEM Magic Quadrant reports.    
Rapid7
Like others in the SIEM Vendors to Watch in 2020 list, Rapid7 had a successful year. Indeed, Rapid7 was named to the March 2019 Gartner Peer Insights Customers' Choice for Vulnerability Assessment. Also, it appeared in the Gartner Market Guide for Managed Detection and Response and the Gartner Market Guide for SOAR. Further, Rapid7's InsightIDR is now available in the AWS marketplace. The Forrester Wave for Vulnerability Risk Management Q4 2019 named Rapid7 a Leader. 
Splunk
Last but certainly not least in this list, we find Splunk. In 2019, Splunk worked to update its portfolio for IT operations to improve its real-time visibility for cloud infrastructure and microservices. Also, it launched Splunk Mission Control, which works to unify and improve SOC capabilities such as threat intelligence and investigation. Meanwhile, Splunk also acquired SignalFX, a cloud monitoring and SaaS provider, so Splunk can further enhance its visibility capabilities. 
To learn more about the SIEM Vendors to Watch, check out our SIEM Buyer's Guide! We cover the top solution providers and their key capabilities in detail! 

Latest posts by Ben Canner
(see all)