All New Talent Management Essentials eBook
From the Editors of Solutions Review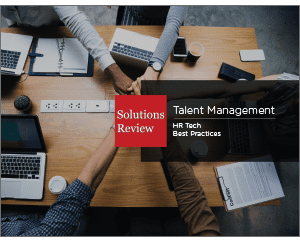 In an attempt to bring you the best content within leading enterprise technology categories, Solutions Review editors search the web high and low on a daily basis for insights that can have real impact and help you to move the needle.
As a result, this ebook gathers some of our greatest best practices articles about Talent Management software and HR technology into one collection.
Download this resource for free to discover the basics of talent management, talent management software and how HR technology can help organizations grow in general. It also touches upon what talent management software can do for HR professionals and even provides details of some of the top HR tech and talent management solutions available on the market today.

Talent Management Essentials
Fill out the following to download this eBook from Solutions Review: