Meraki Puts a Focus on Security with New Upgrades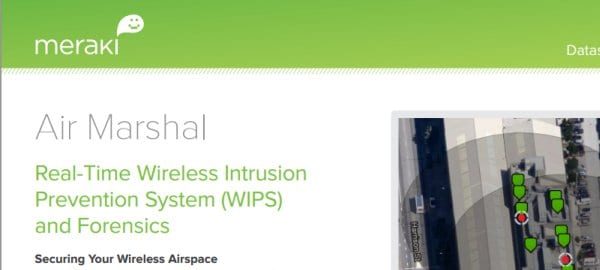 Meraki has announced a major upgrade to their MR wireless solution. They have introduced Air Marshal, stating that it is a "state of the art wireless intrusion detection and prevention suite." The suite which can be used by all customers does target healthcare providers, retailers, and financial institutions that need to meet strict security standards. Meraki, which deploys secure, scalable, and easy to manage networks, is only enhanced by Air Marshal moving forward.
Addressing new security threats, Air Marshal "enables any Meraki wireless access point to detect a wide variety of threats, including rogue access points, SSID spoofing, packet floods, and malicious broadcasts. Insecure wireless activity is classified with a heuristics-based engine, and threats like rogue access points are automatically neutralized. Attack signatures are continuously updated from the cloud, allowing Air Marshal to automatically respond to new threats." Read the entire press release here.