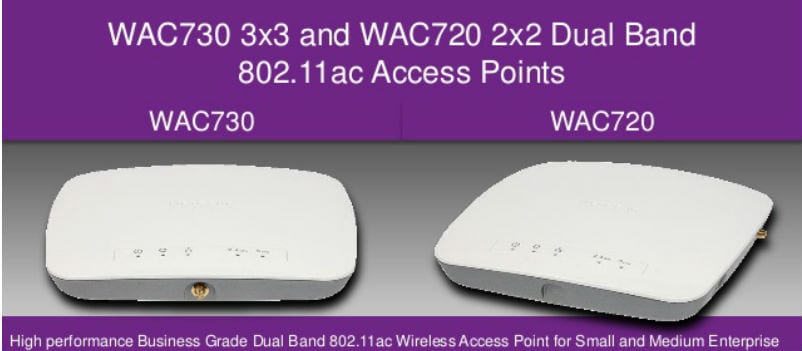 NETGEAR has announced that they are enhancing the offering of their two new quad-mode business-class 802.11ac wireless access points by enabling compatibility with controller management through ProSAFE WC7600 and WC9500 Controllers. The ProSAFE WAC730 Business 3×3 Dual Band Wireless-AC Access Point and ProSAFE WAC720 Business 2×2 Dual Band Wireless-AC Access Point for small to mid-sized organisations can be seen at Bett 2016 which runs until January 23.
This new upgrade will benefit areas with high wireless traffic, including enterprises, universities and hospitals. With these areas of high traffic becoming more and more common, NETGEAR moves to take the pressure off of these access points by having ProSAFE Access Points operating in standalone mode or ensemble mode, the latter of which can support up to 10 units of the same model as a single, centrally managed group.
"For most in the education sector, standalone access points are not feasible as configuration changes become routine," said Peter Newton, senior director of product management for NETGEAR. "Quad mode allows customers to decide their chosen mode of management. Through these APs, customers can select from Standalone, Ensemble and now Controller Management. This additional deployment flexibility allows the network to evolve without needing to rip and replace APs to support different management options."
---
ZyXEL has announced that they have added two new products to their 802.11ac series:The WAC6103D-I 11AC Dual Band Access Point (AP) and the NWA5123-AC Unified Access Point. The WAC6103D-I 11AC is a slim access point that can be mounted to the ceiling without compromising it's wireless signal. The NWA5123-AC is a 2-in-1 standalone / managed AP capable of fast gigabit Wi-Fi speeds and speedy deployment.
"The WAC6103D-I and NWA5123-AC allow users to take advantage of 802.11AC performance and increase device association capacity in any given coverage area. This gives channel partners a powerful and cost effective solution for upgrading existing 11g or 11n deployments to the latest technology," says Matt Dargis, vice president for channel business for Americas at ZyXEL. "The flexibility that comes with these access points makes it easier for partners to manage and deploy."
The WAC9103D-I has a duel optomized antenna that adjusts settings to optomize signal coverage for each deployment scenario. It's a 3-stream 802.11AC Wi-Fi AP, and can achieve a combined data rate of up to 1.75 Gbps. The design allows for easy integration into modern office environments.
The NWA5123-AC is an enterprise class 2×2 802.11AC AP that supports combined data rates of up to 1200 Mbps, complementary to SMBs, classrooms and hospitality environments. With its 2×2 antenna, the NWA5123-AC delivers a stronge signal to farther locations with the same output power. The concise design of the access point allows it to blend into any office environment while also improving on thermal ventilation over typical wall-mount APs.