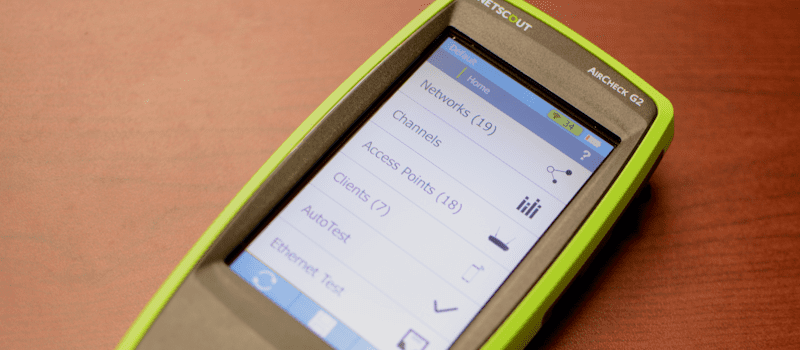 NETSCOUT has just released their latest device the AirCheck G2 Wireless Network Tester. The AirCheck G2  is the newest version of well received Fluke Network Wi-Fi Tester and is the first Fluke product to be released under the NETSCOUT brand after they acquired Fluke Networks back in 2014. This tool allows you to troubleshoot basic wireless issues like interference, security and rogue access points.
A Wireless Network tester is a critical tool for any networking professional to have in their arsenal to identify identify issues responsible for spotty connections, dead zones, and slow speeds, as well as locating rogue access points and unauthorized devices.  The AirCheck G2 presents us with an improvement over its predecessor. The most noticeable difference is the touch screen. Instead of navigating with blocky buttons of the previous model, the touch screen lays all options out for you with a conveniently located back button on the top left to quickly navigate menus and features. The home screen features Networks, Channels, Access Points, Clients, Auto Test, Ethernet Test and a settings menu. Enhancements to the AirCheck G2 include: 802.11ac 3×3 radio to support next-generation wireless initiatives, Link-Live dashboard integration for collaboration, reporting and results management and Ethernet tests for AP backhaul verification
The AirCheck G2 is simple in its design and gives a very straight forward approach to find out how well your wireless network is performing. When you power up the device for the first time, there are clear instructions on how to activate your device and access your dashboard. This dashboard is the main control point and is especially useful to large enterprises with multiple locations. If a smaller location was having problems with their network and used their AirCheck G2, the administrator will be able to oversee the test and analyze the results without ever having to go to the actual location. The actual test can be performed by anyone in the area regardless of skill level, saving administrators time.
When we tested out network here at Solutions Review, the results were instantly available in a well organized dashboard. The results are broken down into five sections that give details based on the kind of test performed. For our Ethernet test we were able to determine our speed, average speed, duplex and average duplex along with the a ping test to google.com. The results allow you to add images and comments for other administrators or to document each test and why it was performed and what was found.

The NETSCOUT AirCheck G2 is fast, easy to use and essential to finding out exactly how your wireless is behaving and what it needs to function at capacity. Not only will you get faster speeds and better network security, but you will also save money. Without handling Wi-Fi problems with a simple fix that will give you more problems down the road, you won't be paying for patches for years to come. The AirCheck tests are so quick, they can be performed periodically in order to prevent potential problems. By collecting the data and graphing it, small discrepancies will make themselves known before they cause problems for network users.
For more information on the NETSCOUT AirCheck G2, visit the AirCheck G2 Product Page to take a complete virtual test drive, check out some of the common test cases and request a live demo. The NETSCOUT AirCheck G2 is available now.