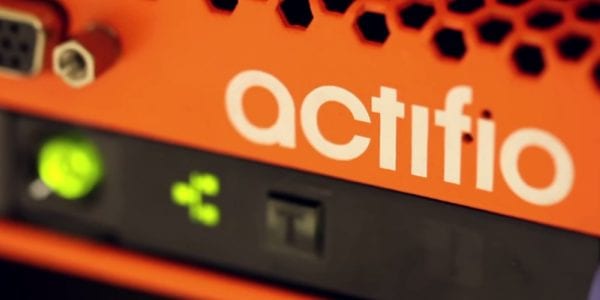 The Actifio Copy Data Storage System is based on patented virtual data pipeline technology that virtualizes storage and data management functions to operate at a high scale and efficiency.
Actifio enables a "data time machine" for the enterprise, eliminating backup and restore windows and creating virtual, point-in-time copies of data on demand, for use by any business application. Instant data recovery means no delays in restoring data for any use. And it all is enabled through a simple consumer grade interface that is SLA-driven and application centric in applying data protection.
Actifio's differentiated features in backup and recovery deliver functionality that can speed backup modernization, improve recovery point (RPO) and recovery time (RTO) service levels and apply granular protection at the application level and at the VM level.
Key Features:
Fine Tuned Service Levels- Built around the SLA Architect, the SLA (service level agreement) describes how frequently data is ingested, how long that data is retained in an instantly available snapshot pool, when that data is moved to a deduplicated and compressed pool, and how and when that data is replicated to a remote location. These SLAs can be applied to any discovered application, delivering automated lifecycle data management.
Remote Data Protection- At set intervals, based on SLA, change blocks are asynchronously replicated. The SLA may also specify for the data to be rehydrated into the remote instant access snapshot pool to become available for immediate use. Since Dedup Async only replicates change blocks, it only uses a fraction of bandwidth most other replication technologies do. This enables remote site data protection for a broad set of applications.
Supports Most Environments and Operating Systems- Works across physical and virtual environments and supports a broad range of operating systems, storage systems and application environments. Actifio also has tailored deep integration for many application APIs including VMware, Oracle and major Microsoft applications.
Streamlines IT Infrastructure and Operations- Actifio decouples data management from storage, network and server infrastructure. It enables new thinking about data protection as well as data management. By virtualizing copy data, creating a single "gold copy" for instant access, IT infrastructure and operations are streamlined.
Bottom Line:
Even though they are a small private company, the fact that Actifio's architecture removes backup windows is huge when it comes to improving RPO and RTO. Significant savings have been reported because of the elimination of competitive products and reduced storage acquisition, but they currently do not have a master catalog and single files or object resources are only supported for Windows file system, Microsoft Exchange and SharePoint.
Latest posts by Alexander K
(see all)