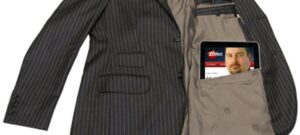 Bring Your Own Device (BYOD) programs are certainly a hot topic around water cooler. IT allowing employees to bring the device of their choosing sounds like a no brainer at first glance. Familiarity and comfort with a mobile device can improve employee productivity. Not having to invest in hardware can bring down enterprise costs and save on IT budget. While these benefits may exist, BYOD programs are not all gumdrops and lollypops.
BYOD programs are not a quick fix to successful enterprise mobility and as with any IT implementation need to be planned, carefully thought through and constantly monitored. A recent article from ZDNet, written by Adrian Kingsley-Hughes for Hardware 2.0, helps by outlining key consideration for both the enterprise and the employee when embarking on BYOD programs.
When looking at the enterprise Adrian's first point revolves around policy. Your BYOD policy is something that should never be overlooked at any point in the development and continued execution of your organizations enterprise mobility. The policy needs to be clear, understandable and constantly enforced. Adrian also points out that IT needs to become comfortable tracking usage on employee owned devices. This may begin to feel a bit Big Brotherish but it needs to be done.
Tracking across talk, text and data usage need to be monitored and in some cases capped in order for a successful BYOD program. This monitoring and controlling of employee owned devices comes into play again when looking at application usage. You will have to push mandatory apps and updates while possibly blacklisting certain app that may compromise security or act as "timewaster apps" as Adrian puts it. Sometimes BYOD is not truly BYOD. IT needs to have a firm stance and implement a Bring These Device programs that clearly states the type of device allowed on the network. Adrian writes, Finally, you have to get comfortable banning devices. Banned devices can range from jailbroken iOS devices, rooted Android devices, or even just obsolete hardware and operating systems. You have to set out very clearly what is and what isn't allowed, and you have to be able to communicate this to clearly to employees, and given them a heads-up about things such as devices that will become unsupported ahead of time to prevent disruption."
For the employee considering enrolling in a BYOD program the key considerations pretty much revolve around what you are giving up. The first thing to consider is privacy and your trust in those overseeing and controlling enterprise mobility within your organization because you WILL be giving up a level of security. Today's phones come with GPS and they can be tracked to monitor usage. "Endpoint security software is capable of polling the location of a device, and, as such, know exactly where the employee is any time they have their device on them, as well as what they are doing with their device. A good BYOD policy needs to clearly address issues of privacy, and systems need to be in place to prevent abuses such as workplace stalking and snooping."
Adrian sums up his article and his key consideration for BYOD in two concise statements:
Employers: Draw up a comprehensive BYOD policy and make sure everyone understands it.
Employees: Make sure you understand the BYOD policy so you know exactly what you are getting into.
Click here to read Adrian's full article and for more BYOD considerations click here.