Gartner's 2015 Cloud Storage Magic Quadrant: Our Key Takeaways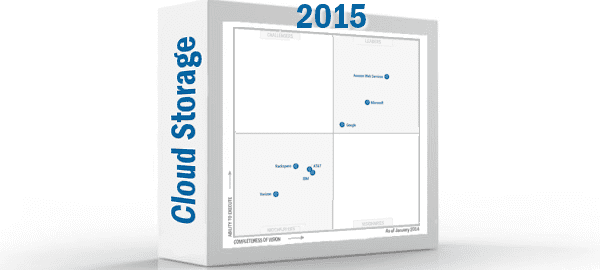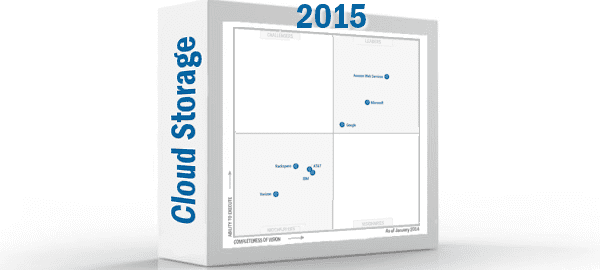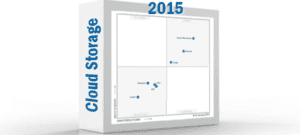 Analysis and research firm Gartner, Inc. has released the latest iteration of its yearly report, Magic Quadrant for Public Cloud Storage Services, Worldwide.
The eighteen-page report (available from Microsoft here) features just seven vendors, making it the leanest Magic Quadrant that I've read this year. Nonetheless, the report provides valuable insight into the turbulent world of cloud storage, where some of the biggest names in software and technology are engaged in a seemingly bottomless price war.
In the Magic Quadrant for public cloud storage, Gartner evaluates the strengths and weaknesses of what it considers leading vendors in the cloud storage market, and provides readers with a graph (the 'Magic Quadrant') plotting the vendors based on ability to execute and completeness of vision. The graph is divided into four quadrants: niche players, challengers, visionaries, and leaders. Gartner does not endorse any vendor, product, or service depicted in its research publications.
Interestingly, Gartner has clumped all of the vendors featured in this report into just two of the four "Magic Quadrants." Verizon, Rackspace, IBM, and AT&T fill out the 'Niche Players' quadrant, while Amazon Web Services (AWS), Microsoft, and Google far ahead of their would-be competitors in the 'Leaders.' quadrant.
How Gartner Defines Public Cloud Storage
In its report, Gartner defines public cloud storage as an "infrastructure as a services (IaaS) that provides object storage services through a REST API using Internet protocols. The service is stand-alone with no requirement for additional managed services."
Simply put, cloud storage is a model of computer storage in which data is stored in facilities (often multiple facilities) managed by the cloud service providers and accessed remotely by the user via a network.
[From AWS to Rackspace, Solutions Review rounds up the top 28 cloud vendors in the 2015 Cloud Platform Solutions Buyer's Guide. Solutions Review Buyer's Guides include full market overviews and 10 questions designed to help find your best fit in the cloud. Download your free copy today.]
In Gartner's definition, vendors must include on-demand elastic storage capabilities in a self-service model. To be considered 'public' cloud storage, vendors must store user data in a multitenant environment.
'Hyperscale Vendors' Dominate the Market.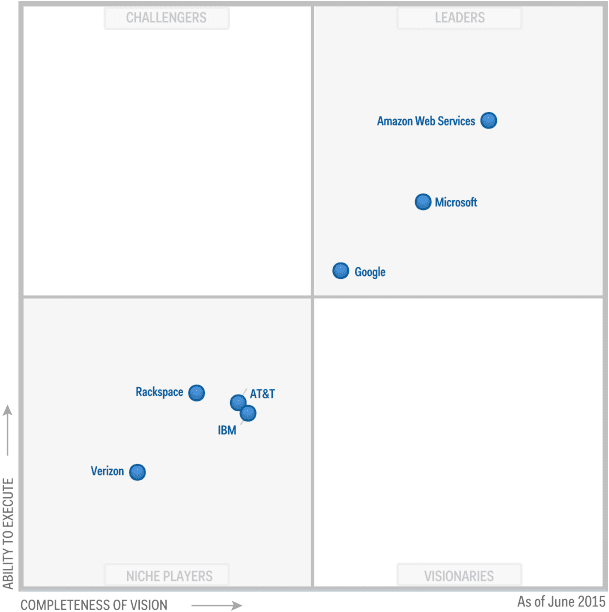 As noted above, the cloud storage market is locked in a tight three-way race between what the Gartner calls the "hyperscale vendors"— Amazon, Microsoft, and Google.
This is a marked change from 2014's Cloud Storage Magic Quadrant, which, while still light on vendors, featured a tighter concentration on the middle of the quadrant.
One notable change is Google's movement into the 'leaders' quadrant, where the tech polyglot placed third, behind Microsoft in second and Amazon in first. Gartner notes that Google has shown "strong intentions of becoming an IaaS market leader," and has pushed towards that goal with new services and technology partnerships and "an aggressive pricing strategy."
[Foggy on your cloud jargon? We've got you covered. Our Cloud Computing Glossary features detailed definitions for the top 50 cloud computing terms and acronyms.]
Evidently, that pricing strategy is paying off— Gartner gave Google points for being a "price leader" with the lowest capacity costs on the market. The search giant also earned good marks for impressive content delivery network (CDN) availability, but Gartner worries that Google Storage's limited regions (only available in three at press time) will not meet data residency requirements of non-U.S customers.  Gartner also warns that Google's partner ecosystem may not be robust enough to meet enterprise customer requirements.
In second, we find Microsoft holding onto roughly the same position as in the 2014 version of the report.
Gartner gives Microsoft's cloud storage solutions a mixed review. On one hand, the research firm lavishes praise on the legacy software company for its large investments in cloud infrastructure, which Gartner says indicates "positive credibility and longevity." On the other hand, Gartner criticizes Microsoft for a lack of third-party integration capabilities.
Notably, Microsoft is the only public cloud vendor to be named as a leader in Gartner's PaaS, IaaS, and cloud storage Magic Quadrant reports.
Those of you closely following the cloud computing market will be unsurprised to find Amazon Web Services' storage solutions rounding out the 'leaders' quadrant in first place— the e-retail giant has lead the market for years, and, if its recent earnings call is any indication, will continue to do so for some time.
Gartner praised AWS for a strong and diverse storage portfolio and an impressive marketplace ecosystem of SaaS partners, which Gartner says "allows customers to more easily manage, analyze and protect the data that sits in underlying storage tiers."
However, Gartner warns potential customers of AWS's complex and inconsistent pricing structure and a lack of a consistent API across storage solutions.
Competitors Relegated to Niche Markets
The 'hyperscale' vendors' battle for market domination has pushed smaller and newer public cloud storage vendors to focus on niche opportunities, according to Gartner's report. "Vendors are gravitating toward a model where either commodity storage capabilities serve to attract customers into a larger compute [sic] and application ecosystem, or specialized niche capabilities directly serve and emulate the built-for-purpose needs of an exacting customer."
One such smaller vendor—at least in the public cloud storage market— is IBM. Gartner notes that IBM has been "marketing its cloud capabilities aggressively through hard-hitting media campaigns," but claims that the company is struggling for relevancy in the public cloud IaaS space. Gartner gave IBM props for its rapidly expanding global reach, but warned consumers that IBM's infrastructure scale at each global location is "modest compared to competitors," which could lead to scalability issues for certain large customers.
Gartner also included telecommunications giant Verizon in the public cloud storage magic quadrant for the first time ever, as the company's storage solutions are now available across multiple geographies. Verizon finished last, but Gartner notes that the company "can be a good fit for content distribution and media streaming use cases due to its distributed erasure coding capabilities, vast network infrastructure and close integration with EdgeCast CDN, which Verizon acquired in 2013."

Latest posts by Jeff Edwards
(see all)