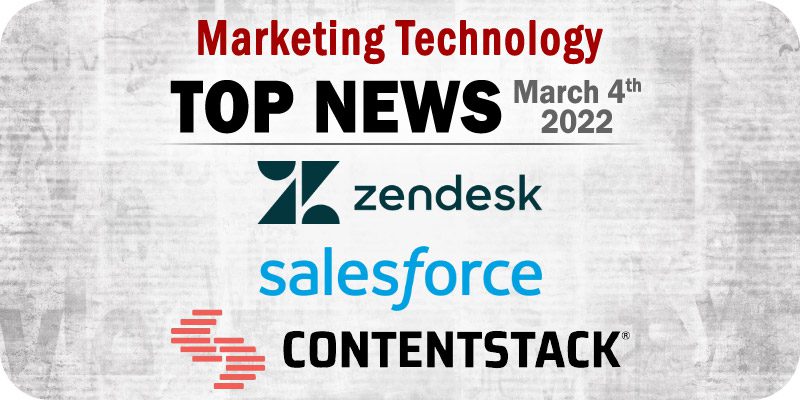 The editors at Solutions Review have compiled a list of the top MarTech News from the week of March 4th, 2022. This round-up features updates from Zendesk, Contentstack, Salesforce, and other companies in the CRM and marketing automation marketplaces.
Keeping tabs on all the most relevant CRM and MarTech news can be a time-consuming task. As a result, our editorial team aims to summarize the week's top headlines in the marketing technology landscape. The Solutions Review editors will compile a weekly round-up of vendor product news, mergers and acquisitions, venture capital funding, talent acquisition, and other noteworthy MarTech news.
Our
Free CRM Buyer's Guide
 helps you evaluate the best solution for your use case and features profiles of the leading providers, as well as a category overview of the marketplace.
Top MarTech News From the Week of March 4th
---
Contentstack, a content experience platform for marketers and developers, announced the launch of the Contentstack Marketplace. The marketplace is populated with integration applications, extension apps, and one-click integrations for software like BigCommerce, Algolia, and Cloudinary, so customers can adopt new functionalities as needed with lower investment and risk. The integration and extensions available on the Contentstack Marketplace are pre-built and use a no-code installation process. It is available now to all Contentstack customers at no additional cost.
---
Metadata.io, a B2B marketing operation system provider, recently announced that it had raised $40 million in a Series B funding round. The funding was led by Next47 and Resolute Ventures with additional participation from over 30 founders and CEOs of companies across the Software as a Service (SaaS) marketplace. The company plans to use the funding to develop a new software category, "triple down" on its growth, and continue to expand its platform's capabilities to further its vision as the first operating system for B2B-centric marketers.
---
In a blog post from Tomer Cohen, the Chief Product Officer at LinkedIn, it was announced that LinkedIn has entered into an agreement to acquire Oribi, a marketing analytics company designed to help marketers and recruiters make smarter, data-driven decisions that drive business results. Oribi's technology will be integrated into LinkedIn's marketing solution platform, which will allow users to utilize enhanced campaign attribution tools, optimize the ROI of their advertising efforts, measure website conversions, and more.
---
Traction on Demand—a dedicated Salesforce consultancy and applications development firm—has signed a definitive agreement to be acquired by Salesforce. The company has 14 years of experience developing solutions on the Salesforce platform and providing clients across the United States, Canada, Australia, New Zealand, and India with cross-platform strategies and solutions. In a blog post announcing the news, Traction on Demand confirmed that it would become part of Salesforce Professional Services and help customers find success on the Salesforce Customer 360 platform.
---
Segmint, a provider of transaction cleansing and analytics solutions for financial organizations, recently announced a partnership with Constant Contact to provide its clients with a turnkey email channel delivery solution. With this solution, companies in the financial sector can access a simple, turnkey data and email automation tool to boost revenue and improve acquisition campaigns. The integration will be delivered via Segmint's marketing automation platform and is designed to help financial companies expand their customer insight capabilities and create more targeted messages.
---
Zendesk recently announced the termination of its plans to acquire Momentive Global Inc. The company initially announced its plan to purchase Momentive in November 2021. However, after not receiving the approval of its stockholders to issue shares of Zendesk common stock in connection with the transaction, the company canceled those plans.
Mikkel Svane, the CEO and founder of Zendesk, made the following comment in the press release announcing the news: "While we were excited by the potential of this transaction to transform the customer experience and create stockholder value, we respect and appreciate the perspectives of our stockholders. Our Board and management team remain laser-focused on our strategy and execution."
---