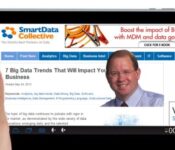 SmartData Collective provides enterprise leaders access to the latest trends in Business Intelligence and Data Management. In a recent post from Bob Zurek, Senior Vice President, Products at Epsilon, ETL and as a result data integration is mentioned prominently in a list of "The 7 Big Data Trends That Will Impact Your Business".
Mr. Zurek points out early on that, "We are reaching an inflection point in the market where the level of hype and frequent confusion about "Big Data" will soon be replaced by customer success stories." And he goes on to mention a number of the more notable trends in data currently, including Hadoop as well as data mining and analytics.
With regard to ETL, Mr. Zurek touches on the trend in the evolution of the specialty as it relates to Hadoop, "If you were to look at all of the pieces of infrastructure necessary to build and maintain a complex Hadoop based ETL solution, you might end up running the other way towards pure play ETL solutions".
Both the post from Bob Zurek and the site SmartData Collective are worth a look here.

Latest posts by Doug Atkinson
(see all)