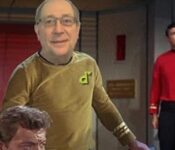 Seven years in and over $60 million in venture capital raised, Talend is moving quickly to stake a claim to the Big Data jackpot. And they have just added a new CEO to take them to the next level – Jim Foy. With 40 years of experience and several companies under his belt, Foy is ready to boldly go where no data integration company has gone before.
"Since joining the team, I have grown more and more impressed by what Talend has accomplished in such a short timeframe," said Foy. "I look forward to working with the Talend team and helping to drive the company toward its aggressive growth plans and to reinforce our position as a leader in our market."
His many successes include founding Constellation Software and selling it to Ardent, which was then acquired by Informix Software, of which he later became President. He later joined Davox as CEO and after a number of successful acquisitions became CEO of Aspect Software and most recently served as its Executive Chairman of the Board. He has also served on the board of X/Open, Unix International and the Object Management Group as well as several other privately held companies.
A link to the Talend press release can be followed here.

Latest posts by Doug Atkinson
(see all)