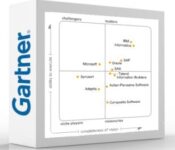 Gartner, the Stamford, CT based technology analyst, has been tracking the advancement of data integration tools for nearly 7 years now and in their latest Magic Quadrant Report have done a nice job of quantifying the data integration tool market. According to Gartner, the solution category "comprises vendors that offer software products to enable the construction and implementation of data access and data delivery infrastructure for a variety of data integration scenarios, including:
Data acquisition for business intelligence (BI), analytics and data warehousing
Consolidation and delivery of master data in support of master data management (MDM)
Data migrations/conversions
Synchronization of data between operational applications
Interenterprise data sharing
Delivery of data services in a service-oriented architecture (SOA) context.
As in every Magic Quadrant Gartner goes about the business of placing a limited number of solution providers into four classifications including "Leader", "Challenger", "Visionary", and "Niche". for the 2013 Magic Quadrant for Data Integration Tools, Gartner selects only 12 vendors as appropriate for their report. A quick search of Google will yield press releases from the few that found the Gartner promised land.
Interestingly though, Gartner also includes a list of another 58 vendors sorted alphabetically that "are sometimes considered by Gartner clients, along with those appearing in this Magic Quadrant, when deployment needs match their specific capabilities." That leaves a total of 70 vendors that are at least "sometimes considered" to provide data integration tools.
With the increasingly trendy investments being made by venture capitalists in "Big Data" solutions, we would expect that number to only increase in a years time. All of which means that those folks working within the enterprise solving data integration issues on a daily basis, can expect a whole lot of phone calls from a whole lot of sales people.

Latest posts by Doug Atkinson
(see all)