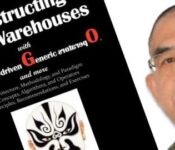 There are few better online sources than the BeyeNETWORK which focuses on business intelligence, performance management, data warehousing, data integration and data quality. And one of their best blog experts is Dr. Bin Jiang a Distinguished Professor of a large university in China, and the author of the book Constructing Data Warehouses with Metadata-driven Generic Operators.
Dr. Jiang's most recent post is a great review of the "architectural evolution road that data warehouses generally have followed in the past and the possibilities leading to the future. In this article, he focus eson the placement and treatment evolution of three major functionalities within data warehouses, i.e., extracting data (E), transforming data (T) and loading data (L). In most cases, this placement decides the effectiveness of the resulting data warehouses."
Be sure to check out the summary by the good doctor of the four evolutional phases of data warehouse architecture discussed along with the five driving forces. "As a matter of fact, the validity of the discussion results obtained in this article is not limited only to data warehouses. They are also valid with regard to the so-called enterprise data integration in general", concludes Dr. Jiang.
A link to the print version on the BeyeNetwork can be found here.

Latest posts by Doug Atkinson
(see all)