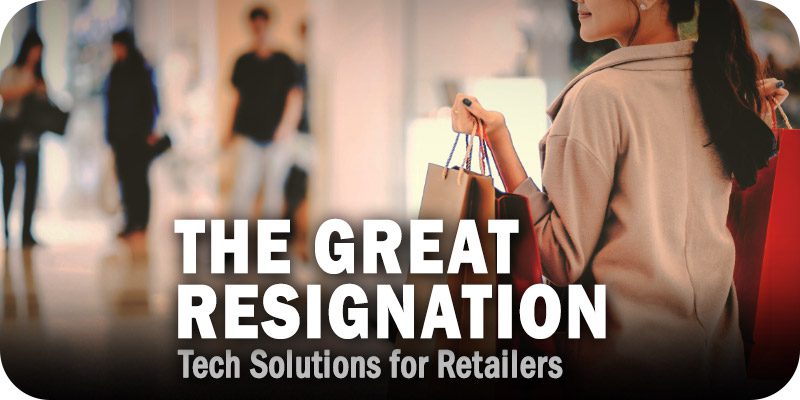 As part of Solutions Review's Premium Content Series—a collection of contributed columns written by industry experts in maturing software categories—Christoffer Klemming, the CEO and Co-Founder of Waitwhile, delves into a recent report his company conducted to outline how retailers can use tech solutions to address issues around frustrated customers and "The Great Resignation."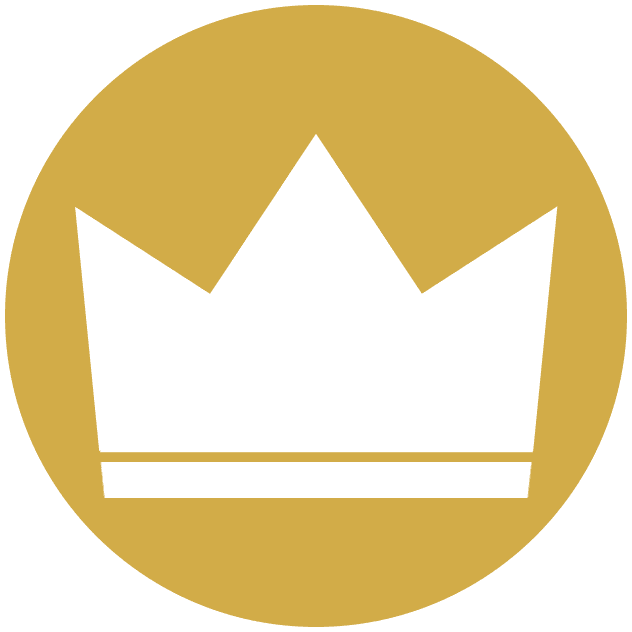 The pandemic disrupted practically every aspect of our lives and rocked America's labor force. While it may feel like we're now, as a society, finding a new stasis, one aspect of our economy feels stubbornly stagnant: worker shortages. Many have dubbed the high quit rates observed months after the pandemic's start as "The Great Resignation." Though these headlines dominated our news cycles in 2021, economists say that 2022 was actually the "real year" of The Great Resignation. Last year, more than 50 million workers quit their jobs, seeking a better work-life balance, higher pay, and a more robust company culture. 
But according to a recent data deep dive published by the U.S. Chamber of Commerce, these changes in the labor force can be better classified as "The Great Reshuffle." That's because hiring rates have outpaced quit rates since November 2020. Workers aren't exiting the labor force but job-hopping or switching industries, resulting in labor shortages in critical sectors.
In its analysis, the U.S. Chamber of Commerce found outsized quit rates in two consumer-facing industries: retail and accommodation/food services. While the accommodation and food services industry has had the highest quit rate since July 2021 (5 percent), the retail trade industry isn't far off, with quit rates of around 4 percent over Winter 2022. Both significantly outpace the national average of 2.5 percent in January 2023. 
In retail, news of high turnover rates isn't new. According to McKinsey & Company, retail workers have been quitting at about 60 percent annually. But The Great Reshuffle has made it harder for retailers to replace these workers, and today, about 20 percent of retail job openings remain unfilled. Something has made these jobs less desirable, contributing to a concerning industry phenomenon McKinsey & Company calls "The Great Attrition." 
Consumers Are Expecting More 
These staffing challenges come at a particularly bad time. Consumers are returning to brick-and-mortar retail, craving physical connection with the brands and products they love. And these consumers have higher needs than ever before. After over a decade of rising digital media consumption, today's shopper is tech-savvy and carries expectations for all of the conveniences of e-commerce. We've unintentionally accustomed shoppers to personalization and speed, and now they understandably crave this degree of individualized attention across every touchpoint and channel. 
But retailers are struggling to deliver amid unrelenting workforce challenges. According to The Washington Post, some retailers are curtailing store operating hours, staying open for a shorter amount of time daily because of a lack of staff. Over Black Friday last year, many U.S. stores had longer wait times due to more open positions than in prior years.
The number one internal concern for retailers is the ongoing workforce shortage. This necessitates operational pivots hurting retailers' bottom lines and damaging their reputation with consumers. And yet, the problem is only getting worse. A recent Forrester survey found that 80 percent of decision-makers in retail say that frontline turnover is increasing.  
Retailers are facing a significant problem: how to deliver the personalized, convenient, and digitally-integrated shopping experiences consumers have come to expect in the face of a workforce that's dwindling daily? To help retail leaders find answers, Waitwhile recently published Employee Sentiment Report: Retail, a report for which we surveyed 1000 frontline retail workers to understand better what's making them unhappy at work and to surface tactical solutions for retailers. Here's some of what we found. 
1 in 2 Frontline Retail Workers are Unhappy or Apathetic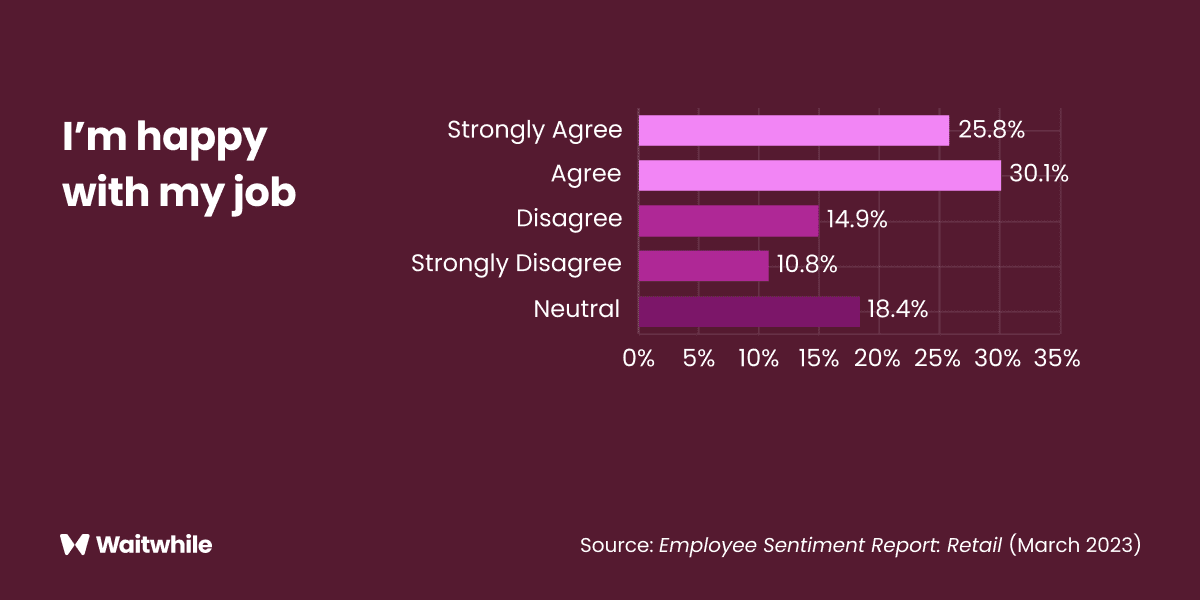 Retailers are having a hard time keeping employees happy. Our study found that nearly 50 percent of frontline staff are unhappy or apathetic at work. Diminished employee morale has a well-documented impact on business performance. A Gallup poll last year found that business units with more engaged workers have 23 percent higher profits.  
The high rates of employee unhappiness are unremarkable when you consider the workforce challenges plaguing the industry. However, when we dug deeper to find out what's disappointing employees, we were surprised by the findings.  
Workers are most anxious about meeting customer satisfaction goals.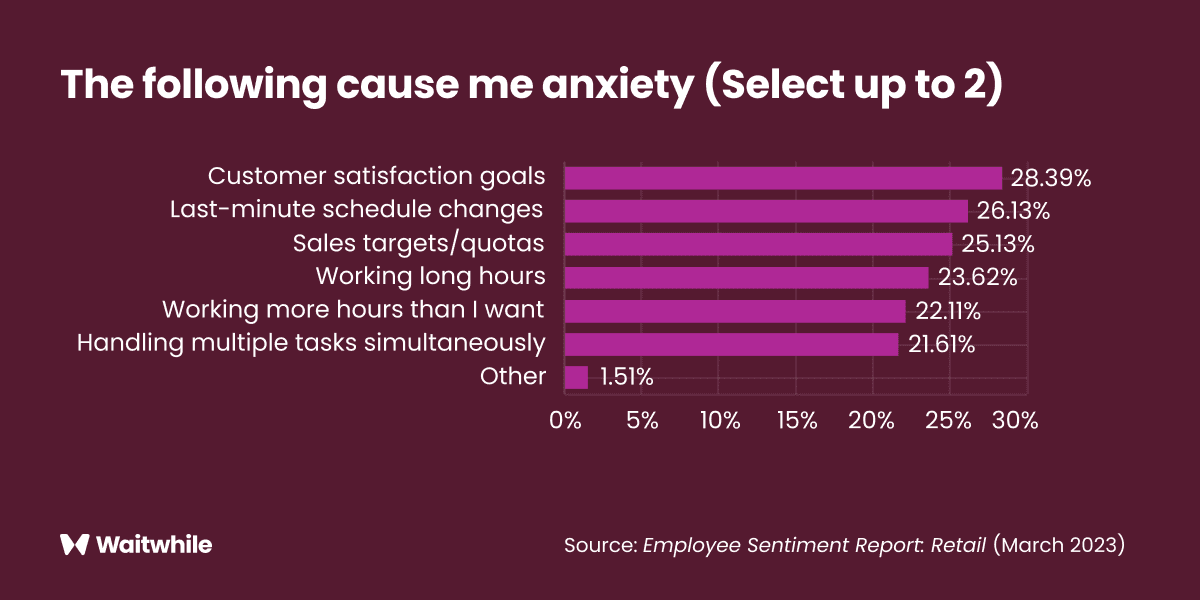 Long hours, inflexibility, and poor pay significantly contribute to employee turnover. However, Waitwhile's study found an alternate top stressor amongst retail workers: customer satisfaction. Our survey revealed that nearly 40 percent of retail workers report being anxious at work. Amongst these respondents, customer satisfaction goals were listed as the primary contributor–more than scheduling-related issues, multitasking, or sales goals.
Almost 70 percent of retailer workers regularly deal with frustrated or angry customers.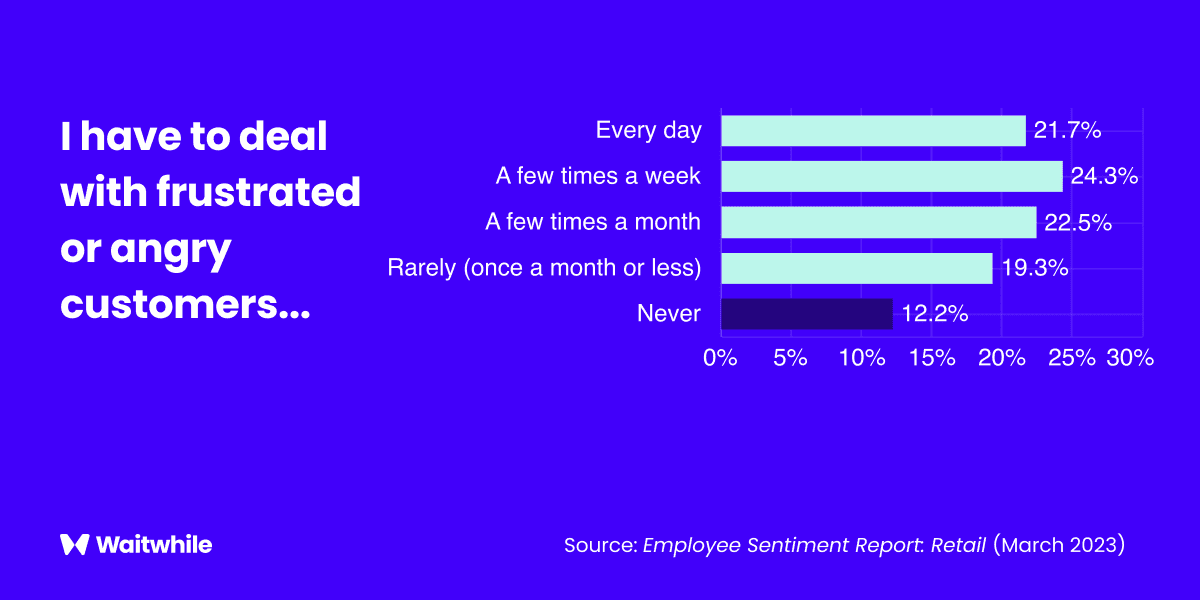 Frontline employees have to work harder than ever to meet customer satisfaction goals as reports of consumer incivility are on the rise. According to research in Harvard Business Review, 78 percent of employees believe that bad behavior from customers towards employees is more common than it was five years ago. Waitwhile's survey confirmed this phenomenon: 68.5 percent of retail workers have to deal with frustrated or angry customers regularly, and 1 in 5 customers face these tense situations daily. 
The mental and physical toll of incivility has been well studied. Penn State Psychology Professor Alicia Grandey found through her research (published in Harvard Business Review) that witnessing incivility can send us into fight-or-flight mode, reducing our cognitive processing power. There's also added labor involved. Workers must "put on a happy face" even when met with the opposite from customers. This "surface acting," according to Grandey, is depleting and leads to job burnout.
73 percent of workers say that long lines are a problem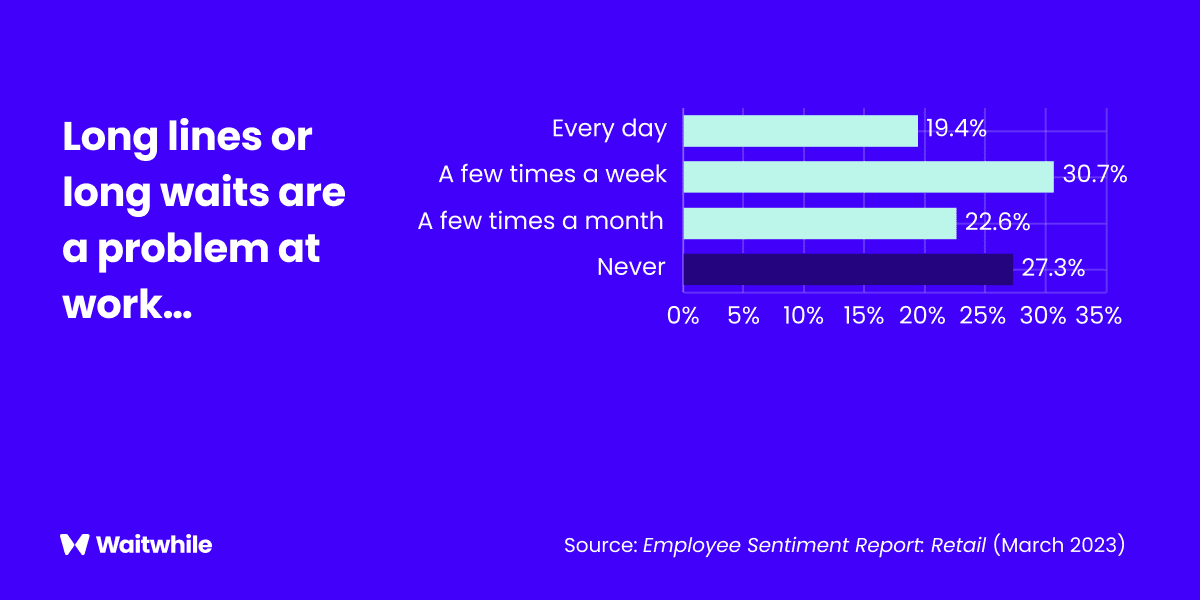 We're only now learning of the impacts of the pandemic on mental health. Kaiser Family Foundation research published just last month found that the pandemic was associated with increased anxiety and depression and that 90 percent of U.S. adults believe the country is facing a mental health crisis. 
This larger public health issue has spillover effects into our daily lives. Last year, Waitwhile's consumer survey, The State of Waiting in Line, found that nearly 75 percent of consumers feel bored, annoyed, frustrated, disrespected, or impatient when waiting in line. That survey also found that retail stores were the #1 place consumers reported regularly having to queue, outpacing restaurants, pharmacies, or healthcare establishments by more than 66 percent.   
Our survey this year of retail workers found that long lines or waits persist as a significant issue. Nearly three-quarters of employees say it's a problem, with almost 1 in 5 saying it's a daily issue. Workers also identified long lines as the top cause of customer frustration–more than inventory issues, complaints about the policy, or customer service shortfalls.  
Human impatience for long lines has long been documented, even being referred to as "a timeless form of torture." With reports of anxiety and other mental health stressors on the rise, consumers today likely have an even shorter fuse, contributing to the high rates of observed anger and frustration in retail stores. Retailers must find inventive queue management solutions to reduce wait times or eliminate queues. Solving this issue would undoubtedly make customers happier and, in turn, improve employee satisfaction.    
Nearly 50 percent of retail workers want more automation.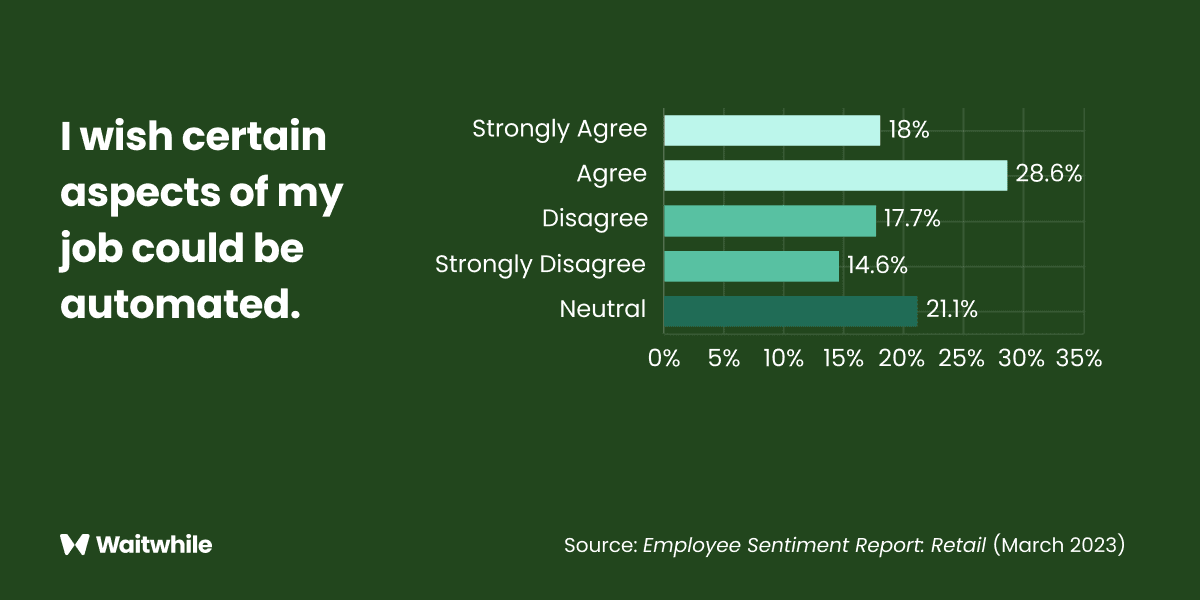 As the workforce challenge in retail isn't new (but exacerbated by the pandemic), retailers have already been turning to technology to reduce its impacts. Significant brands like Lowe's, Home Depot, and Old Navy have introduced self-checkouts in recent years. We've also seen a rise in mobile technology like Scan & Go implemented at Walmart, IKEA, and AmazonGo. 
Technology is bringing much-needed efficiency to retail operations. Surprisingly, Waitwhile's survey found that retail workers are open to more tech. Nearly 50 percent of frontline employees wish that certain aspects of their jobs could be automated.  
Additionally, our survey found that employees are pretty unhappy with their employer's tech stacks. 40 percent of workers said they waste time dealing with dated or poorly designed technology. Nearly 54 percent said they wished their company invested more in maintaining, improving, or expanding the technology they must use at work.
Retailers Must Seek Out New Technologies 
This is a critical time for retailers, most of which have to navigate a historical industry-wide labor crisis while consumer expectations continue to climb. The companies that rise to the top will prioritize solutions that equally improve both the customer and employee experience. Waitwhile's survey found that retailers, on the whole, are falling behind in digital advancements, employing in-store technologies that are outdated and disliked by their staff. 
At the same time, stores are regularly plagued by long lines, which anger increasingly impatient customers. This leads to negativity that impacts employee morale, worker retention, sales, and customer loyalty. Without significant changes, companies may soon be facing existential crises that are insurmountable. To combat this rising threat, retailers must urgently harness inventive customer flow management solutions that bring critical workflow efficiencies and revitalize brick-and-mortar operations. 
---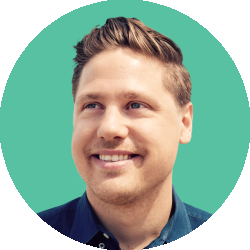 Latest posts by Christoffer Klemming
(see all)