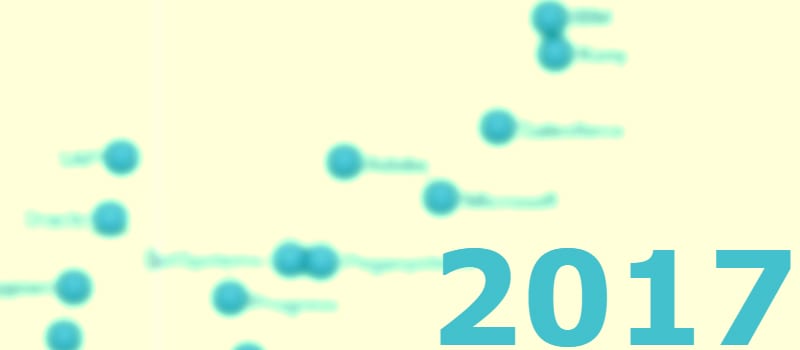 With any good wireless network comes good network security. One of the most proven methods for keeping your business out of harm is a network firewall. For those of you looking to invest in a new network firewall, Gartner has just released the latest edition of their famed Magic Quadrant.With a good enterprise network firewall, organizations can keep customer and company data secure to prevent issues such as identity theft, viruses, and hackers.
With the newest edition of the Enterprise Firewall Magic Quadrant, Gartner has effectively evaluated and organized the highly competitive market into four categories; leaders, niche players, challengers, and visionaries. Vendors are evaluated based on sales execution, market execution, customer experience, operations, completeness of vision, and ability to execute. By doing so, the analyst supplies a well rounded screenshot of the space in 2017.
After having read the full document, the editors at Solutions Review, have compiled some of the key takeaways. Take a look!
---
To start things off, Gartner notes that all products in the network firewall market have achieved "next generation" capabilities, although differentiate on their feature strengths. Overall the market is still primarily composed of purpose-built appliances for securing enterprise corporate networks. Gartner also says that products in the 2017 market must be able "to support single enterprise firewall deployments and large and/or complex deployments, including branch offices, multitiered demilitarized zones (DMZs), traditional "big firewall" data center placements and, increasingly, the option to include virtual versions for the data center.
As more organizations are moving their strategic workloads to the public cloud, they're also hoping to protect those workloads with the company's incumbent firewall vendor. Gartner notes that not all enterprise firewalls provide the same level of stability across on-premise and cloud networks, and that many vendors must improve in these areas if they look to remain relevant and competitive in the hybrid cloud era.
As defined Gartner, The Leaders quadrant contains vendors that build products that fulfill enterprise requirements. Moving down the line, The Challengers quadrant contains vendors that have achieved a sound customer base, but they are not consistently leading with differentiated next-generation capabilities. The Challengers quadrant contains vendors that have achieved a sound customer base, but they are not consistently leading with differentiated next-generation capabilities. Lastly, the Visionaries have the right designs and features for the enterprise, but they lack the sales base, strategy or financial means to compete consistently with Leaders and Challengers.
This year's vendors include Cisco, Fortinet, Palo Alto Networks, Check Point Software Technologies, Huawei, Forcepoint, Sophos, Barracuda Networks, Juniper Networks, WatchGuard, Sangfor, Hillstone, SonicWall, AhnLab, Stormsfield, and H3C.
In this year's Magic Quadrant, the majority of firewall vendors found themselves in the niche category including Barracuda Networks, Sangfor, and Juniper Networks. Three vendors pulled ahead into the leader quadrant including Check Point, Fortinet, and Palo Alto with Cisco nearly edging into the quadrant from the challengers. ForcePoint and Sophos were the only vendors listed as visionaries in this years report.
IN the coming years Gartner says that virtualized versions of firewalls will reach 10% of market revenue by year-end 2020, up from less than 5% today. FAdditionally, by year-end 2020, 25% of new firewalls sold will include integration with a cloud based cloud access security broker (CASB). In the same year, 50% of new enterprise firewalls deployed will be used for outbound TLS inspection, up from less than 10% today.

Latest posts by Doug Atkinson
(see all)