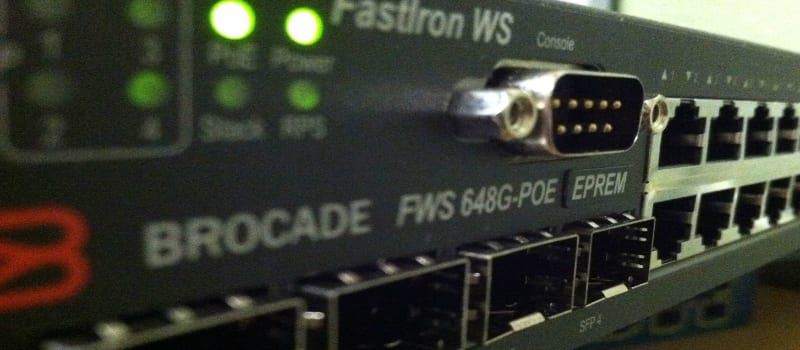 While Brocade once stood among some of the wireless networking giants, the technology company is now being sliced, diced, and auctioned off to the highest bidder. Extreme Networks and Broadcom have jointly announced that they've established an agreement for Extreme to acquire Brocade Communication Systems' data center switching, routing, and analytics business from Broadcom. Brocade's data center networking business is to be sold to Extreme for $55 million in cash, consisting of $35 million at closing and $20 million in deferred payments, as well as  additional potential performance based payments to Broadcom, to be paid over a five year term.
Extreme is expects the acquisition to accretive to cash flow and earnings for its fiscal year 2018 and expects to generate over $230 million in annualized revenue from the acquired assets. The acquisition is expected to close within 60 days following the closing of Broadcom's acquisition of Brocade in November.
"The addition of Brocade's data center networking business significantly strengthens our position in the expanding high-end data center market and reinforces our strategy of delivering software-driven networking solutions focused on enterprise customers," said Ed Meyercord, President and CEO of Extreme Networks. "As Extreme is the only pure-play end-to-end, wired and wireless enterprise IP networking company in the world, we believe Brocade's data center customers will benefit from our dedication to delivering high-quality, software-driven, secure networking solutions and the industry's highest rated customer support. Today's announcement, coupled with our recent announcements regarding our position as the stalking horse bidder of Avaya's networking business and the successful completion of the integration of Zebra's wireless LAN business, along with Extreme's organic investments in R&D, will result in a state-of-the-art, newly-refreshed portfolio of enterprise solutions for our customers."
"Moreover, this acquisition is important as it expands our commercial relationship with Broadcom," continued Meyercord. "We already have our 200 Series of value oriented switches leveraging Broadcom's FASTPATH operating system software and this transaction will only broaden our strategic partnership.  Finally, given the strong profitability of Brocade's data center business, this transaction will accelerate Extreme's objective to achieve gross margins in excess of 60%."
This announcement is the latest in a series of acquisitions that Extreme has announced over the last few months to expand the company's portfolio of data center, core, campus and edge networking solutions. In October 2016, the company closed its acquisition of the wireless LAN business from Zebra Technology Corporation, which is expected to generate over $115 million in annualized revenue. Earlier this month, the company announced that it entered into an agreement with Avaya Inc. to be the stalking horse bidder to acquire its networking business in an auction process.

Latest posts by Doug Atkinson
(see all)