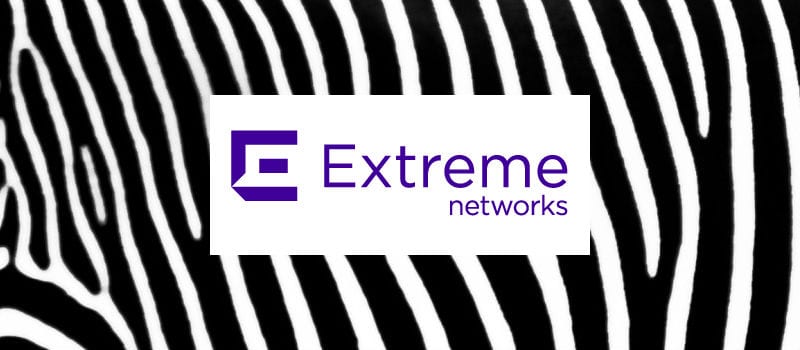 Last month we reported on Extreme Network's announcement of their plan to acquire fellow wireless provider, Zebra's WLAN business. Well, today it looks like they've completed that acquisition. The acquisition of the WLAN business strengthens and expands Extreme Networks' end-to-end, wired and wireless software driven networking solutions and compliments its vertical market focus.
"This exciting acquisition solidifies Extreme's position as the third largest provider in our target enterprise campus market and creates numerous growth opportunities for expanded solutions and services offerings for our customers," said Ed Meyercord, president and CEO of Extreme Networks. "The addition of the WLAN assets increases our total addressable market to $9.4 billion in one of the fastest growing segments of the networking industry and expands our bench with talented key management, experienced wireless industry experts and partners, and a strong base of blue-chip customers."
Through this acquisition, Extreme has gained customers, personnel and technology assets from Zebra. This acquisition has positioned Extreme Networks as a leader across the hospitality, education, healthcare, manufacturing, and state and local government markets. With the addition of a number of industry thought leaders, WiNG Wi-Fi technology, leading wireless security software, a next generation guest platform, a new managed services capability, and a strong customer base, Extreme has extended into new verticals such as retail, transportation, and logistics, creating additional opportunities for growth.
"Zebra Technologies' wireless LAN business is a strategic fit for Extreme Networks that strengthens Extreme's position in the enterprise campus market," said Nolan Greene, senior research analyst, IDC. "The acquired technology complements Extreme's existing portfolio of software-driven networking solutions and provides new opportunities for its entire ecosystem of partners, distributors, customers and employees. The enterprise WLAN market is one of the fastest growing networking segments globally and Extreme is solidifying its role as a major player in the marketplace through this deal."
As previously announced, Extreme Networks is expecting the transaction to be accretive to cash flow and earnings for its fiscal year 2017 and expects to generate over $115 million in annualized revenue from the acquired WLAN assets.

Nathaniel Lewis is an editor at Solutions Review covering Mobile and Wireless enterprise technology.He has a degree in English from Saint Michael's College in Vermont and believes that the better we understand the technology of today, the more prepared we will be for the world of tomorrow.

Latest posts by Nathaniel Lewis (see all)