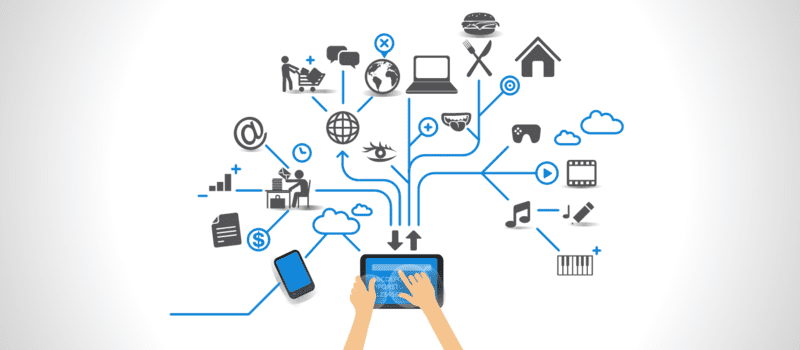 The Internet of Things, or as some may know it, "the reason why your sofa has iPhone app", is becoming unavoidable in the modern world. Double this trend with the growing number of mobile devices in the workplace, and your wireless network is dealing with quite the workload. Businesses are still working to quickly adapt to this new Age of Mobility and are constantly looking for ways to boost their network performance to be able to handle the added pressure. Below we take a look at some of the ways that IoT and mobility are beginning to change the enterprise network landscape and what businesses are doing in response.
With the Internet of Things, enterprises will need to ensure that their WLAN is equipped with the specialized networking gear and are capable of managing any additional number of client sending and receiving data. Even though there are a number of ways in which an IoT system can be deployed, the wireless network provides the architecture for which an IoT system can be successful.
Contrary to earlier notions surrounding IoT, the technology has functionalities that extend beyond manufacturing. While early adopters of IoT used it to connect machinery to their systems, today, hospitals are relying on the 802.11ac wireless standard to connect medical devices. With so much relying on the success of IoT technology, it's understandable why any old wireless hardware piece probably won't do the trick. Businesses using wireless networks to deploy their IoT services will need to invest in more specialized technology from wireless vendors with the ability to integrate with IoT capable devices and applications.
In a study conducted by Information Age, 46% of respondents said that they intended to attach their Internet of Things capable devices to their corporate network, while under a third of respondents claimed that they would create a separate logical or physical network for the purpose of IoT devices. While attaching these devices to a pre-existing network may be easy and essentially does the job, this method won't provide access to the internal resources the devices may need. Additionally, this method typically offers unreliable performance, little prioritization of traffic and very little in terms of authentication. This is easy to see when you notice that a majority of wireless networks are already operating at full capacity without an IoT system in place.

Nathaniel Lewis is an editor at Solutions Review covering Mobile and Wireless enterprise technology.He has a degree in English from Saint Michael's College in Vermont and believes that the better we understand the technology of today, the more prepared we will be for the world of tomorrow.

Latest posts by Nathaniel Lewis (see all)