Top Wireless Routers
In an age where everyone is equipped with their own arsenal of personal devices, it's important to build a wireless network that can handle the pressure. As the center of your wireless set-up is a good router, and as such you should invest the time in researching models that fit your home or office needs.
Without the right wireless router, your network will be unreliable, slow, and spotty at best. People often get too comfortable with their routers, assuming that a router is a once size fits all soft of product. However, there are a number of factors that need to be considered if you're going to find the perfect wireless set up for your organization. For example, its often assumed that your cable company-provided router will work just fine. It might for some cases such as a small home office setup. If you're looking to provide speedy internet to an entire office floor plan, that router's just not going to cut it.
Below is a collection of what we believe to be the best wireless routers for 2017. Between spiffy new mesh networks from Google and Netgear, and classic names such as Linksys, we've got you covered!
Take a look!
---
Add enterprise-grade Wi-Fi to your home with the Linksys WRT3200ACM MU-MIMO Gigabit Wi-Fi Router. Equipped with Tri-Stream 160 and MU-MIMO technology, this Wi-Fi router can deliver incredibly-fast Wi-Fi performance to multiple devices simultaneously. This dramatically expands the router's speeds, so you'll enjoy high-speed, responsive performance even when your home Wi-Fi is under heavy usage. The router's versatile range of ports can connect to eSATA and USB hard drives, network printers, flash drives, and more. And thanks to the open source firmware, advanced users can customize their router with OpenWrt and DD-WRT to suit their needs.
Features:
Tri-Stream 160 technology doubles bandwidth and the fastest dual-band of any router*

MU-MIMO technology provides blazing-fast Wi-Fi speeds to multiple devices all at the same time, same speed

Open-source ready with OpenWrt and DD-WRT® for complete flexibility and customization

Updated Smart Wi-Fi app to manage and monitor your home Wi-Fi from your device, anytime, anywhere

256MB Flash and 512MB of RAM Memory delivers improved data transfer speeds allowing you to do more at faster rates
Buy
---
Delivering a wireless experience to employees and customers, next generation AC supports the increase in density of wireless devices in the office as well as the Increased bandwidth required to support mobile video streaming, VoIP and downloading, opening or syncing large files from local fileservers or cloud storage services – all without lag or buffering. Deployment and management of the LAPAC2600 is made easy through an intuitive web interface, support for PoE+, and clustering. Advanced security features provide peace of mind. Delivering combined speeds up to 2.53 Gbps* to multiple connected devices, the access point features Multi-User MIMO to deliver powerful Wi-Fi at the same time to keep business moving.
Features
Next generation Wi-Fi MU-MIMO technology

4×4 Dual-band (2.4+5Ghz) AC with max data rates up to 2.53 Gbps

Seamless roaming

Single point control: clustering

Captive portal for customized Wi-Fi hotspot
---
NETGEAR Orbi
Mesh wireless networks have been a huge buzz word over the past few years and NETGEAR's Orbi has been leading the pack in this market. This wireless mesh router is an incredibly simple way to establish a high speed wireless network in your home or office. The Orbi wireless system is capable of covering over 4,000 square feet with powerful and reliable wi-fi signals. Since the Orbi uses tri-band Wi-Fi, the internet is able to run at their maximum speeds no matter the nmber of devices connected to the network.
Features
Covers up to 5000 square feet with high performance WiFi. Get rid of WiFi boosters or extenders; this kit includes an Orbi WiFi Router and Satellite.

Innovative Tri-band WiFi helps maximize the Internet speeds available in your home.

Single WiFi network name provides seamless room-to-room roaming throughout your home.

Easy setup with a single and secure WiFi network that works with your existing Internet service.

Guest WiFi network—easily setup separate and secure Internet access for guests.

Use the Orbi app or any web browser to create secure whole home WiFi in minutes. No accounts to create or personal information needed to setup.

Compatible with Amazon Echo/Alexa
Buy
---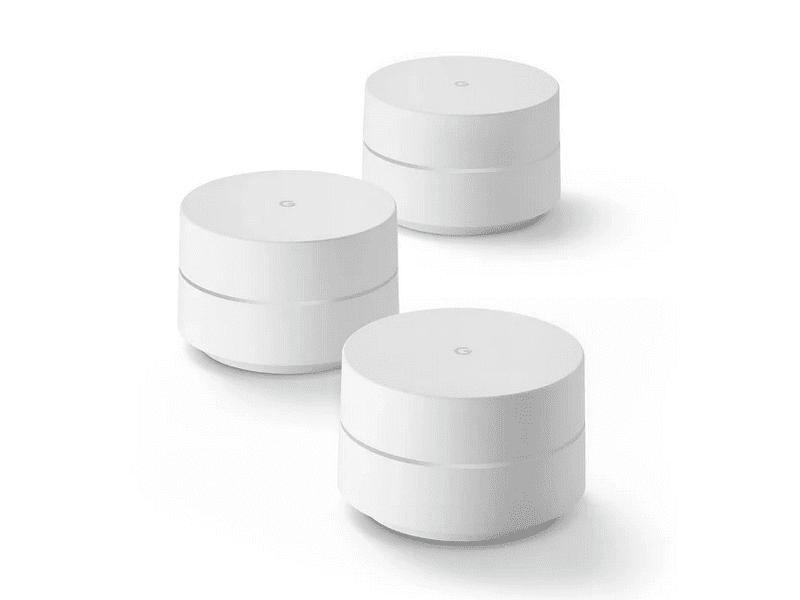 The new Google Wifi system is a sleek, three unit set boasting mesh technology and its been dominating the competition since its release. Providing excellent coverage and reliability, Google Wifi is an excellent choice if you're looking to invest in a mesh system. ccording to Google, a single unit is capable of covering a 1,500 square foot home, while three-pack will cover a 4,500 square foot home. If you're still looking for further coverage, additional units can be purchased.
Features:
A new type of connected system for seamless Wi-Fi coverage throughout your home, helping eliminate dead zones and buffering

Replaces your current router, and works your modem and internet service. It's compatible with major internet service providers including Comcast, Time Warner, and Verizon Fios

A single Wifi point covers up to 1,500 sq. ft, a set of three covers homes up to 4,500 sq. ft. Wifi points work together so you can add more if you need additional coverage

Network Assist technology keeps your connection fast by always selecting the clearest channel and fastest band for your devices

A simple app gets you set up quickly and allows you to see what's connected, prioritize devices, and pause the Wi-Fi on kids' devices
Buy
---
With wireless dual band speeds of 300 and 867Mbps, the DIR-842 avoids interference to deliver the fastest wireless speeds, improved coverage and reliable connections. The DIR-842 is ideal for streaming HD video, gaming, connecting multiple devices, and watching shows on your TV – all at the same time. D-Link's free mobile apps provide easy setup, remote monitoring and access to content from anywhere on your Smartphone or Tablet.
Features:
Dual Band – Browse the web on one band while streaming media on the other

High-Gain Antennas – Wider coverage throughout your home

Gigabit Ports – Connect up to 4 wired devices

AC1200 Speeds (up to 300Mbps on 2.4GHz and 867Mbps on 5GHz) – Fast HD/3D streaming speeds

Advanced QoS – Bandwidth optimization through client prioritization

Supports Secure Wireless Encryption Using WPA or WPA2 Security – Peace of mind with a secure connection

Parental Controls – It limits device internet access based on a schedule
Wi-Fi Protected Setup (WPS) Push Button – Securely add a device to the wireless network

IPv6 Ready – Future-proof your investment by supporting the new IPv6 standard

Intuitive User Interface – Managing your network is easier than ever
Buy

Latest posts by Doug Atkinson
(see all)