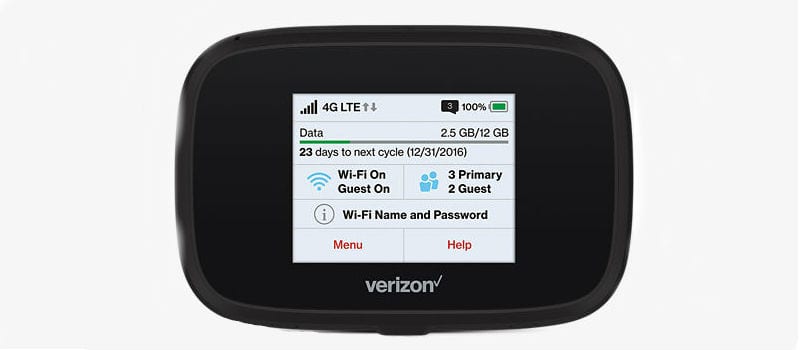 When you're travelling, trying to connect your laptop to a wireless network can be an incredible burden. Not only does it drain your battery life, but it also can result in some pretty nasty data overages. The best way to bypass this is to use a separate mobile hotspot, allowing you the wireless service you need while on the go.
Verizon has announced the release of its newest addition to its mobile hotspot offerings, the MiFi 7730L JetPack by Novatel Wireless. It features a color display, 802.11ac wi-fi, and USB-C storage support. The device is currently going for $199, but offers a $100 discount if you sign up for a two year connection plan.
"With a 2.4-inch full-color touch screen display packed with features and onscreen help, the MiFi 7730L makes it easier than ever to change settings. MiFi Share provides a new way to share files with connected devices on the local, secure, Wi-Fi network using any mass storage device with a type-C USB connector," says Verizon.
Steve Linke, Novatel Wireless Director of Sales explains, "The Novatel Wireless MiFi team is excited to deliver the next premium MiFi product to Verizon's industry-leading device portfolio. The MiFi 7730L is built with the latest technology to leverage Verizon's network advancements and has the ability to stay connected all day making this Jetpack essential for individuals and businesses looking for secure, reliable connectivity wherever and whenever they need it."
Buy it now from Verizon or Check out their other hot-spot devices  at Amazon.com!
Verizon shares the following notable specs.
Access technology: Global device; LTE Cat 9; Carrier Aggregation
WiFi: Dual band; 802.11 a/b/g/n/ac
Battery: 4,400 mAh removable battery
Display: 2.4-inch TFT color touch screen display; 240 x 320 pixels
Mobile hotspot: Up to 15 device connected simultaneously
Quick charging
External device charging
MiFi Share (Mass storage access)
USB 3.1 with USB type C port

Latest posts by Doug Atkinson
(see all)