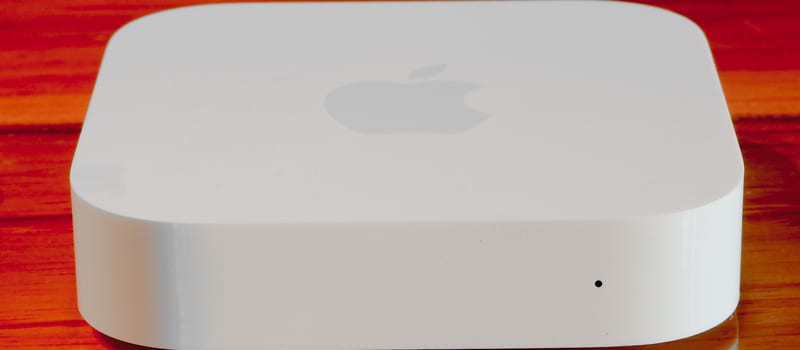 After some mumbled rumors early last month, Apple made like a banana and well you know… jumped ship on the wireless router game. It shouldn't be seen as a complete surprise considering that the tech giant hadn't updated its AirPort wireless router in nearly four years and was still operating on an antiquated wireless standard. Analysts have theorized that Apple dropping a couple of its fringe businesses is just a sign that the company is re-focusing its efforts on its core specialties. Anyways, even though the AirPort may have been a priced-up version of a lesser performing wireless router, its absence will still be felt across the industry.
Apple doesn't split its revenue from smaller portfolios such as the monitors and wireless routers, but instead compiles these stray products into one category called "Other Products" on its online store. Analysts wondered what Apple's recession from the the router industry would mean for HomeKit, the company's home automation technology project. One analyst, Jan Dawson, seemed a bit confused at the move, claiming that home routers are an integral component to smart home systems. If Apple doesn't find a replacement product for the central router for HomeKit, it should expect to see its competition flood in to jump on the opportunity. This would be a surprising deviation from the company's previous strategies that built an interconnected web between its own products.
Other analysts have seen Apple's move in a different light, seeing AirPort's close relation to the Time Machine backup product as an indicator that the company may be leaving the backup market as well. This would lead a mass exodus from locally stored files towards a reliance on Apple's iCloud offering. Other's see Apple's wireless exit as having an unanticipated effect; giving consumers a reason to purchase non-Apple products for their home network. Previously, AirPort provided features such as music streaming that were exclusive to Apple products such as iPhones and MacBooks. We'll have to wait and see though to see what Apple has in store, and how it will effect the router market.

Nathaniel Lewis is an editor at Solutions Review covering Mobile and Wireless enterprise technology.He has a degree in English from Saint Michael's College in Vermont and believes that the better we understand the technology of today, the more prepared we will be for the world of tomorrow.

Latest posts by Nathaniel Lewis (see all)