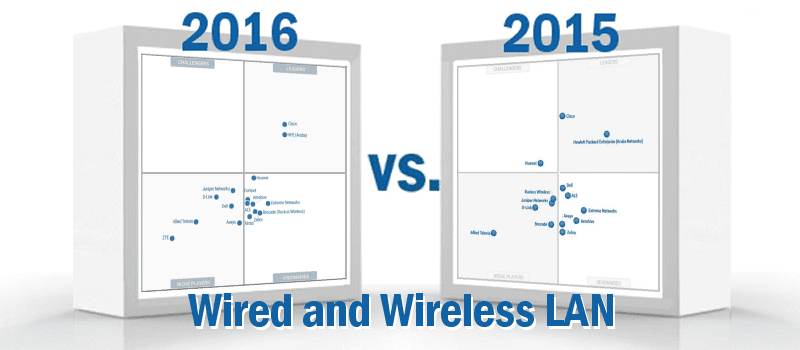 Gartner has released the 2016 edition of their famed "Magic Quadrant" for Wired and Wireless LAN Access Infrastructure, and there's quite a few differences to note. For example, this year, according to Gartner survey responses, it seems that customers prefer a common set of security, policy enforcement, and management across both their wired and wireless networks. It was also noted through the survey responses that over 70% of clients prefer a single vendor to deploy their network access layer solution.
However, one of the most striking changes in the Magic Quadrant is a decreased interest in higher throughput technologies such as 802.11ac Wave 2. This coincides with a rising interest in security measures dedicated to addressing concerns related to Internet of Things (IoT) devices connected to enterprise networks. Gartner writes that the Internet of Things has introduced a multitude of issues that require innovation, including virtual segmentation, the ability to separate a number of a different IoT devices. The report highlights that the role of the IT professional is in flux, taking on new responsibilities while staffing remains still.
It seems that 2016 has been a peculiar year for the wireless market. Gartner notes that while prices of switch components and access points continue to drop, vendors are frantically look for new functionalities to include that would warrant a raise in prices. Additionally, wireless clients deploying access layer solutions have had new network service level requirements, including indoor location services, analytics, and service level requirements.
As an overview, Gartner explains that enterprises should be aware of the changing nature of the access layer market. As a response to the many enterprise clients looking to make a single vendor decision, there were many partial vendors who combined with one another to address the overall need of access layer customers.
As is usual with the Gartner Magic Quadrant, vendors are measured based on two criteria; completeness of vision and ability to execute. Using these measurements, vendors are segregated into four quadrants including Niche Players, Visionaries, Challengers, and Leaders. While we didn't lose anyone in this year's Magic Quadrant, there are some new faces; Fortinet, Xirrus, and ZTE. It's also important to note that in the time since the last MQ, Ruckus Wireless had been acquired by Brocade and has marked as such in this year's edition.
"Niche Players" are described by Gartner as "demonstrating a near-complete product offering, but may be unable to control development or provide differentiating functionality because part of the solution is being offered through a strategic partnership, whether it is a hardware component or a network application." These vendors often have a strong vertical knowledge that limit their global reach or service capabilities in their offerings. In this iteration of the Wired and Wireless Infrastructure MQ, we've seen a looser pocket of vendors in this quadrant, with new-comer vendors such as ZTE in the far bottom-left corner, and other vendors spread more evenly towards the center of the quadrant.
The Visionaries Quadrant is by far the most competitive of the bunch, with a number of vendors, including Fortinet and Extreme Networks, all fighting to occupy the same space (so much so, actually, that Gartner had to use pointers to avoid confusing the reader!). Whereas last year's vendors were more evenly spread throughout the section, this year finds them bundled up towards the upper left hand corner of the visionary quadrant. Gartner defines this category as vendors who demonstrate an ability to increase features inits offering to provide a unique and differentiated approach to the market. These "visionaries" have innovated in one or more of the key access layer technologies with the enterprise.
One of the most eye-catching differences in this year's Magic Quadrant is the significant leap that Cisco made over the last year. They've been able to move from the the threshold of the leaders and the challengers to sit comfortably just above HPE in the center of the leaders' quadrant. According to the report, the vendor has made advances in location granularity with its Hyperlocation module. This enhanced antenna solution allows Cisco Aironet access points to locate and track wireless clients with one to three meter accuracy. While Huawei was the lone occupant of the challenger's quadrant last year, they've since moved just over the axis-origin and into "visionary" territory, leaving the former category wide open.
According to Gartner, Leaders are able to demonstrate an ability to fulfill a broad variety of customer requirements through the breadth of its access layer product family. The vendors have the ability to shape the market and provide complete and differentiating access layer applications. And "challengers", although we don't have any in this edition of the Magic Quadrant, are defined by Gartner as vendors who who have demonstrated sustained execution in the marketplace, and will have clear and long-term viability in the market, but may not have a complete access layer product portfolio for either products or network applications. These challengers have yet to develop the ability to shape the market with differentiating functionality.
If you'd like to read more about this year's iteration of the Wired and Wireless LAN Access Structure, head over to Gartner, to take a look at the full report!

Latest posts by Doug Atkinson
(see all)