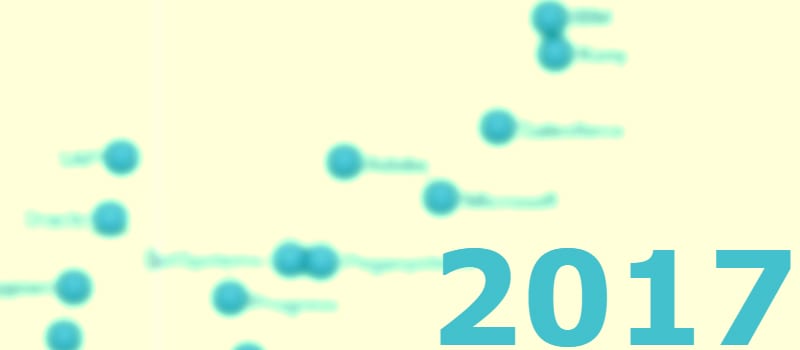 Gartner has released the 2017 edition of their famed "Magic Quadrant" for Wired and Wireless LAN Access Infrastructure, and there are a handful of changes to note. One such change that Gartner analysts noted was that over the past year, there has been an increased focus on network service applications compared to hardware components due to a lack of differentiation. This trend has become increasingly popular in outsourced managed LAN scenarios, where the customer may focus more on the network assurance capabilities that the provider offers than on the listed throughput , capacity or antenna specifications for deployed infrastructure.
According to a Gartner conducted survey, 70% of respondents reported that they prefer to use one single vendor for their access layer network. Additional survey respondents noted that they prefer a unified wired and wireless access network, with a common set of security, policy enforcement, and management solutions.
As is usual with the Gartner Magic Quadrant, vendors are measured based on two criteria; completeness of vision and ability to execute. Using these measurements, vendors are segregated into four quadrants including Niche Players, Visionaries, Challengers, and Leaders. While we did lose some vendors in this edition including ZTE and Zebra, there are some new faces; Mist Systems, New H3C, and Mojo.
"Niche Players" are described by Gartner as "demonstrating a near-complete product offering, but may be unable to control development or provide differentiating functionality because part of the solution is being offered through a strategic partnership, whether it is a hardware component or a network application." These vendors often have a strong vertical knowledge that limit their global reach or service capabilities in their offerings. In this iteration of the Wired and Wireless Infrastructure MQ, we've seen an increase in the number of niche players due to a significant migration of visionary vendors to the niche space over the last year, including Fortinet and Brocade.
On the topic of the 'Visionary Quadrant', many of the vendors who received 'near leader' placement in the visionary quadrant last year, moved considerably further down the box or even into the 'niche' category. Only Extreme Networks maintained roughly the same spot that it held last year. Gartner defines this category as vendors who demonstrate an ability to increase features inits offering to provide a unique and differentiated approach to the market. These "visionaries" have innovated in one or more of the key access layer technologies with the enterprise.
In the 'leader' quadrant, we still only have two residents, Cisco and HPE, however they slipped a bit in their ranking, falling to just barely above the x-axis above the 'visionary' quadrant. According to Gartner, 'leaders' are able to demonstrate an ability to fulfill a broad variety of customer requirements through the breadth of its access layer product family. The vendors have the ability to shape the market and provide complete and differentiating access layer applications. And "challengers", although we don't have any in this edition of the Magic Quadrant, are defined by Gartner as vendors who who have demonstrated sustained execution in the marketplace, and will have clear and long-term viability in the market, but may not have a complete access layer product portfolio for either products or network applications. These challengers have yet to develop the ability to shape the market with differentiating functionality.
If you'd like to read more about this year's iteration of the Wired and Wireless LAN Access Structure, head over to Gartner, to take a look at the full report!

Latest posts by Doug Atkinson
(see all)