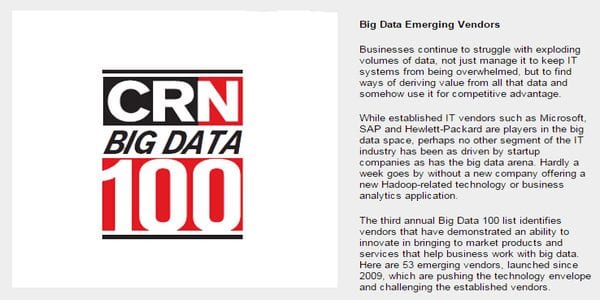 CRN, a technology news site, recently released their third annual Big Data 100 list, identifying vendors who have "Demonstrated an ability to innovate in bringing to market products and services that help business work with big data." The list highlights 53 emerging vendors, all of which have launched since 2009, that are producing innovative products and making it uncomfortable for those providers that are already established in the space.
In a recent contributed post, Jean-Michel Franco, Director of Product Marketing at Talend, wrote about how big data was first seen as a way to boost business insights, but it has grown so much that it has begun to create new business models. Big data has matured at an amazing rate, and is now a cross-industry tool, used by many of the top enterprise organizations.
CRN outlines a plethora of great big data vendors, many of which we track and highlight in our free business intelligence, data integration, and backup and disaster recovery buyers guides. Some of those solutions providers include Datameer, Platfora, Actifio, and Sisense, who's Chief Executive just wrote us an intriguing column on the topic of mobile business intelligence.
Some of the other notable up-and-comers in big data that we have started to track more closely in recent weeks are Looker Data, Sumo Logic, Numerify, and Hortonworks. In addition, two of the vendors included in CRN's list were just named to Gartner's 2015 'Cool Vendors' in big data report. Alteryx and Alpine Data Labs were included in Forrester's new big data and analytics Wave Study in April as well.
Big data's scope is large, and there's clearly a lot going on within the data-driven enterprise. If you are in the process of learning more about big data's benefits or solutions vendors that can help your organization move to the next level, CRN's list is a great place to start.
Check out CRN's 2015 Big Data 100.

Latest posts by Timothy King
(see all)