The Biggest Data Storage News Items During the First Half of 2021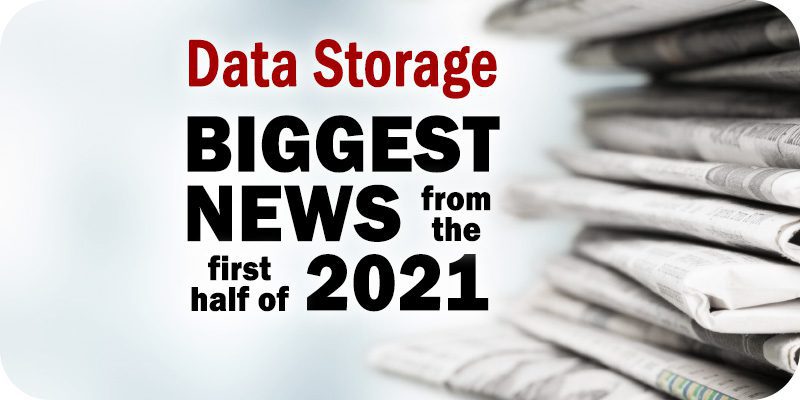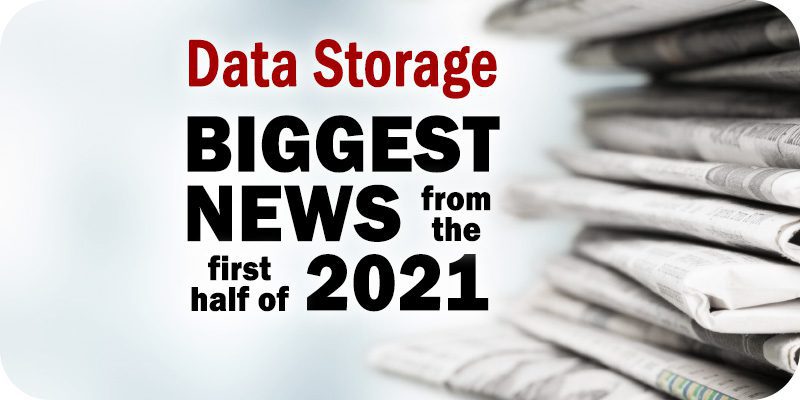 Our editors curated this list of the biggest data storage news items during the first half of 2021, as highlighted on Solutions Review.
Enterprise data storage is a centralized repository for information, which commonly offers data management, protection, and sharing functions. Because enterprises handle massive amounts of business-critical data, storage systems that are highly scalable, offer unlimited connectivity and support multiple platforms would benefit them the most. There are multiple approaches to data storage to choose from, including Storage Area Networks (SANs), Network-Attached Storage (NAS), Direct-Attached Storage (DAS), and cloud storage. The importance of data storage is underlined by the exponential generation of new data and the proliferation of Internet of Things (IoT) devices.
Part of Solutions Review's ongoing analysis of the data storage marketplace includes covering the biggest data storage news stories that have the greatest impact on enterprise technologists. This is a curated list of the most important data storage news items from the first half of 2021. For more on the space, including the newest product releases, funding rounds, and mergers and acquisitions, follow our popular data storage news section.
The Biggest Data Storage News Items During the First Half of 2021
Hitachi Vantara recently announced the availability of Hitachi Kubernetes Service. It is an enterprise-grade solution designed to address the complex challenge of managing multiple Kubernetes environments. Hitachi Kubernetes Service enables users to consistently and securely deploy, manage, monitor, and govern Kubernetes clusters across major cloud providers and on-prem. This allows developers to deploy workloads on their platform of choice and eliminates vendor lock-in.
In a press statement, Bobby Soni, president of Digital Infrastructure at Hitachi Vantara, said, "while our customers love container technology, they are challenged by the complexity to deploy and securely manage containers at scale across multiple cloud environments. Today, we are helping simplify and solve the multi-cloud Kubernetes challenge for our customers with the introduction of Hitachi Kubernetes Service. With this enterprise-grade service, our customers now have the freedom of a true agnostic platform, the flexibility of an extensible self-service catalog, accompanied with world-class training and Hitachi global support to help their development teams drive business results."
DataCore Software has announced its acquisition of Caringo, Inc. The combined entity will allow DataCore to provide complete software-defined storage solutions for block, file, and object from a single vendor. This acquisition will add both talent and expertise to the DataCore team, as well as users in key markets, including cloud service providers, media, and government. DataCore's acquisition of Caringo furthers the DataCore ONE vision, which is to realize the power of software-defined storage to unify the storage industry.
In a media statement, Barry Griffiths, Managing Director of NAS UK Ltd., a long-term Caringo and DataCore partner, said, "DataCore's acquisition of Caringo offers compelling use case advantages and product synchronization, with both platforms offering enterprises the benefits of fast recovery, zero downtime and fast throughput software-defined storage running on x86 commodity hardware. It will bring together best of breed software solutions for managing and archiving structured and unstructured data — not least because one of the biggest challenges that IT managers worldwide will face in 2021 is how to effortlessly move swiftly growing capacities of unstructured block and file data easily into the cloud/object world."
Red Hat has announced it has closed the transaction to acquire the container and Kubernetes-native security provider, StackRox. Kubernetes, one of the fastest-growing open-source projects, is the bedrock of cloud-native applications, which are crucial to the digital transformation that is happening across industries. By bringing StackRox's Kubernetes-native security functionality to Red Hat OpenShift, Red Hat will extend its vision to provide a single, holistic platform that enables users to build, deploy, and securely run almost any application across the entirety of the hybrid cloud.
In a blog post, Ashesh Badani, senior vice president of Cloud Platforms at Red Hat, wrote, "over the past several years we have paid close attention to how our customers are securing their workloads, as well as the growing importance of GitOps to organizations. Both of these have reinforced how critically important it is for security to "shift left" — integrated within every part of the development and deployment lifecycle and not treated as an afterthought. With StackRox, we will be working to add security into container build and CI/CD processes. This helps to more efficiently identify and address issues earlier in the development cycle while providing more cohesive security up and down the entire IT stack and throughout the application cycle."
Dell Technologies recently introduced its next-generation secure Dell EMC PowerEdge server portfolio. With these new servers, Dell Technologies is following a path towards autonomous infrastructure to deliver greater IT efficiency, embrace artificial intelligence (AI), and address the demands of IT at the edge. The server portfolio provides the power needed to gain and act on real-time insights from data wherever it lives, from core data centers to public clouds and edge locations.
In a media statement, Jeff Boudreau, president and general manager of the Infrastructure Solutions Group at Dell Technologies, said, "data is being created and used in more places than ever before, and organizations are challenged to act on it as quickly as possible. As we innovate for the future of IT, advanced automation is a must, no matter where infrastructure resides. Our new PowerEdge servers offer next-level performance to help customers accelerate data insights and the move toward autonomous compute."
Hitachi Ltd. recently announced that it will acquire GlobalLogic Inc., a US-based digital engineering services company. The acquisition is based on the definitive agreement among Hitachi Global Holdings Corporation (HGDH), a US subsidiary, an SPC established by HGDH for the acquisition, and GlobalLogic Worldwide Holdings, Inc., the parent company of GlobalLogic. The transaction is subject to customary conditions and regulatory approvals and is expected to be completed by the end of July 2021.
In a press statement, Toshiaki Higashihara, President and CEO of Hitachi, said, "the acquisition of GlobalLogic creates an exciting new opportunity for Hitachi to expand our offerings of Lumada solutions and services, provide value to customers in their digital transformation journey, and grow our Lumada business globally. The synergy of GlobalLogic's leading experience design and innovation with Hitachi's expertise in IT, operational technology, and products, will help us realize our goal to be the leading digital transformation innovator in social infrastructure worldwide. Together, we will create new social, environmental, and economic value for our globally expanding client companies and elevate QoL (quality of life) for people through contributions to realize sustainable society."
VAST Data recently announced it raised $83 million in Series D funding. The funding round was led by Tiger Global Management at a post-money valuation of $3.7 billion, tripling VAST's valuation since April 2020. This round also features strong participation from NVIDIA and several other existing investors and is driven by VAST's combination of rapid customer adoption and positive cash flow. The Series D funding adds to the company's Series B and Series C investments, positioning VAST as the next independent infrastructure provider that is poised to disrupt the market.
In a press statement, Renen Hallak, Founder and CEO of VAST Data, said, "the pioneering and inventive spirit of our team influences every aspect of our product and business and has redefined how successful businesses can be built. We are humbled by today's validation from Tiger and NVIDIA. It is evidence of our accomplishments to date and serves as a launchpad for the opportunity ahead of us."
Western Digital recently announced the availability of its new high-performance Ultrastar Edge server family. The new suite brings compute closer to where data is generated for faster processing, lower latency, and real-time decision-making, even when disconnected. Designed for cloud service providers, telcos, and system integrators, the Ultrastar Edge servers are easy to deploy and scale in the field, at colocation facilities, in a factory, or in remote data centers.
In a press statement, Kurt Chan, vice president of data center platforms at Western Digital, said, "as a storage technology leader, we're constantly looking ahead and anticipating how we'll continue to serve our customers' needs. The growth in data creation at the edge, the opportunities to extract value from that data, and the total available markets and customers innovating and doing work at the edge, gives us a great opportunity for our new Ultrastar Edge server family."
NetApp recently announced that it has acquired Data Mechanics, a managed platform provider for big data processing and cloud analytics. The acquired company has offices in Paris, France, and helps businesses capitalize on Apache Spark, an open-source unified analytics engine for large-scale data processing and machine learning, in Kubernetes. Financial details of the transaction were not disclosed.
In a media statement, Amiram Shachar, vice president and general manager of Spot by NetApp, said, "although there are significant benefits to moving analytics and application workloads to the cloud, managing analytics technologies and cloud infrastructure can be resource and time-intensive, impeding employee productivity and return on investment. We're excited to welcome Data Mechanics to Spot by NetApp as we further enable organizations to put their data to work and get even more value from their cloud infrastructure investments."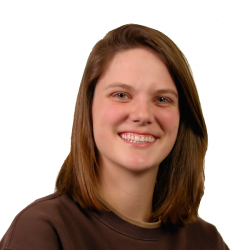 Latest posts by Tess Hanna
(see all)