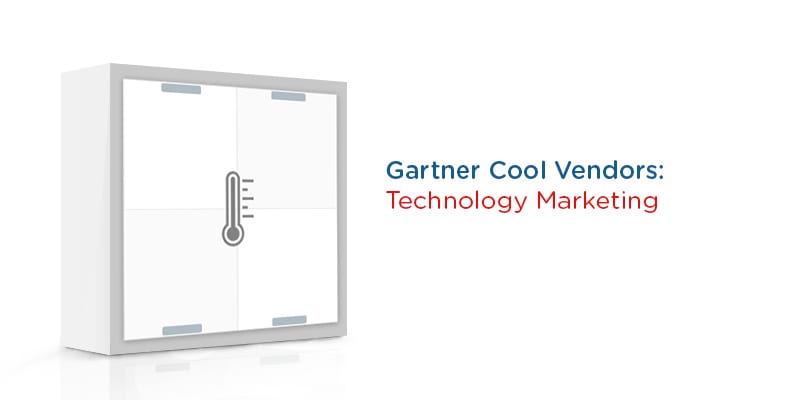 Analyst house Gartner, Inc. has released its newest vendor report highlighting three emerging solution providers that offer innovative alternatives in the technology marketing space. Cool Vendors in Technology Marketing focuses on startups that offer some disruptive capability or opportunity. Gartner says that cool vendors "exist across all major areas of technology and innovation" and application leaders that pay close attention to these trends can avoid the "disadvantage in trying to keep up."
This year's report emphasizes the importance of improving buyer engagement. Technology and service providers should be evaluating new technology marketing vendors that strive to deliver buyer-centric experiences based on established buyer behavior. This article summarizes each vendor's specializations, and highlights what types of organizations would benefit from each solution.
At Solutions Review we've read the full report, available here, and want to take the opportunity to expand upon the introduction has given to these providers. Though Gartner's process for selecting Cool Vendors is somewhat mysterious, we believe our unique view of the marketplace can help you better understand how these tools will fit into the overarching landscape as they mature.
PathFactory is a content insight and activation platform that enables B2B marketers to upgrade from delivering content on their own terms to their buyer's terms. Customers can serve curated content tracks or AI-powered recommendations in order to quickly traverse through the purchase process. PathFactory also collects buyer behavior data that allows marketers to qualify leads based on active content consumption. The company offers two different services: Gold clients have access to webinars, success maps, and communication with PathFactory team members. Platinum clients receive full support for building and deploying campaigns, as well as a Client Success Manager that helps provide customized guidance and additional PathFactory resources.
Bottom Line: Organizations that are looking for greater insight into the habits and tendencies of their customers will find benefit in using PathFactory. This vendor's focus on monitoring customer content consumption and driving marketing strategies based on that collected data will aid any marketing team looking for greater customer understanding.
Sendoso is a unique sending platform that sources, stores, ships, and tracks ROI for all of its customers' products. Customers can view a real-time feed of of team activity, and can track sent and delivered items. Other features include A/B outreach campaign testing, co-branded shareable e-Gift templates, customer facing internal merchandise stores, and more. Customers also received a personal Customer Success Manager that aids in setting up successful campaigns and acts as a general Sendoso resource.
Bottom Line: Organizations that are looking for help with using gifting and direct mail throughout customer lifecycles should check out Sendoso. This vendor is focused on any and all customer-facing departments and helps organizations throughout the entire sales process.
SlapFive is a customer voice engine designed to accelerate customer acquisition, expansion and renewal by capturing customer voice and injecting it into marketing, sales, and service initiatives. Common use cases include case studies, recorded reference calls, buyers' guides, customer feedback, and more. When working with SlapFive, users participate in a customer voice workshop, where SlapFive formulates a strategy for using customer knowledge, experiences, and advice to drive the development of an appropriate campaign.
Bottom Line: SlapFive is a great solution for organizations that want to work closely with their tech marketers. Each development process is highly personalized, and aside from the initial workshop, customers don't need to invest any more of their time.
Latest posts by Anna Birna Turner
(see all)