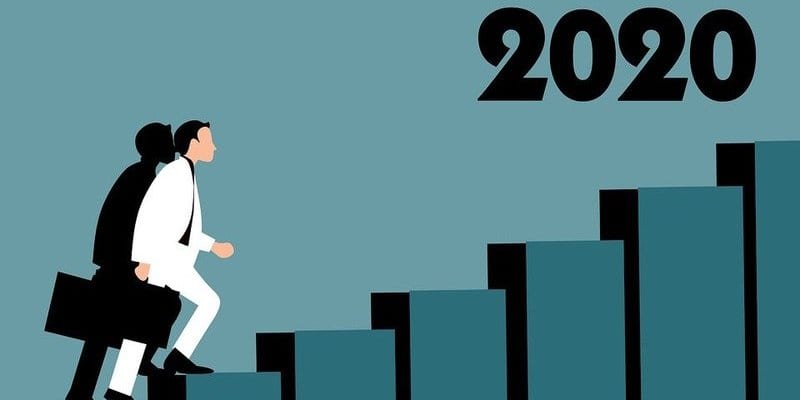 2020 is just around the corner, and analysts from all over the world are looking towards the new year with a sense of hope and excitement. In celebration of today's MarTech Insight Jam, here is a compilation of some of the top predictions from our participants and contributors.
The platform approach – see you later, point solutions. 
Latane Conant, CMO of 6sense
One universal theme we hear over and over is how gnarly the marketing tech stack has become—50 to 100 different tools with little to no real integration. It's time to look beyond marketing technology designed for lead-based models and retrofitted with AI insights. Leading marketers will replace disparate solutions with one cohesive account-based platform built with AI and big data as the core.
New Roles Will Emerge for ABM Marketers Around Targeting and Growing Existing Customers 
Bryan Wade, CEO of Sigstr
"One of the biggest problems a software company can face is its main contact and sponsor within a client organization leaving the company. In this new economy of subscription-based businesses, you have to constantly search for ways to expand relationships within an organization to avoid this issue. As we move into 2020, ABM is going to evolve fill this gap by not only targeting prospects but also applying these concepts to existing customers."
The Changing SDR Role: Real or Robot? 
Joe Caprio, VP, Sales at Chorus.ai 
"2020 is not the year of the robot. We've made so much progress since I first started in sales, and technology has been the biggest driver of that progress. And I know the rate of iteration increases forever, but we still have a long way to go before the average company would trust their brand and reputation to be fully automated."
Location-based marketing
Ben Carlson, Co-President and Co-Founder of Fizziology
"As more consumers cut the cord to cable, it is becoming harder to reach audiences with traditional brand-building ad campaigns. This is especially true for younger audiences – many of whom are not just cord-cutters but cord-nevers. At the same time, Gen Z and Millennial consumers are prioritizing experiences over "stuff." Innovative marketers can take advantage of these trends by shifting marketing focus to live events, which can create direct connections between customers and brands. Take for example Buffy's tie-dye tour or Glossier's string of pop-up shops. In the past, these experiential marketing tactics have been seen as more experimental than other, more trackable forms of advertising. But technology is now letting marketers listen to anonymized conversation at live events via social media to learn about consumers opinions, expressed in their native environments. We believe we will see experiential marketing mature into a regular part of a marketer's brand-building campaign."
Loomly, anticipates three strong trends for 2020:
Privacy: as the California Consumer Privacy Act becomes effective on January 2020, and Internet users are increasingly sensitive to how their data is collected, used and managed, it is likely that we will see more MarTech solutions offer privacy-related features, helping brands optimize performance of their campaigns, in full compliance with the law and — most importantly — with fair practices.
High-Quality Content: with social networks hunting down automation and duplicated content features from developers (such as Twitter) on the one hand, and giving priority to authentic content (such as Facebook) on the other hand, it seems highly likely that we will keep on seeing brands and marketers invest always more into producing high-quality content, in an effort to stand out through algorithmic news feeds and delight end users.
Collaboration:as digital & social media marketing gains weigh in overall budgets, and stakes associated with online brand presence keeps increasing, more and more stakeholders are involved in marketing-centric processes & decisions. This is true within marketing teams, with greater numbers of collaborators involved (marketer, designer, copywriter, SEO, traffic manager, PR manager, etc.) as well as outside of marketing teams, with the rise of cross-functional teams involving multiple departments (product, sales, HR, legal, finances).
Reviews to Gain More Recognition
Kelly Cooper, Director, Lifecycle Marketing at Moz 
"Reviews signal trust and authority; they are also becoming a bigger player in search engine ranking factors—especially for local. As such, digital marketers will expand their work with  reviews as more than community management, branding, and trust but also, how reviews impact rankings, increase CTRs, and ultimately facilitate organic traffic."
Google Cracking down on Certain Industries
Russ Jones, Principal Search Scientist at Moz 
"I believe we will see Google continue to crack down on certain advertising industries. The latest target is credit repair related services, although we have seen the same in the medical and adult industries over Google's lifetime. When these bans take place, it creates a short-term opportunity for companies to shift advertising dollars to organic. Those that make this pivot quickly and strongly stand to gain a substantial market share in the long run."
 Future of Voice
Dr. Pete Meyers, Marketing Scientist at Moz 
"As voice searches on smartphones and voice devices grow, people are becoming more comfortable with longer, natural-language searches. This trend has not only led Google to completely rebuild their search algorithm (for all searches, not just voice) but to focus more features specifically on answering questions. While most brands won't need to rush to create a voice app or voice-specific content, it's vital that they understand how natural language is changing search, have the data necessary to track long-tail phrases and questions, and move away from a narrow focus on so-called "head" terms. This not only represents a shift in keyword research, but in content creation and strategy. Google's ability to understand natural-language and process meaning will only accelerate."
SMBs won't think or act small  
 Brittani Dinsmore, Director, Product Marketing at Moz
"Small business owners today are tech-savvy and innovative. They are well-versed in the necessity of digital marketing and will seek out access to the same tools and technologies that large companies need, just at a smaller scale. But both large and small businesses need to compete at the local level to serve neighborhoods and communities."
Mobile wallets will finally break out in 2020
Mike Herrick, SVP of Technology at Airship
We're on the cusp of mobile wallets hitting critical mass. As marketers, we know it's been a slow ramp and Apple Wallet offering a physical credit card is only a testament to how slow it can be for consumer behaviors to change. However, people are using mobile wallets more and more to transact. Apple's physical card and integration with Apple Wallet and Apple Cash money back is accelerating this trend. Consumers are now going into their mobile wallets on a daily basis.  Over the past year we've been noticing a fundamental shift in attitudes towards mobile wallets largely due to messaging, which will lead to mobile wallets finally breaking through in 2020. This intersection will be key to help encourage consumers to leave their wallets at home.
The proliferation of mobile wallets in 2020 also presents a major marketing opportunity for brands. Apple Wallet and Google Pay enable customers to complete transactions with or without a brand's app. Venmo's ascent to 40 million users is also indicative of the space's growth. In 2020, brands will capitalize on this opportunity to reach their customers where they are – their mobile wallet.
CallRail offers the following prediction:
A new report from CallRail reveals that 96% of marketers agree attribution is critical to informing and optimizing marketing decisions, but 36% say the lack of insight into the effectiveness of tactics is the most detrimental factor to their marketing efforts. According to the data, in 2020, marketers are going to be focused on one thing: attribution data and the marketing technology that pulls all insights into one place. Fifty-one percent of marketers use four or more marketing platforms and 75% say they spend too much time reporting on marketing performance. Marketers with five or more solutions are even more likely to say they spend too much time reporting performance (84%). Multiple, incompatible platforms often create more problems than they solve because they don't integrate correctly with each other, or they might use different attribution models that provide conflicting narratives.
A push for quality over quantity
Rachel Downey, President and Co-Founder of Share Your Genius
"Modern marketers understand the need to show a return on investment for their efforts. When it comes to the ambiguous metrics of podcasting, they're laser-focused on how many downloads they're seeing, instead of worrying about who those listeners are. As podcasts continue to be a rising marketing channel next year, we'll see more insights into how a show is performing and an emphasis on whether it's pushing buyers through the funnel. Marketers will be less worried about the number of downloads. Instead, focusing more on how much time is being spent on their brand. With this lens in mind, shows will be created to have a broad appeal yet tailored for their intended audience. In other words, if you want to market to small business owners, your show will be created specifically towards small business owners, negating any question around who is listening. Instead, the focus will be on what do they do next after listening."
UJET offers the following predictions:
Messaging Will Surpass Voice – "While voice will always remain an important channel for support, especially for urgent issues, in 2020, we will see messaging (SMS and chat) overtake voice as the most critical support channel. Woe to customer service organizations that cannot provide an omnichannel support experience that includes messaging, as this will most surely equal the success or demise of the overall customer experience (CX)."
Multichannel Will Expand to Multimedia – "In 2020, expect to see customer service organizations turn their attention to optimizing each support pathway to meet the tech-savvy needs of many of their customers. Chief among enhanced capabilities will be multimedia. The ability to share screenshots, photos and even video between the customer and support professional will become commonplace during support interactions."
Data Will Break Down Silos Between Customer Support and Other Teams – "In 2020, the 'digital transformation' conversation that has become commonplace across IT, will extend into the customer service center. We will begin to see the impact and value of support data being shared across the enterprise. Customer feedback, sentiment, profile data and more will be securely shared across organizations helping teams such as marketing, sales and product development to make more strategic decisions. And as a result, the importance and value of customer support will be elevated as a whole."
Agent Specialization Will Be A Key Focus  – "In 2020, as the presence of technologies such as AI and Machine Learning within the contact center continue to grow, and more customers are directed towards bots and self-service options, support agents will become hyper-specialized. Agent specialization will not only be geared towards channels, but also centered around specific issues, situations and the urgency of incoming support interactions."
AI Will Improve the Customer Support Employee Experience (EX), as well as the Customer Experience (CX) – "In 2020, AI will dramatically improve the employee experience (EX). The ability to automatically and instantly collect data from across multiple channels, analyze it and provide actionable insight will enable support agents to more quickly, easily and accurately address customer inquiries and come to highly satisfactory issue resolution."
---
Latest posts by Anna Birna Turner
(see all)