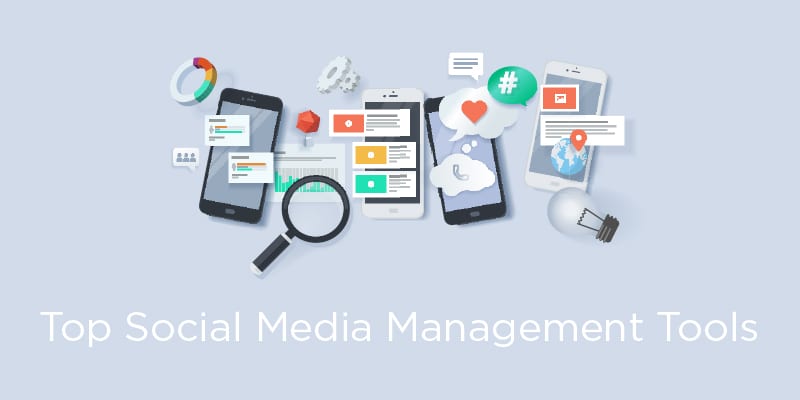 Social media management tools are a vital aspect of marketing strategies for a variety of businesses, particularly retailers and brands that sell directly to consumers. You need to be aware of what customers are interested in, what trends they prefer, what trends they dislike, what they like and dislike about your competitors. Social media is a great way to gather large amounts of information about your audience, and about people that you'd like to gain as customers or potential leads. Although utilizing this information correctly can be tricky, social media management tools allow you to keep track of a variety of communication channels. If your company is looking to improve its social media strategy, here are NUMBER management tools to consider.
Zoho Social is a comprehensive social media management platform compatible with all sorts of businesses and agencies. On a single platform, users can view brand health statistics like total audience, active audience, engagement, and stories created. View your recent posts, a real-time display of twitter tweets and interactions, and much more. Users can schedule posts for particular times, visualize their content pipeline, and view a variety of custom reports and analytics to continuously inform your marketing strategy. Users also have access to Zoho on iOS and Android mobile devices.
Hootsuite makes finding, scheduling, managing, and reporting on social media content easier. Customers can automatically schedule social posts at once, across multiple social accounts. Create pre-approved content that your teams can post, and organize your feed with tagging, searching, and usage stats. Users can track their performance and share insights with their team members using customizable reports. Stay in touch with what people are saying about your brand by filtering social conversations by keywords, hashtag, and location in multiple languages.
Falcon.io offers several social media management tools, including customer engagement, social listening, audience management, and content marketing. Users can create paid and organic posts for all their social channels with one collaborative publishing calendar. Easily manage channels, teams, workflows, and campaigns, and create approval flows and content pools to ensure brand alignment. Users can also merge their social data with their chosen CRM solution for a more comprehensive view of their customers. Falcon.io also provides onboarding, quick tips, strategic advice, and other helpful customer service.
Loomly is a social media calendar tool that helps streamline the content production process. Loomly offers unique productivity boosters with post ideas and suggestions, as well as tips and tricks on whether your content will generate high engagement rates. Keep track of all your images, GIFs, videos, and other media in a unified content library. View automatically generated post mockups to see your content how your customers see it. With additional automation, analytics, and approval workflows, Loomly is a great pick for any organization looking to improve their social media strategy.
eClincher is a social media management platform that offers a wide variety of features. Users can connect their social media accounts to a single platform that streamlines workflows. Simplify community engagement with a social inbox that manages live conversations of all your social accounts; users can complete, tag, and assign items to various team members. Smart Queues will automatically post your content, and users can bulk upload hundreds of posts ahead of time. eClincher also offers a unique Chrome extension plugin that allows you to save content you find online.
Statusbrew is a customizable social media platform focused on integrating social with all your business teams. Users have access to brand conversations in a single location, and can easily respond to individual customer queries. Utilize automated workflows to assign messages to your team based on different factors. Easily publish content across multiple social networks and visualize a complete timeline of all your posts and activity. Access analytics, insights, reports, and charts to understand your customer's perception and demographics. Measure content health, build custom reports, and easily create white label reports.
Sprout Social has helped improve the marketing strategy of over 20,000 customers, brands, and organizations. This vendor's all-in-one social management platform allows its customers to better connect with audiences, streamline publishing workflows, and collaborate in real time. Users have access to content planning & publishing features, campaign & conversation management, measurement & optimization, and much more. Sprout offers a scalable solution with a wide array of features to optimize your marketing strategy and boost ROI.
Buffer is unique in that it offers three different social media tools that can help your business, depending on your social media needs and goals. 'Publish' is a tool that allows customers to plan and publish content across all your social channels from a single dashboard. 'Reply' allows users to combine customer service with their social media management. Reply to conversations and support requests across social media channels, and keep track of your tickets and engagements in a collaborative team inbox. 'Analyze' provides users with in-depth insights and reports used to grow your brand and monitor business progress.
Sendible is a social media management tool meant for agencies balancing multiple clients. The dashboard displays the most important messages and communications that you've received across all your social channels. Users don't need to jump between pages to access all of their data, which helps reduce time spent on repetitive tasks. Sendible's automatic sentiment analysis identifies mentions and discussions online that require urgent attention. Users can also build branded reports, or continuously report their progress by automatically emailing useful metrics to specific clients and contacts.
HeyOrca is a social media calendar made for content planning, collaboration, and client approvals. Specifically marketed towards digital agencies, this tool allows its users to easily manage multiple social interactions for multiple brands. clients don't need to sign in to approve or reject content, write comments, or mention colleagues. Clients and colleagues can use HeyOrca simultaneously, but internal feedback is kept separate from those without permission. Users can also access a complete history of every change, comment and approval made to content on the platform.
Social Report offers a versatile social media management platform with a focus on driving strategic decision-making through meaningful insights, social data, and analytics. You can track the performance of all your social channels, as well as business reviews, website site performance, blogs, and even other competitors. Organize your data by customers or business, and easily generate presentation-ready reports. Users can also schedule media posts, track messages and other interactions in a social inbox, manage team members and customers, and much more.
AgoraPulse is a feature-rich social media management tool. The central dashboard is built for team collaboration and visibility, and allows users to work simultaneously with their coworkers. See which of your teammates or clients is reviewing or responding to content, assign roles for each of your teammates, click on any piece of content to see which users have taken action on it, and much more. AgoraPulse also offers standard features like visual reports and insights, a central social inbox, and a large variety of publishing options. This solution is a good fit for organizations looking for greater team visibility and collaboration features.
Kontentino aims to simplify its users' social media approval workflows. Kontentino's calendar provides users wtih an overview of all your social media content across various social media platforms, and keeps your social media posts organized in one central location. Before publishing, users can preview their posts, changing the appearance based on social media platform. Schedule posts across channels, and set up boosting and advertising in advance. Other features include a scheduling calendar, post tagging, a streamlined client approval process, saving posts, team collaboration, and much more.
Latest posts by Anna Birna Turner
(see all)