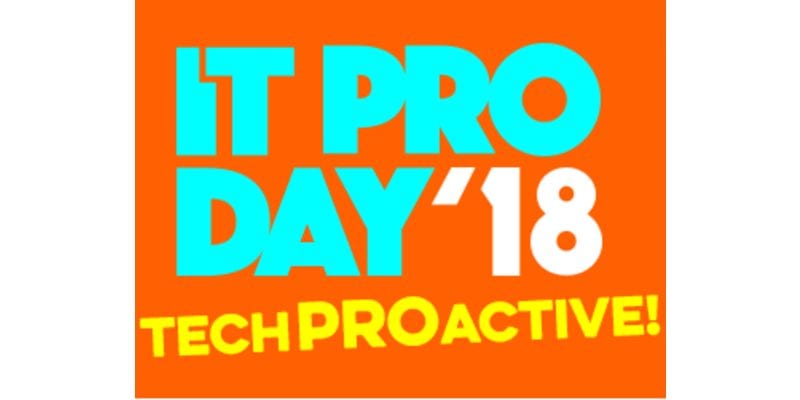 Today is IT Professionals Day! It's a day to celebrate the accomplishments of some of the hardest workers in your enterprise. Not only do they have to deal with threat investigations and lost passwords, but they also have to manage your security updates, teach best practices to your other employees, and handle other technological demands.
Joseph Kin, Executive Vice President and Chief Technology Officer at security analytics firm SolarWinds, said in a statement: "Today's technology professionals face a tremendous amount of responsibility at work, from one-off user requests and help desk tickets to the expectation of continuous technology implementation."
"In honor of all the work they do, we want to celebrate the fourth annual IT Professionals Day by giving tech pros the freedom to explore all the ways they would use their technology aptitude to take their worlds forward—from IT optimization to helping solve societal challenges like environmental sustainability."
IT Professionals Day shows appreciation for a department working relentlessly behind the scenes but often receiving little notice. After all, the mark of a great cybersecurity platform is often how little it interferes with other business processes.
To show their appreciation, SolarWinds released their SolarWinds IT Pro Day 2018 Survey: A World Powered by Tech Pros. This report shows what the IT professionals could do if given the resources to be proactive in their duties and improvement.
Some of the key findings SolarWinds IT Professionals Dat Survey include:
Almost 70% of IT professionals respond to one-of user requests such as password recovery on a daily basis.

51% respond to help desk tickets on a daily basis.

IT professionals rank machine learning, automation, and cloud as the top three technology advancements to solve their challenges.

If given one extra work hour per day, 41% of IT professionals would work to develop a skill set.

21% would research new technologies.

19% would strategize future innovations.
IT professionals make the up the backbone of any enterprise's cybersecurity platform and plan. As always a SIEM or security analytics solution is a vital component, yet without the expertise to deploy and monitor it, you will lose its optimal performance. SIEM is a labor-intensive solution, requiring IT professionals to evaluate its security alerts and threat criteria.
Therefore, your enterprise should make this IT Professionals Day the start of a year-long celebration of your long-suffering IT team. Due to the demands of modern cybersecurity and the deluge of daily technology needs, IT professionals are especially prone to burnout. In cybersecurity, this burnout rate is compounded by the continuing staffing crisis. Often, more responsibilities are placed on increasingly barebones enterprise teams.
So show your appreciation for your IT professionals. If your enterprise needs 24/7 monitoring, see if you can find an MSSP willing to operate during your employees off-hours so they can get some rest. Offer your team the benefits and amenities befitting those protecting your most vital digital assets. Mandate employee-wide educational programs so your employees can protect themselves against phishing attacks and thus take some of the stress off your IT team.
Take the opportunity of IT Professionals Day to learn what your security team needs. They need appreciation as much as they need technological assistance. Give it generously!   
You can read more about the SolarWinds IT Pro Day 2018 Survey: A World Powered by Tech Pros here.
Other Resources: 
The 10 Coolest SIEM and Security Analytics CEO Leaders
5 Tips for Setting Up a Security Operations Center (SOC)
Get Your Employees to Embrace SIEM Best Practices!
4 Tips to Make Data Breach Detection Easier For Your Enterprise
Enterprises: Don't Become Complacent in Your Cybersecurity!
How to Make Your SIEM Solution Deployment Easier for Your Enterprise
Comparing the Top SIEM Vendors — Solutions Review
How UEBA Can Prevent Insider Threats in your Enterprise
SIEM vs Security Analytics: What's the Difference?
Should Risk Analytics Bridge the Cybersecurity Talent Gap?
What's Changed? The Gartner 2017 Security Information and Event Management (SIEM) Magic Quadrant
The 25 Best Security Analytics and SIEM Platforms for 2018

Latest posts by Ben Canner
(see all)