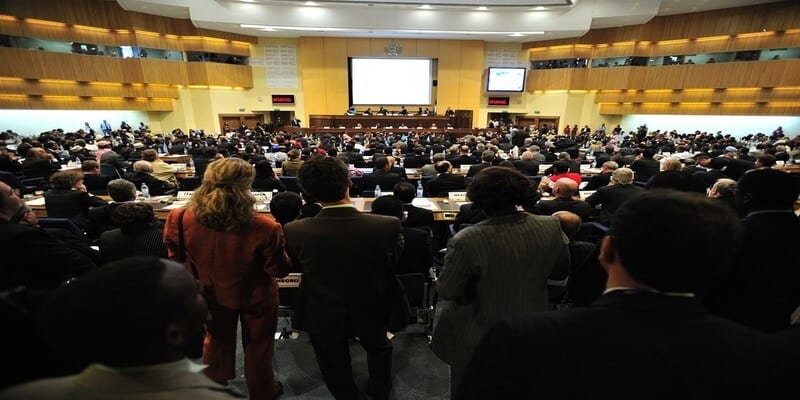 Jenny Darmody was one of thousands in attendance as WorkHuman 2019 wrapped up last week. The conference allowed HR and business leaders to come together as a community to educate and inspire one another, tackling challenging topics like #MeToo, workplace equality, barriers to diversity and inclusion, and navigating employee emotions. WorkHuman featured headline speakers such as Viola Davis, Geena Davis and George Clooney speaking about the importance of respecting one another, being on the right side of history when it comes to equality and eradicating unconscious bias in the workplace.
Darmody is the Careers Editor at Siliconrepublic.com, and has provided some of the key takeaways from the four day conference in her article titled, "4 key takeaways from WorkHuman 2019." Available here, Darmody writes, "While there is plenty of evolving technology within the HR industry, including WorkHuman's own social recognition platform, the overriding theme of the conference was very much focused on the human elements of working life. These are the processes that need attention, with or without technology."
As the editors of Solutions Review search the web high and low to find intriguing and informal content to help move the needle, we read Darmody's article and for your convenience, provided some of her key takeaways below. We encourage you to read her full article here.
HR trends will focus more on human practices rather than technology
When the topic of the future of work came into mainstream conversations a few years ago, the big question was around job security: will a robot replace me? As time moved on, it became more about the skills we will need to stay relevant – namely, soft skills and those that are 'uniquely human'. When we look at the future of work from the HR industry's perspective, we've seen exciting developments in HR technology that will improve and streamline recruitment processes, reduce unconscious bias, and employ new systems that will have the employees' wellbeing in mind.
A major takeaway from WorkHuman this year is an even stronger move towards improving human practices that have a lot less to do with HR technology. The technology will continue to evolve and grow in the background, and companies all over the world will continue to implement it. However, the overwhelming majority of sessions at this year's conference addressed the core human needs of employees without technology.
HR tech is important though, isn't it?
Many small and medium-sized businesses hesitate to invest in HR technology because they think it's expensive and unnecessary. The right HR management tool, however, can be a great benefit to businesses if they choose the right solution that fits their specific and unique needs. In a recent report conducted by Grand View Research, the HR software market size is predicted to exceed 10 billion USD by the year 2022.
Talent management software is one kind of HR software tool that encompasses all the talent management suites, integrated HR systems and other all-in-one HR tools that attempt at doing it all: recruiting, training, payroll, scheduling, benefits, etc. These systems are integrated software solutions built to track and manage the recruitment, professional development and performance of employees and potential candidates. Talent management platforms enable the automation of all the processes within the talent management realm and simplify workflows for HR and the company as a whole.
Importance of recognition at work
As a company that has a social recognition platform in its product suite, it's no surprise that recognition, appreciation and gratitude at work were central themes at the WorkHuman conference. And the research is undoubtedly there. Whether you have a software platform or not, the importance of recognition is critical for employee engagement and happiness. Numerous studies have shown this, including a Gallup study that says employees who are not adequately recognised are twice as likely to leave within a year.
In spite of all the HR tech options to improve processes, including recognition software, the simple act of ensuring employees are appreciated is an incredibly low-cost, high-impact solution to employee disengagement.
Read "4 key takeaways from WorkHuman 2019″ from Darmody in full here.
---
Looking for more? Download our talent management buyers guide and check out the top-24 products available in the market with full page vendor profiles, key capabilities and questions to ask yourself and the vendor before purchasing a talent management solution. For those just starting the talent management software search process, this is truly the best resource to help get you going.

Latest posts by Elizabeth Quirk
(see all)