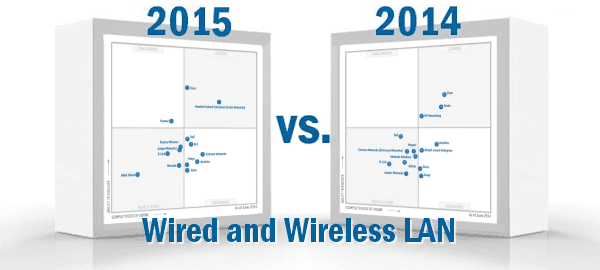 It's been over a year since Gartner released their 2014 Wired and Wireless LAN Access Infrastructure Magic Quadrant and a lot has changed since then. Wave 2 of 802.11ac has deployed and wireless technology has evolved to new heights with multiuser multiple input/multiple output (MU-MIMO) and a higher performance at 5GHz. Download the full report from Aruba Networks.
As always Gartner has named the top solutions in wired and wireless networks. Gartner has provided outlines of each solution including strengths and weaknesses while displaying the Leaders, Visionaries, Niche Players and Challengers. The categorization of each solution depends on their completeness of vison and ability to execute in the wireless sector. Gartner also weighs market understanding, marketing strategy, sales strategy, offering strategy, business model, vertical/industry strategy, innovation and geographic strategy.
This year's magic quadrant looks very similar to 2014 at first glance, but on closer inspection there has been quite a bit of movement. While there is still a big cluster in the niche players and visionary categories, the leaders have separated themselves even further from the pack.
Leaders- Cisco and Aruba Networks (Hewlett Packard Enterprise).
Challengers- Huawei.
Visionaries- Dell, ALE, Extreme Networks, Avaya, Aerohive and Zebra.
Niche Players- Ruckus Wireless, Juniper Networks, D-Link, Brocade and Allied Telesis.
Cisco and Aruba have completely separated themselves from the pack and are the only leaders this year. Last year there were three, but HP has bought Aruba, combining them together essentially leaving the leaders category full of the same players. While Aruba remains in almost the same place as last year, Cisco has significantly shifted left toward the challenger's category.
Huawei stands alone in the challengers category this year, rising far out of the niche cluster. In 2014 the challenger box was left empty.
Visionary has grown from four members to six with Aerohive and Avaya being the only retuning vendors to this category. Avaya has managed to rise slightly while Aerohive has dropped to the middle of the visionary's box. Dell has moved from a niche player to a visionary along with Extreme Networks and new additions to the quadrant Zebra and ALE make their entrance in the visionary category.
Juniper Networks rose from the lowest of the niche cluster to the second highest, just under new addition Ruckus Wireless. New comers to the quadrant, Brocade and Allied Telesis have entered in the niche category with Brocade close to the visionary border and Allied Telesis off by itself away from the cluster. D-Link is essentially in the same place it was last year.
Vendors Added- Allied Telesis, Brocade, Ruckus and Zebra (acquired by Motorola Solutions).
Vendors Dropped- Xirrus, Adtran and HP Networking (joined with Aruba Networks).
Honorable Mention- Netgear, Ubiquiti Networks and ZTE.
"In our research, we found that enterprises also want the choice of architecture deployment options, whether on-premises, private cloud or public cloud deployment capabilities. Additionally, controller-based or controllerless WLAN is a vendor implementation option, not an enterprise requirement, and enterprises with defined usage scenarios should look for pricing based on market-equivalent functionality that meets their usage needs.
"Moving forward, flexible pricing and packaging will also be important as small and midmarket enterprises expect the same functionality as larger enterprises, and vendors attempt to close the gap that historically seemed to exist in functionality and ease of use. Additional services that provide improvements in managed services, indoor location, analytics and application visibility are just the beginning for new application capabilities as vendors search for new areas of differentiation."